Our research team explore the science behind this week's headlines about a 'pacemaker' for the brain being tested as a treatment for Alzheimer's disease.
This week, many newspapers have reported on research about a 'pacemaker' for the brain being tested as a treatment for Alzheimer's disease. These headlines are based on a study from Ohio State University, published on 30 January 2018, in the Journal of Alzheimer's Disease.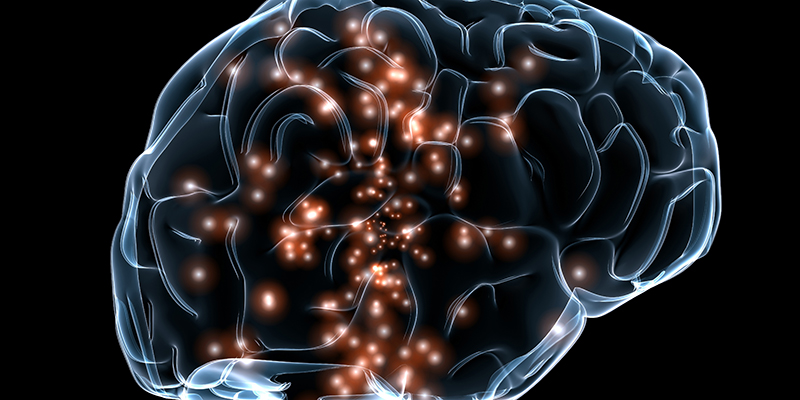 Neuronal activity. Source: Wikimedia Commons
The research involves a technique called deep brain stimulation (DBS). Although DBS is an approved treatment for some people with Parkinson's disease, it is still experimental and only in the very early stages of testing for Alzheimer's disease.
What is deep brain stimulation?
Deep brain stimulation involves implanting very fine electrical wires into an area of the brain and connecting them to a battery, or 'pacemaker', implanted under the skin of the chest or stomach. The device delivers electrical stimulation to the brain which activates the nerve cells in a specific area. The effect that this stimulation has on the person will depend on where the electrode is implanted in the brain.
In Parkinson's disease, DBS is used to stimulate an area of the brain involved in coordinating motor movements. This can help some people with Parkinson's to manage debilitating motor symptoms such as resting tremor and involuntary muscle movements.
DBS was approved as a treatment for Parkinson's in 1997. Since then, over 100,000 people worldwide have undergone the surgery. DBS is also approved for some types of obsessive compulsive disorder and is in testing as a treatment for chronic pain, depression and more recently Alzheimer's disease.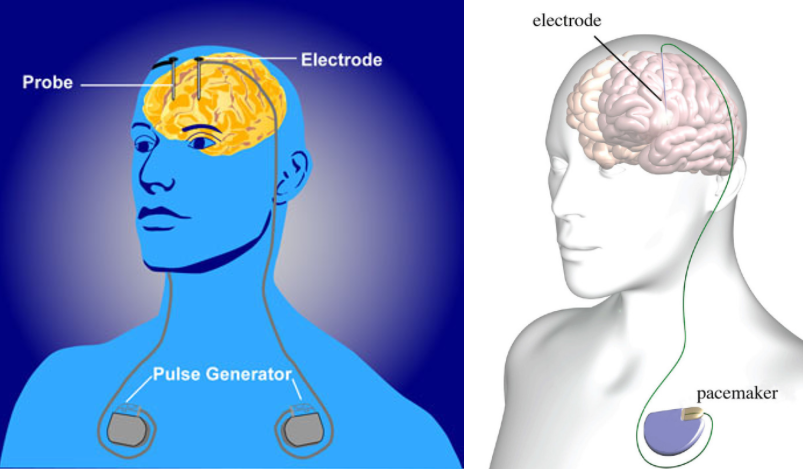 Illustrations depicting deep brain stimulation (DBS). Source: Wikimedia Commons
How would DBS work in Alzheimer's disease?
Compared to Parkinson's, developing deep brain stimulation for people with Alzheimer's disease poses more of a challenge. This is because nerve cell death in Alzheimer's affects more than one area of the brain, making it harder to know which area of the brain to target with electrical stimulation.
So far, DBS has only been tested in a small number of people with Alzheimer's disease. These studies have targeted different brain areas to see which symptoms of dementia could be improved using the technique. Researchers are exploring whether DBS can be used to manage some symptoms of dementia, but generally do not expect that this technique will slow down the death of brain cells or stop Alzheimer's disease from progressing.
What did this study show?
In this study, three people with Alzheimer's disease in the US underwent surgery to have DBS electrodes implanted in the frontal lobe. This area of the brain is responsible for functions such as problem-solving, decision-making and future-planning. They were followed for two years and regularly underwent cognitive testing. Any change in their cognitive performance was compared to the decline that is typically seen in people with Alzheimer's at a similar age and disease stage.
Two of the three people showed slower decline in their problem-solving and planning abilities than would be expected, with one of participants showing quite a dramatic improvement. According to the research report, 85-year-old LaVonne Moore had been unable to cook meals or dress herself prior to the surgery. After receiving the DBS, LaVonne Moore regained her ability to perform these tasks.
LaVonne Moore with her husband, Tom Moore. Source: Ohio State Wexner Medical Center
Study limitations
While it's exciting to see such positive improvements in one participant, we need to be cautious about interpreting the results of this study. It only included three participants who each showed quite a different response to the treatment. The study did not include a control group who received similar medical care but no brain stimulation. This means we cannot know if the improvements seen in two of the three participants were a result of the DBS treatment or down to the extra medical attention they received or the placebo effect.
Current thinking on safety and effectiveness
Deep brain stimulation involves invasive brain surgery, which comes with risks of infection, stroke, bleeding and seizures. A 2016 study of DBS in 42 people with mild Alzheimer's disease found it to be a safe and well tolerated procedure.
This study also tested the impact of brain stimulation on the brain's memory circuit. Overall, the researcher found no significant difference in memory performance in those who had the deep brain stimulation compared to a group who underwent surgery but did not have their DBS device switched on.
Based on all the research to date, the surgery appears to be just as safe for people with Alzheimer's disease as it is in Parkinson's disease. However, we cannot yet draw any conclusions about how effective it might be at treating some of the symptoms of Alzheimer's disease; several more years of research is needed to further test this experimental treatment.