News stories seem to constantly claim that various things can reduce your dementia risk, but is there any truth in these claims?
We take you through the scientific evidence behind four of the most common claims and one that turned out to be downright silly.
1. Coconut oil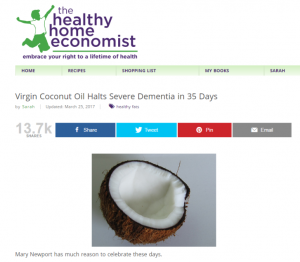 ​
Coconut oil has been hailed as a wonder-food by many in the health-food industry, and there are claims it can even treat or cure Alzhiemer's disease. There is a theory that in Alzheimer's disease, brain cells can't produce energy properly using glucose as normal, so the cells essentially starve. The idea here is that the fat in coconut oil could provide an alternative energy source to glucose which the brain cells could use instead.
However, there isn't enough evidence to know whether this is actually true. There haven't yet been any proper clinical trials in people with Alzheimer's, and without these we can't know whether coconut oil could benefit people with dementia.
More information about coconut oil
2. Turmeric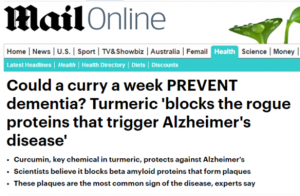 ​
Another story you may have spotted is that turmeric, a common ingredient in Asian cooking, helps to prevent dementia, particularly Alzheimer's disease. This is based on the perception that there is a lower rate of dementia in Asian populations that have turmeric-rich diets, although this could be due to the condition going undiagnosed or unreported. Curcumin, one of the components of turmeric, has also been shown to break down the hallmark amyloid clumps that are associated with Alzheimer's disease in cells in the lab.
However, there is no conclusive evidence that turmeric alone can reduce dementia risk. The effects of curcumin have also only been seen in laboratory experiments, not in real people with Alzheimer's. Clinical trials have so far not supported the findings of these lab studies. This may be because turmeric and curcumin are not easily absorbed by the body, so you would have to eat a huge amount of turmeric to match the amount that was given to cells in the lab.
At the moment though, there is no evidence to suggest that eating more turmeric can prevent or cure Alzheimer's disease.
More information about turmeric
3. Alcohol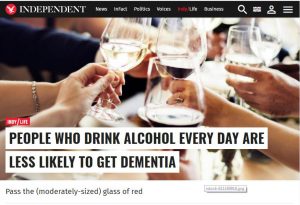 ​
The claim that drinking a moderate amount of alcohol (1-14 units per week) reduces your risk of dementia compared to not drinking seems to resurface fairly frequently. These stories do tend to be based on scientific research, however, when you take a closer look at the studies it may not be so straightforward.
Many of the studies include people who have never been drinkers and people who have given up drinking in the same 'non-drinkers' category. The issue is that some people who have given up drinking may have done so due to previous alcohol abuse, so could have pre-existing damage to their brain as a result. This could have skewed the results of the studies to make it look like not drinking alcohol comes with a higher risk of dementia than it actually does.
Moderate drinking, therefore, has not been conclusively shown to either increase or decrease the risk of dementia. However, heavy drinking over a long period of time can lead to brain damage, which could increase the risk of dementia.
More information about alcohol
4. Cannabis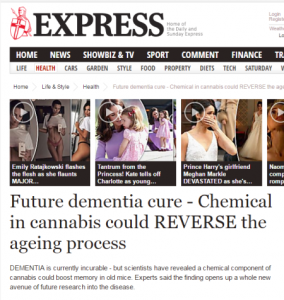 ​
There have been a number of articles over the years claiming cannabis or one of its components could prevent or treat dementia.
Some laboratory research has suggested that components of cannabis could have an effect on some of the hallmarks of Alzheimer's disease in lab-grown brain cells and in mice. Due to a lack of high-quality studies, there is currently no evidence that cannabis can prevent the underlying causes of the disease in people.
Cannabis does affect the regions of the brain affected by dementia, and some small studies have suggested that cannabis could help to manage some of the behavioural symptoms of Alzheimer's like aggression or agitation. However, more evidence is needed to show whether this is actually an effective approach. Long-term cannabis use has also been associated with memory and thinking problems, and some types of the drug are even linked to psychosis.
More information about cannabis
5. Marmite
​
And finally, in April 2017, several newspapers ran a wacky-sounding story claiming that eating marmite could help prevent dementia. The story came from a study by researchers at York University which found that eating marmite had an effect on brain activity.
The problem is that this study was nothing to do with dementia. The researchers were looking at how eating marmite or peanut butter affected how people's brains react to visual stimulation. In fact, if you read the actual scientific paper, there isn't one mention of dementia or Alzheimer's. The researchers themselves said they were puzzled about where the idea of Marmite protecting against dementia came from, because they hadn't claimed that it would in their paper or the press release.
How this study came to be linked to dementia may remain a mystery. But, as it stands, there is currently nothing to suggest that eating Marmite affects your dementia risk.
Some good advice
There is a lot of dodgy information out there about how to reduce your risk of dementia, but there is some high-quality information too. When you see news stories claiming that something reduces your risk of dementia, look for the expert comments on the subject from Alzheimer's Society and others to help put the findings in context.
Evidence currently suggests the best way to reduce your risk is to have a healthy lifestyle throughout your life, which can include things like drinking in moderation but also includes eating healthily, exercising and not smoking.
Risk factors and prevention
Learn more about the things that can and can't increase your risk of getting dementia, including your age, genes and lifestyle.
Learn more