Dementia Statements and rights
The Dementia Statements reflect the things people with dementia have said are essential to their quality of life.
Grounded in human rights law, the Dementia Statements are a rallying call to improve the lives of people with dementia and to recognise that they shouldn't be treated differently because of their diagnosis.
The person with dementia is at the centre of these refreshed Statements. They represent everyone living with any type of dementia regardless of age, stage or severity. The 'we' used in these statements encompasses people with dementia, their carers, their families, and everyone else affected by dementia.
These rights are enshrined in the Equality Act, Mental Capacity legislation, Health and care legislation and International Human Rights Law.
The Dementia Statements
We have the right to be recognised as who we are, to make choices about our lives including taking risks, and to contribute to society. Our diagnosis should not define us, nor should we be ashamed of it.
We have the right to continue with day to day and family life, without discrimination or unfair cost, to be accepted and included in our communities and not live in isolation or loneliness.
We have the right to an early and accurate diagnosis, and to receive evidence-based, appropriate, compassionate and properly funded care and treatment, from trained people who understand us and how dementia affects us. This must meet our needs, wherever we live.
We have the right to be respected, and recognised as partners in care, provided with education, support, services, and training which enables us to plan and make decisions about the future.
We have the right to know about and decide if we want to be involved in research that looks at cause, cure and care for dementia and be supported to take part.
Where do the Dementia Statements come from?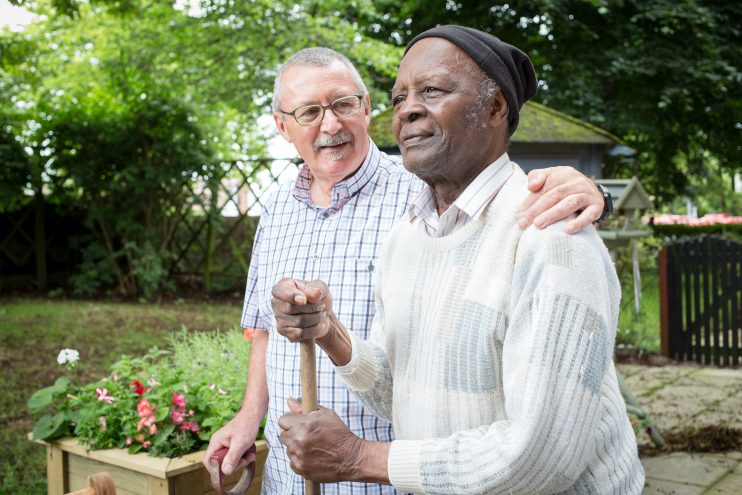 In 2010, the organisations that went on to form the Dementia Action Alliance (DAA) asked people affected by dementia, and other key stakeholders, what type of care and support they would hope to receive in the future. Informed by these conversations, they created the National Dementia Declaration, a set of seven expectations or Statements of what life should be like for people with dementia. These Statements were used to inform the Prime Minister's Challenge on Dementia published by the Department of Health in 2012.
A lot has changed since 2010. So, between 2016 and 2017, Alzheimer's Society led a review of the Statements on behalf of the DAA alongside people living with dementia, including carers to ensure they reflected what people want today.
Over 80 people with dementia and carers contributed to the review, through 15 different groups. As well as these groups, there were one-to-one interviews with people living with dementia and carers.
Five key themes were identified through this research - identity, care, community, carers and research. A significant change was to move from 'I' to 'We' at the start of each statement signifying that this included people with dementia and carers equally.
After summarising the evidence, a Drafting Event was held, attended by nine people with dementia (three of whom were accompanied by their carers) and three former carers. Members of the group produced draft statements based on the five themes. After this, there was a Consensus Event, where the final set of statements – the 'Dementia Statements' were agreed. This was attended by people with dementia and carers (some of whom were also at the Drafting Day) as well as representatives of DAA organisations.
Articulating the needs of people affected by dementia through a rights-based lens gives urgency and weight to this movement, and makes dementia something that no one can ignore.
For more information about the productions of these statements, please read the full Dementia Action Alliance report.