As we come towards the end of Pride Month, we want to celebrate the work of LGBT+ people affected by dementia who took part in our recent innovation, Bring Dementia Out.
What does LGBT+ mean?
'LGBT' stands for lesbian, gay, bisexual, and trans. The '+' recognises inclusion of wider spectrums of sexuality and gender.
Experiences of LGBT+ people affected by dementia
People affected by dementia who are part of LGBT+ communities can face additional challenges that are specific to their sexual orientation or gender identity. They may experience stigma, and fear discrimination when sharing information with health and social care providers.
People living with dementia may experience past memories more vividly than recent ones. They might believe they are living in a time in which being LGBT+ is still illegal and fear repercussions.
Trans people with dementia may also experience stronger memories of the time before they transitioned. This can make day-to-day activities, such as dressing and using the bathroom, confusing and distressing.
Tackling the challenges LGBT+ people affected by dementia face
Together with LGBT+ people affected by dementia, national and local organisations and LGBT+ communities, our Innovation team embarked on developing a solution to help address these challenges.
Bring Dementia Out is an innovation to help LGBT+ people affected by dementia feel more comfortable in coming forward to access the information and support that they need.
We developed a number of resources, which were tested in Brighton and Hove and Greater Manchester for two months.
'I didn't realise there was anything out there like this.'
- A person from LGBT+ communities with a diagnosis of dementia
A printed Bring Dementia Out booklet, which included useful steps on how to better support people, was distributed in LGBT+ community spaces, GP surgeries and at support services.
Our dedicated online hub features real stories from LGBT+ people affected by dementia, and has links to relevant advice and support.
The power of people
We created a moving video sharing personal stories from people affected by dementia and others from the LGBT+ communities and LGBT+ organisations.
Watch our video and hear from LGBT+ people affected by dementia
Bring Dementia Out saw great results thanks to the dedicated working group, which included volunteers with lived experience. They worked intensely over a very short period to build this idea, and bring it into the real world.
We reached LGBT+ people affected by dementia, and also increased awareness and understanding within LGBT+ communities. In addition, we drummed up a lot of media interest.
Health and social care professionals gained better awareness and understanding of the challenges being faced.
'Very powerful and helped me appreciate some of the particular problems experienced by people with dementia from LGBT+ communities.'
- A health and social care professional about the video
What's next for Bring Dementia Out?
Following the success of this innovation, many of the partner organisations are exploring the best way to spread the support and resources more widely across the UK. The organisations include LGBT Foundation, Switchboard, National Dementia Action Alliance and The National LGB&T Partnership.
I'll leave you with some words from Patrick, one of our dedicated Bring Dementia Out volunteers living with dementia, who was in our video:
'I feel excited about Bring Dementia Out and that it will be the new path that sets the wheel of change and brings out so much more than it was meant to do in other avenues of care and services.
I believe it will bring about a closeness that we have longed for, and acceptance. I also believe that the ripples of this innovation will only cause waves of positive change in other areas we didn't think or expect would take place.'
- Patrick, LGBT+ person with dementia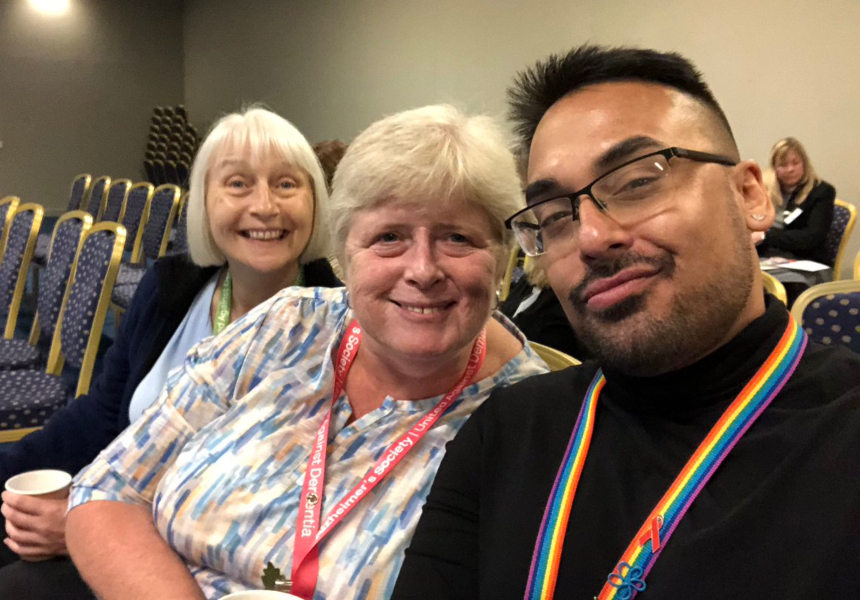 Heather, Chris and Patrick were among the volunteers who played a vital part in Bring Dementia Out. Image source: @PEttenes