Gemma's dad was diagnosed with frontotemporal dementia. She explains why she was inspired to do Memory Walk and volunteering for Alzheimer's Society.
After Gemma's dad Stephan was diagnosed with frontotemporal dementia, she began taking on Memory Walk, before joining Alzheimer's Society as a volunteer.
She explains why volunteering can make such a huge difference for people living with dementia and what inspires her to get involved.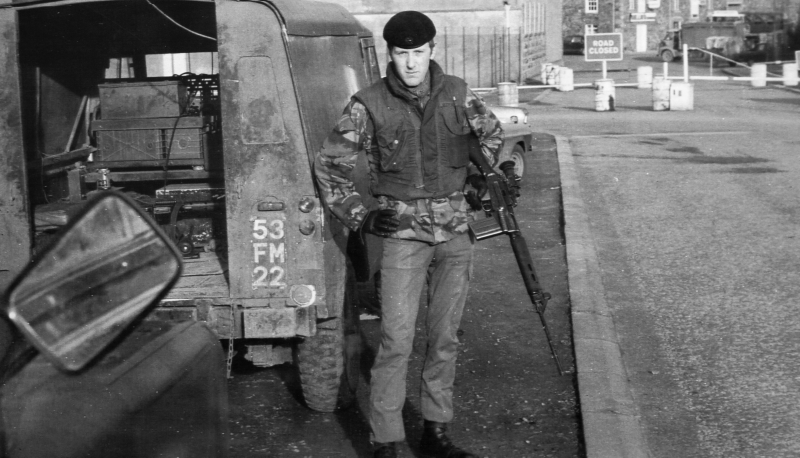 Gemma's Dad Stephan on duty
When we were growing up, we spent a lot of time with my Dad. We were his girls, and he was always there for us. Dad was a soldier, so a bit of a man's man.
He was very into his camping when we were growing up, and always insisted on taking charge! He'd say, 'Leave it to me, I'm a tank commander.' His mates called him Ginge, and he was forever cracking jokes. He had a really good personality. He was gentle and protective of us.
Dad's dementia diagnosis
Dad was diagnosed with frontotemporal dementia at the age of 58. I remember the day when he called and said 'I have to tell you something, I've got dementia.' I couldn't process it. He was very calm and said 'I want you to understand, it's going to be OK.' I burst into tears.
He had it for four years, rapidly deteriorating. Very quickly he went from being OK to really frail and on his last legs. He was left unable to write, read, speak, walk or even get dressed without help. He died with dementia, four years after being diagnosed.
My first Memory Walk
​
Gemma with dad close to her heart
We'd heard of Alzheimer's disease, but you don't really do anything until it affects you. After Dad was diagnosed, I decided to take on Memory Walk. I really enjoyed it. I loved the atmosphere. It was sad, but so lovely that everyone was walking for the same reason. There was a lot of pride, almost a sense of relief and joy.
I found myself thinking, 'This is what we're here for. Dad would be proud.' And so I started going back, year after year.
Volunteering for Alzheimer's Society
The year Dad died, I took a break from Memory Walk, but I soon realised that I wanted to get involved more with the Society's work. Everyone deals with grief differently, and I'm one of those people who just gets on with things. I decided that I needed to do something for Dad!
So I came back and started volunteering for the Alzheimer's Society more regularly. I've volunteered at Alzheimer's Society carol concerts, bucket collections, Christmas fairs, and Watford Memory Walk.
I'll volunteer for as long as I can, and I'll always encourage other people to get involved. I feel proud that I'm doing something good for people with dementia. It doesn't matter if you've only got a little time, or all the time in the world. Even if you can only volunteer a couple of times a year, it'll still make a difference.
Raising awareness of dementia
I don't feel like Alzheimer's disease or dementia are talked about enough. It's not on the telly. You expect someone to get it when they're your nan's age, but people are being diagnosed younger and younger.
I think a lot of people are scared of talking about it, there's a real taboo. It's that fear of forgetting things. I can only imagine how horrible it was for my Dad when he called me and told me that he'd been diagnosed.
And because of that silence, you can end up feeling really alone. That's why initiatives like Dementia Cafés are so important. Carers need to be able to talk to other people about their experiences.
Find a volunteering role near you
You can join the thousands of Alzheimer's Society volunteers already taking on dementia.
Find a role