Carer Jeanne Rault has looked after her husband John at home for ten years. Here she shares some of her tips on how to get by for less.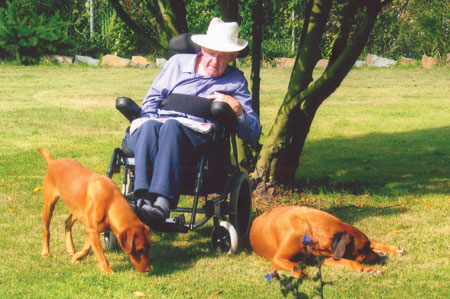 On 14 April 1967, aged 18, Jeanne Rault booked a one-way ticket to Guernsey. She fell in love with the island after winning a holiday there when she was crowned carnival queen of the village she grew up in.
An elderly man sits in a wheelchair in a garden with two dogs nearby. On returning home after the holiday she had wanted to go back, but her parents had other plans for her to marry. Jeanne didn't want to, so she packed her bags and set sail for Guernsey.
It wasn't long before she met John Rault at the Cellar Club in Le Truchot. They have now been married for 42 years. For the last ten years Jeanne has been caring for John, who is in the later stages of Alzheimer's disease
Like many other carers, Jeanne has struggled to find support over the years, although she is particularly grateful for the help of Alzheimer's Society in Guernsey, where she volunteers.
As the cost of living on Guernsey is high and expenses have mounted up since John's dementia has become worse, she has had to find ways to keep costs down. Here, she shares some tips on the small things she does to avoid spending money.
Dealing with incontinence
John has been doubly incontinent for a number of years and the cost of pads, soap, cream and wipes has mounted up. Jeanne's advice to other carers is to buy in bulk and buy online. She says,
'We can get almost half the amount free by buying them in bulk, although it costs a lot to get them transported here from England. I know you have to have money in the first place to buy this way and having to fork everything out from a pension is hard. But you could always pool the cost with others who need them.'
Another daily expense is absorbent undersheets for the bed. District nurses visit four times a day to help Jeanne change John. She says,
'Disposable sheets cost 37 pence each. If you use four a day, seven days a week for an entire year, that's a lot of money. Instead of buying them I make my own out of shower curtains. I just cut the curtains in half, they're nice and soft for John to lie on and then wash them afterwards.'
Eating
Jeanne says,
'At mealtimes I pull John up to the table in his wheelchair. We'd been using disposable bibs but I decided to make my own. I just cut a piece out of coloured thin towelling, put bias binding around the edges, tie it up at the back and then wash it every day.'
She has also been resourceful when looking for furniture. Before John used a wheelchair he would sit on a wooden chair at the table, but as he became more unsteady he was at risk of falling off. Jean visited their local recycling shop and found a carver chair, which has arms at the side. This solved the problem.
Carers could also try the Freecycle network website, which connects people locally who want to exchange all kinds of items they no longer need. The idea is to help cut down on waste.
Jeanne also sourced some porcelain bowls to keep John's food hot and bought a cup with a spout, similar to a teapot, which makes it easier for him to drink. To find out about similar products, contact Alzheimer's Society's helpline for advice.
Dressing
Considerable care is needed when moving John around and dressing him as his arms and joints have become very stiff. Jeanne says,
'His skin is paper thin now and breaks easily. He's taking warfarin which thins the blood and his arms mark terribly. To make dressing him easier I now open up the back of his t-shirts and shirts by cutting them from top to bottom. I love dressmaking and it's very easy to do and means we don't have to buy new clothes. He can just slide his arms in at the front and then I use Velcro at the back to fasten the tops up. It saves John being pulled around and makes it a lot easier for him and for the girls who come in to care for him. I'd also advise people to keep clothes big. John used to be a size 44 before he started with Alzheimer's but he's half that size now. His old clothes easily slide on and are comfortable for him.'
Other tips
Disposable handles can be bought to attach to car doors, making it easier for people with dementia to support themselves when getting out of the car and reducing extra weight on the carer.
Puzzles can help keep people remain active. Jeanne bought one which involved putting different-shaped objects into the right holes and it helped to keep John occupied.
Live as normal a life as possible. Jeanne takes John out with her wherever she goes. Jeanne says,
'If help is there, use it, at every opportunity. Even if it's just an hour once a week, you need all the help you can.'
NOTE: Since this story was written John Rault has sadly died. On behalf of everyone at Alzheimer's Society we would like to pass on our sincere condolences to Jeanne and her family. We would like to thank Jeanne for allowing us to publish her story.