Using Mexican dance danzón with dementia residents in care homes
A Mexican dance called danzón is being used as an activity for people with dementia. Danny Ratnaike speaks to a care home manager and a researcher about the potential benefits.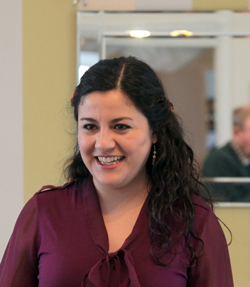 Many care homes have offered people with dementia and others dance-related activities, but one of the more unusual initiatives has been using a traditional Mexican dance called danzón.
This is a popular dance performed with partners and practised widely by middle-aged and older adults in Mexico.
Dr Azucena Guzmán-García is a dementia researcher who has been exploring the use of danzón with people who have dementia in north-east England care homes.
She says,
'In Mexico danzón is mainly danced in the streets, dance halls and day centres for older people. It originated from the 17th century English contradance which was taken to France and was then exported to Haiti, developed in Cuba and arrived in Mexico. Now it is back in Britain in care homes.'
Really good fun
Lesley Hadaway is Acting Manager at Rosewood Villa care home in Throckley near Newcastle upon Tyne, one of the homes involved in Azucena's research.
Lesley says,
'I felt that danzón would benefit the residents by getting people involved, with an opportunity for everyone to be included, people with dementia and staff. Families joined in too - it was a right laugh, really good fun.

'It was different to what I expected. I thought it would all be more freestyle but the session was very structured with a warm up and cool down, though there was a freestyle element as well.'
Although danzón involves learning some steps, Lesley says,
'The dance is lovely, very easy for residents to do and everybody is holding someone's hands.'
They put a 'map' on the wall that Azucena had made to illustrate the steps. Lesley says,
'Some found it more straightforward than others but everyone joining in meant it was easier. It was well worthwhile.

'One lady with dementia who was not part of the study still joined in the sessions every week. She used to be restless and never slept at night, but when she starting doing danzón she began to sleep at night. She loved it.

'Another lady said it brought back memories from when she was courting, about boyfriends and when she met her husband.'
Even though people hadn't known this specific kind of dance before, Lesley says the fact that they were dancing with a partner prompted reminiscences.
If people weren't able to dance or chose not to, Lesley says they enjoyed watching others do it.
'One lady who is blind still listened to the music, which is very happy, joyful music. The whole home benefited from it.'
Lesley adds,
'It's free, there's no cost. You can do it anywhere, you just need some space and you don't need any equipment.'
Azucena's sessions have finished but care home staff still do danzón with residents at Rosewood Villa and Lesley is keen to build on this. She has signed up to be a Dementia Champion for the home and plans to use danzón in a project involving people with more advanced dementia.
Benefits for all
Azucena is now at the Dementia Research Centre, North East London NHS Foundation Trust and did the study as part of her PhD at Newcastle University.
She says that danzón is particularly suitable for people with dementia because of its slow-to-moderate speed, small steps and gentle hip and body movements.
Azucena says there were benefits for everyone involved.
'After the study was completed, both residents and staff mentioned that danzón helped to improve their mood, socialising, communication and mobility.

'We found that after the danzón session, residents were reminiscing about their youth and past memories involving fun, good times or how they met their spouses.

'The sessions improved people's mood and decreased problematic behaviour. It also empowered care staff through teaching and interacting with residents in a fun and active way.'
Although Azucena is yet to confirm long-term effects on behaviour, mood and quality of life, she says,
'Care homes have continued dancing after the study, and I think this is because the music is lively and cheerful, and the idea of performing danzón steps is different and new.'
She is keen for more homes to benefit from danzón,
'I would like to invite care homes to become "pro-dancing homes". Implement danzón at least for six weeks to see the positive changes in residents. Dancing goes beyond an entertainment activity, and it may bring potential benefits to residents.

'My recommendation is to organise sessions regularly, twice a week for 30 minutes. Staff need to be open to dance - it is not necessary to be a professional dancer, but willing to enjoy the music and dance without worrying if it is right or wrong.'