Using alternatives to handcuffs for people with dementia
Dealing with aggressive behaviour can challenge even the police. Fiona Madden talks to a carer who believes that while restraining someone with dementia may be necessary, there are better options than handcuffs.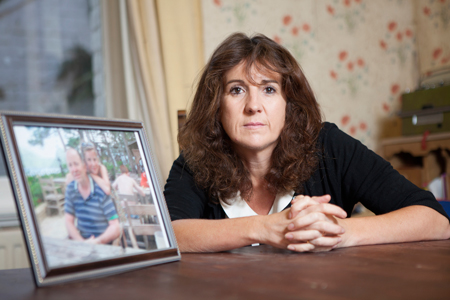 Mother of three Alison Davison says she feels upset and disappointed because her husband was left bruised and in pain after being restrained by police.
Glenn, who is 53 and has early onset dementia, was handcuffed and taken to a secure unit after being disruptive and abusive at his Northumberland care home in June. Although not condemning the decision to section him, Alison has concerns about how it was done.
She says,
'It was 4.30am when the care home on-duty psychiatrist rang me because Glenn was very disturbed and pulling fire extinguishers off the wall. People with dementia can be very aggressive, so I understand the police saying they had to get him to a place of safety.

'Of course you have to get them in the ambulance but metal handcuffs are no good because they'll struggle. I'm a psychiatric nurse so I know they have Velcro restraints in emergency hospital situations. You're still restraining but at least they won't suffer.'
Trouble at work
Alison originally cared for Glenn, a former disability community team leader, at home following his diagnosis of Alzheimer's disease at the age of 49. On reflection she believes he may have displayed symptoms for up to 10 years.
'He kept forgetting to do things and getting into trouble at work. He was forgetting to fill in nursing notes and becoming confused easily so he had a brain scan.'
Being a working mum of three and caring for Glenn became difficult, especially as he started to behave aggressively. Alison felt he couldn't be left alone with their children as he didn't recognise them anymore.
Getting sectioned
Prior to the incident she noticed changes in Glenn's behaviour and raised concerns with healthcare professionals but feels there was no responsive action.
'I asked the hospital psychiatrist to come and have a look at him six months previously as he was becoming increasingly agitated. I thought they would put him on medication but they didn't. I also asked for him to be admitted.

'He started to become aggressive and agitated, and staff were scared of him. He hadn't been sleeping either. He never used to hit staff but when they tried to stop him doing something or intervened he would try.'
An on-call psychiatrist decided to have Glenn sectioned and moved to a secure unit and police assistance was called. Alison believes his age worked against him here.
'When you're younger you don't look as frail. He becomes very vocal when he's angry and kicks out so they shoved handcuffs on him.

'Afterwards when I visited him he was obviously in pain because I touched his hand and he jumped. I had said it was fine to section him but I wasn't told he'd be handcuffed.'
Alison says that Velcro restraints would have been better, and believes the care professionals involved were also upset by the situation.
Vulnerable
Alison emphasises the need to train police officers for when they may have to deal with people who have dementia.
She told the restraining policeman, 'I'm not blaming you, it's protocol.' However she says,
'When somebody's at their most vulnerable they shouldn't be treated like that. It's not them doing it, it's the dementia.'
Chief Constable Simon Cole leads on mental health for the Association of Chief Police Officers (ACPO) and is a member of the Dementia Friendly Communities Champion Group.
He says,
'Police officers are increasingly being called to restrain people with dementia who are distressed and potentially a danger to others. Medical staff are extensively trained to deal with patients in distress and the police cannot replicate that level of training, so while they will respond to this type of situation they are not best placed to do so.

'ACPO is working with the Society and a range of other organisations as part of the Prime Minister's challenge on dementia to look at how to make communities more dementia friendly.'
Younger needs
Alison also wants to increase awareness of the lack of services for people with early onset dementia. Despite his age Glenn is currently in an elderly mentally infirm ward.
'I suppose services are geared around elderly mental health but when you've got younger children it's hard. I couldn't leave him in the house with them because they were frightened.

'Social services didn't put resources in for me. It was very difficult trying to work, looking after someone with aggressive behaviour and trying to keep your children safe too.'

To find out more, download our factsheets ">Younger people with dementia (440) and ">Dealing with aggressive behaviour (509) or call 01628 529240 to request a copy.