Supporting discussions about dementia with people who have a learning disability
People have a right to be told if they have dementia. Heather Stephen hears about a resource to help discuss the condition with people who have a learning disability.
Jenny used to love her job at the café, but now sometimes she can't find the toilet. Her morning routines are taking a lot longer as she doesn't always remember which clothes to put on first.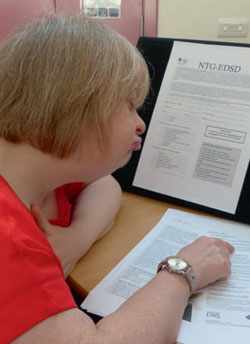 These are just two situations in a new online resource – Jenny's diary – helping professionals, family and friends talk to people with learning disabilities about a dementia diagnosis.
Jenny's diary, developed by researchers Karen Watchman, Irene Tuffrey-Wijne and Sam Quinn with Alzheimer's Society funding, is based on many people's real-life experiences.
Explaining changes
Karen identified the need for this resource during a three-year study into people with Down's syndrome and dementia.
She says,
'I was surprised that none of the people in my study had been told they had dementia and so none had an explanation for the changes happening to them.

'I kept hearing from families – "we don't know what to say", "they won't be able to understand" or "we are worried they will get upset".

'And when people did say something, different words or terms were often used, so there was a need for a consistent approach.'
The online booklet and accompanying postcards feature photographs of Jenny throughout a typical week with her boyfriend, sister and friend, all portrayed by actors. These depict potential challenges as Jenny's dementia progresses and how the people around her can help.
Other sections explore how to talk to a person with a learning disability about their diagnosis of dementia, and how to explain the condition to a friend who has a learning disability.
Karen says,
'Some people with a learning disability may not understand the word "dementia", so it might be more appropriate to tell them their brain is not working as it should.'
Great idea
Ian Le Guillou, Research Communications Officer at Alzheimer's Society, says,
'We have campaigned hard for diagnosis to be made earlier but many people with learning disabilities are never told at all.

'This might come from the best intentions but withholding this information just leads to marginalisation and anxiety for the person, who does not understand what is happening to them.

'Jenny's diary is a great idea. Using the postcards of everyday activities is a great starting point for talking about dementia and a lot of people will find it very useful as a clear and practical source of advice based on individual experience.'
Karen adds,
'It can be reassuring to know it's not your fault, and if people are aware of the difficulties they might face they are able to cope better with what is happening to them now and plan for the future.'
Brenda Laird, aged 64, from Girvan in Ayrshire, looked after her sister Helen for 16 years with her husband, David.
She says Jenny's diary would have been an enormous support for them in the early days of her dementia.
'Helen has Down's syndrome and started with the symptoms of vascular dementia more than 10 years ago. She is very confused now but something like this would have helped explain things to her.

'There isn't much information out there to support families and we wish Jenny's diary had been around when she was first diagnosed.'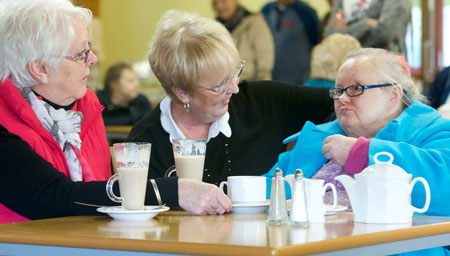 Blanche Nicolson is a Board Director at Hansel in Ayrshire, which supports adults with learning disabilities. She cared for her late sister Lindy, who had Down's syndrome and developed dementia in her 50s.
She says,
'Caring for someone with a learning disability who also has dementia is a very isolating experience and can be incredibly hard to deal with.

'This resource will help people to talk creatively about how to solve the problems they will face through the course of such an illness.'
Need for more
Karen says there is still a lot to be done to give people with learning disabilities who also develop dementia the support they need.
'We need more research and awareness around how people cope with dementia in different settings.

'And we still need to get better at sharing knowledge between health and social services so we can make sure learning disabilities are meaningfully included in all dementia strategies.'
Next steps
Join our Right to Know campaign for everyone with dementia to get a diagnosis.
Download Jenny's diary, accompanying postcards and ebook versions for free.