Sue Molyneux-Thorley answers our questions
Sue Molyneux-Thorley, who has Korsakoff's syndrome and lives in the West Midlands, answers our questions.
Q&A: Sue Molyneux-Thorley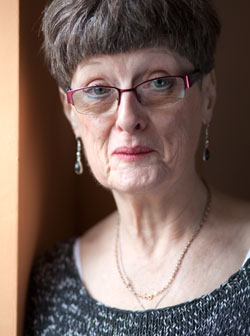 Birmingham, aged 58 with Korsakoff's syndrome.
What's changed most since your diagnosis?
My confidence has actually increased, which I think has been a result of having a lot of help, from people who have proven to be true friends and family.
What would you take to your desert island?
A recording of Vivaldi's Four seasons. I just love the whole idea of the changing seasons. They're a bit like the seasons of life – we're often so busy planning things that we don't appreciate what's in front of us and that everything will change.
What single thing would improve your quality of life?
Getting my memory and sense of direction back, although my sense of direction has always been abysmal! The condition has rendered me very vulnerable. It was caused by my former alcohol abuse – I consider myself lucky to be alive. My biggest regret is the damage that my drinking has done to other people.
If you could go back in time, where would you go?
I'd like to go back to the Tudor era. They were such characters – Henry VIII, Catherine of Aragon, Anne Boleyn, Catherine Parr, Anne of Cleves – I'd like to go back and sort them all out!
If you have dementia and would like to answer our questions for a future column email [email protected]