Dementia Research Leaders: Sarah Richardson
Introducing Sarah Richardson, Alzheimer's Society Clinical Fellow, from the Institute of Neuroscience at Newcastle University. Sarah tells us about her project on delirium and what she gets up to when she's not studying.
You are here: Dementia Research Leaders: Sarah Richardson
What are you studying?
My study aims to understand more about delirium and the effect it has on dementia. Previous work has shown that there are ways we can prevent some cases of delirium or make the problem get better faster. It is important to understand the effect of delirium on the brain because it may be a cause of dementia we can reduce or prevent.
What is delirium?
Delirium is usually caused by an illness such as an infection. It leads to a change in brain function which makes a person become suddenly confused, and can affect their behaviour and concentration. It can make people feel frightened, restless and suspicious.
The symptoms can come on quickly and change from hour to hour. It is very common, particularly among people with dementia, older people and those in hospital. People who have delirium while they are in hospital often have to stay there for longer.
Delirium usually gets better within a few days to weeks but it can sometimes take several months for people to recover fully. Importantly, there is some evidence that delirium may cause permanent damage to the brain. It may make people more likely to develop dementia in the future.
For those who already have dementia, delirium may make their dementia get worse. Unfortunately, we do not understand these effects of delirium very well. This is because previous studies were of people whom the researchers had not seen until they developed delirium. The researchers couldn't be sure whether the people they studied were already showing signs of dementia before they got delirium.
What does your study involve?
The people being approached for my study are taking part in a large dementia study called the Cognitive Function and Ageing Study-II (CFAS-II). As part of CFAS-II, they have regular memory tests and so we know whether they have dementia or not, something which previous studies could not be sure about.
During 2016, whenever these people come into hospital, I invite them to take part in my study. If they agree, I test them for delirium. I do this by observing them, talking to them and asking them questions like "where are you?" and "what day is it?". This takes around 10 minutes. I see them regularly during their hospital stay to monitor them for delirium.
One year after their discharge from hospital, I will arrange to visit them at home. I will repeat the memory test they had for CFAS-II to see whether their memory has got worse. The before and after memory tests of those with and without delirium will be compared.
Why did you decide to focus on delirium and dementia for your project?
Dementia and delirium are common in older people and I encounter both regularly when working as a doctor. Unfortunately, it can be managed frustratingly badly and considered of low priority in terms of patients' clinical care despite causing considerable distress to patients and their relatives.
Delirium is equally as neglected in terms of research despite evidence to suggest that delirium may not be as harmless as first thought and may increase the risk of dementia. I was keen to explore this further and realised that Newcastle was the ideal place to do this study because it is one of the places where the CFAS-II study is based. There is also a strong research focus at both Newcastle University and the Newcastle Hospitals NHS Foundation Trust.
How will your project help people affected by dementia?
This project will help to raise awareness amongst the general public, healthcare professionals and organisations like Alzheimer's Society of the longer term effects of delirium and will help with ongoing work to change attitudes and improve knowledge in order to improve care.
In clinical practice, the study will provide evidence to support discussions with patients and their relatives regarding what to expect after an episode of delirium.
In the future, if we show that delirium is associated with a risk of memory problems later on, preventing delirium may become an important part of dementia prevention. This is really exciting and would provide a major breakthrough.
How is your project going?
I am really pleased with how my study is going. I have recruited 170 people so far and I am so thankful to all of the participants and their families. I love every day of completing the study. I get to meet and talk to so many interesting people who are kind enough to participate in research even when they are unwell and in hospital.
Once or twice a year I meet up with my Research Network monitors, who are people affected by dementia who use their experience to give me advice on my project. The input of my monitors has been invaluable and I always look forward to our meetings. Their enthusiasm for dementia research is infectious.
Tell us a little about your career so far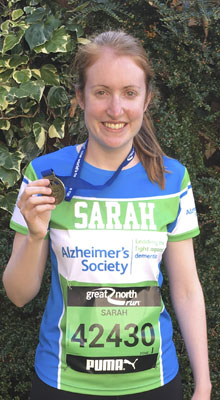 After leaving school in Essex, I moved to Newcastle to train as a doctor in 2004. I never really thought much about doing research at this point because I thought that you had to be really clever! However, after fourth year, I completed a Masters in Medical and Molecular Biosciences which involved a research component. This really ignited my passion for research. It is exciting that my research based on observations made during clinical work with older people could help to improve their care in the future.
I first combined my clinical and research training in 2012 when I was awarded an NIHR Academic Clinical Fellowship. I am now completing my PhD at Newcastle University funded by an Alzheimer's Society Clinical Training Fellowship.
What has been your career highlight?
This does sound incredibly cheesy but being awarded an Alzheimer's Society Clinical Training Fellowship was a definite highlight. I worked so hard on developing the idea and writing the application, and then was so nervous about the interview, it was wonderful to hear that I had been successful, and a great relief.
What do you like to do in your spare time?
I play a lot of netball and find that this is a great stress reliever. I love cooking and baking. This means that I sometimes go running and somehow completed the Great North Run for the Alzheimer's Society this year, fuelled by plenty of cake! I love walking in Northumberland and the Lakes and spending time with friends and family!