Dementia Research Leaders: Jem Bhatt
Introducing Jem Bhatt, Alzheimer's Society PhD student. She is part of our Dementia Research Leaders programme that supports people from biomedical, clinical and social science backgrounds.
You are here: Dementia Research Leaders: Jem Bhatt
What's your name and where are you studying?
My name is Jem Bhatt and I am studying at University College London.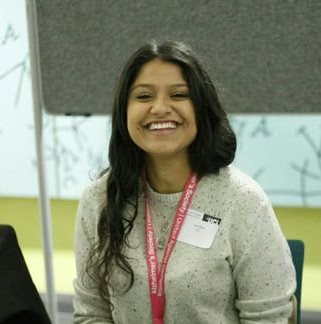 Jem Bhatt (credit Laurie Poole)
What are you researching?
One of the most important ways of gaining the correct, timely support is to be able to tell others that you have dementia.
The focus of my research is to develop and evaluate a programme to support people living with dementia who are fearful of disclosing their diagnosis to others. The programme aims to help people living with dementia decide 'who to tell, how and when?' about their diagnosis.
My project involves:
Adapting existing methods used to sensitively measure the barriers to disclosing a dementia diagnosis
Adapting an existing disclosure programme so that it is suitable and accessible for people living with dementia.
Understanding whether this programme is useful and impactful for people living with dementia.  
Tell us about your research career so far
The more research methodology I was exposed to during my academic studies, the more my interest grew in using these methods to help people living with dementia.
I began studying psychology at undergraduate level, alongside volunteering for the Alzheimer's Society on various initiatives such as supper club, talk-and-draw, imagine workshops and CrISP sessions.
I then began a Master's degree in cognitive neuroscience after which I was a community support worker for the Alzheimer's Society before I began my PhD. My PhD is the first time I have combined my experience of working with people living with dementia and my research skills. It has been a very exciting experience for me so far. 
What do you think is the most exciting part of your project?
Without a doubt, the most exciting part of my work is talking to others about my project. Conversations such as these always shed light on new ways of looking at my research questions.
Since I have begun my PhD, I have consulted with: people with lived experience of dementia, members of the public, other academics and colleagues, to help inform my research. What has also been great is the amount of positive feedback I have received about the project so far.  
How will your project help people living with dementia?
Receiving a diagnosis of dementia is life changing. Getting the right, timely support can be just as life changing. This support can be from family, friends and services such as the Alzheimer's Society.
However, a barrier to this is not being able to talk about a diagnosis. This can be due to the stigma associated with dementia, fear of what may be ahead and worrying about the reactions of others.
My project will develop the first programme to support people living with dementia to talk about their diagnosis to whoever they would like to, whenever and however they choose. This project aims to empower people living with dementia to talk about their diagnosis whilst in a supportive environment.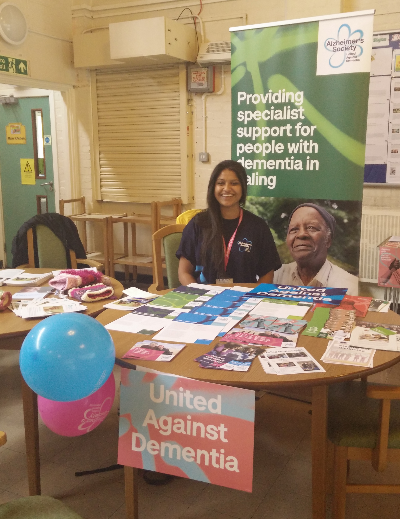 Jem supporting an Alzheimer's Society event 
How's your project going so far?
Very well so far. I have completed a review of decision making literature in dementia and collected data from a large scale public consultation to inform the disclosure programme. I've worked with experts to adapt psychometric measures and presented at a range of events and conferences.
Next, I will be testing the psychometric measures in a  group of people living with dementia, meeting with experts to adapt a suitable and accessible programme manual and then will pilot this. 
What is the most exciting piece of research you've heard about recently?
Rather than a piece of research, I think it is important to mention the amount of attention decision making has been getting recently in the field of dementia. This is not just in terms of academic publications but also Government policy and within the National Health Service (NHS).
It is brilliant that various organisations are acknowledging the challenges that people living with dementia and their supporter's face, and by doing so taking responsibility to ensure support is available. 
Tell us an interesting fact about yourself 
I used to pitch for the Great Britain Softball team!
Next Section
Next
You are on the last page