Public engagement: Organising an event
There is always the opportunity to organise and run your own public engagement event. Read our advice and tips here.
You are here: Public engagement: Organising an event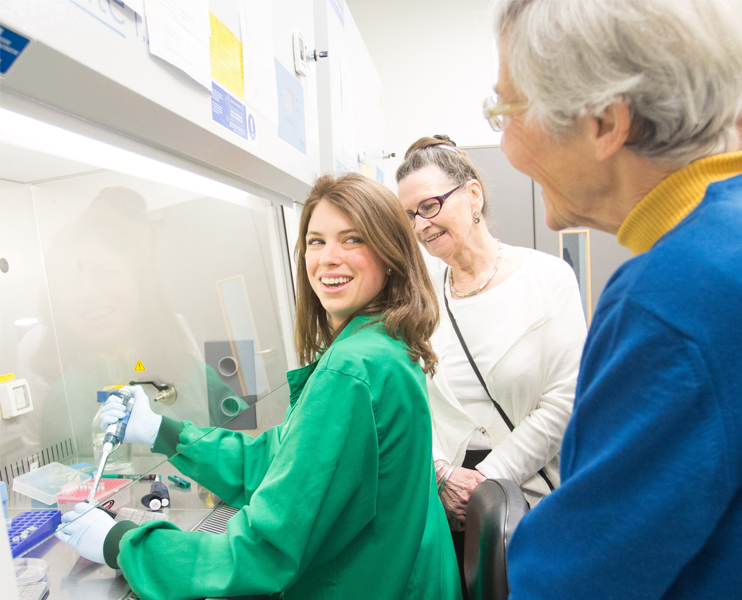 If you are an Alzheimer's Society funded researcher, we can help you with advertising your event to our local services and through our communications channels. If you are planning on hosting an event, please let us know by emailing [email protected]
What sort of things can I do?
Events can be a simple talk or presentation to a non-expert audience about your work. You could host a single standalone event, organise a longer talk or event with your colleagues or ask to join an existing event. You could also host interactive stands or exhibits to give people a more hands-on experience of research.

Open days, lab tours or visits to your research environment are also great ways to allow the public to have a look at what life as a researcher is like.

Public engagement is a great opportunity to flex your creative muscles. Are there different ways that you can talk about your research? Do you have any equipment that you use that you can demonstrate? Can you make use of models (of the brain, of cells?). Can you make one element of your research into a game or challenge? Is there a way that you can interact with your audience by asking questions or facilitating a discussion?
Things to consider
Once you have thought of your event and worked out your target audience and key message, there may be a few things that you need to take into account.
Where will it be held? There may be local venues such as libraries, pubs or community centres that are happy for you to host events at a low cost or even for free. You can also reach out to local schools or community clubs to see if there is any interest in an event.
If you are hosting a lab tour, is your lab space accessible to people with disabilities or who are less mobile? Are there health and safety or security considerations that need to be taken into account?
If your audience is people affected by dementia, how can you adapt your activities accordingly?
How many people do you want to come? For an interactive activity, you may want to keep numbers small, or have multiple timed sessions.
If your audience is children or younger people, are your activities age-appropriate?
Are there any forms or legal documents (e.g. DBS check) that you are likely to need?
If you are hosting your own event, is the venue suitable for your audience? Does it have access for people who are older or could have disabilities? Is there enough parking, or is it easy to get to on public transport?
Are there any health and safety elements that you need to take care of?
Will the audience expect refreshments? If so, will there be tea and coffee or lunch facilities at the event?
Are you going to ask people to register for the event? This is a good way to know how many people are likely to come. You can set up online registration via sites such as EventBrite. You may also want to set up a telephone booking for people who are less comfortable with using the internet.
Advertising your event
The key part of any public engagement event is making sure that your intended audience knows about it. Ways to advertise your event include via producing flyers, through social media and through email lists. Think about the sort of channels that would interest your intended audience - how are they likely to be receiving their information? Are they likely to be comfortable with a computer or social media?

Remember to clearly state the date, place, time and cost and how to register for the event in all of your communications. You may also want to include directions to the venue and if there are any instructions for access or parking.
Simplicity is the key for advertising - flyers or emails with too much content can be off-putting. Make sure your communications give a clear idea of what the event is and who it is for but don't overload the recipients with information.
Alzheimer's Society funded researchers can always make use of our communications channels. If you would like our help, please let us know by emailing [email protected]
Evaluating your event
It is important to reflect on your event and work out what went well and what could be improved in the future. It is best to think of your evaluation plan and strategy before you host the event. You should evaluate based on your initial aims and objectives.

Ways that you can evaluate include reviewing admin data (for example numbers of people who attended), collecting verbal or written feedback throughout the day, giving your audience a paper survey at the end of the event, and/or sending an online survey in an email afterwards. You can create surveys online for free using tools like SurveyMonkey
When doing any kind of survey, consider whether or not you need to collect personal information (for example names and contact details) or if the survey will be anonymous. If you do collect personal information, make it clear to people what you will use their information for, who will have access to it, how will it be stored and how long for.
When creating an evaluation survey, there are a few things to bear in mind:
Try not to make questions too loaded towards a particular answer. For example, instead of asking 'Did you enjoy the event' ask 'How would you rate the event?' and give options, from a scale of 1-5 or from 'Very poor' to 'Very good'. Make sure that your scale has an equal number of 'good' and 'bad' choices and a more neutral option. Make sure to include questions about the venue that you used and its suitability for future events with a similar audience.
Keep the survey as short as possible and use simple, clear language.
Consider how you will use your learnings from the evaluation. How will they feed into your next event? Should you share them with colleagues? Do you need to feedback to the people who attended your event?
Dissemination grants from Alzheimer's Society
Our new dissemination grants scheme provides funding to support the sharing of research knowledge and material beyond researcher's own peer groups. It encourages researchers to communicate and engage with people who may be helped and supported by the outcomes of their research and this includes public engagement events or creating materials to use to commuincate with the public.
Researchers can apply for up to £2,500 to support their dissemination activity.