Public engagement information for researchers
Find out more about public engagement in dementia research and the many benefits.
You are here: Public engagement information for researchers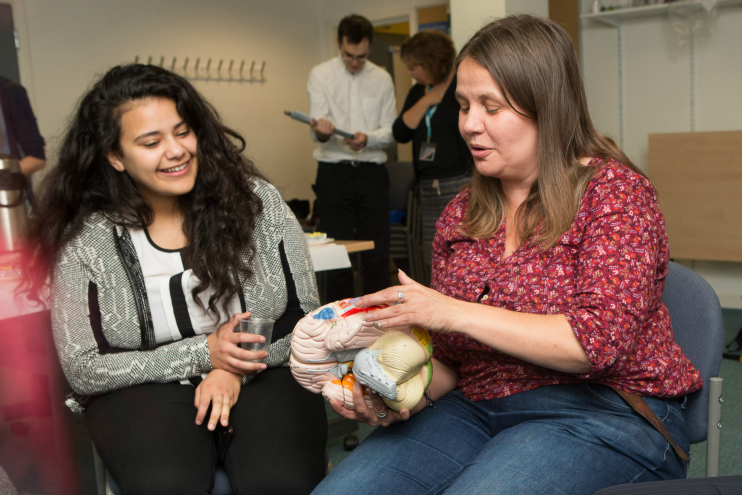 What is public engagement?
In its simplest form, public engagement is when a member of a specialist group communicates and interacts with members of the public who do not have indepth knowledge of that speciality. This interaction allows the public to gain more information and get a greater understanding about this subject.

Public engagement with STEM (Science, Technology, Engineering and Maths) has increased a great deal over the last decade, with many funders and universities now expecting their researchers and staff to engage with the non-scientific community as part of their work. Public engagement covers a range of activities, from giving talks and demonstrations to laboratory tours and hosting events such as science festivals.

This guide will explain more about how researchers can get involved in public engagement, especially with people affected by dementia.
Why do public engagement?
Some researchers may feel put off from doing public engagement as they feel that their research is not 'interesting' or 'exciting' enough. This is rarely the case - there is huge public interest in research and the scientific process, and even the most mundane of tasks or experiments can seem exciting to someone who has never set foot in a lab or research environment before! There are also a number of benefits to engaging the public with your work.
Benefits for you
Public engagement can improve your skills and help your research in many different ways. It can help you to hone your communications skills when talking to different audiences and improve your confidence. It can also help you to flex your creative muscles and think of different and interesting ways for you to talk about your research. Engaging with the public can help you to recruit people to your study, or to inform people about the results that you have achieved.
Benefits for the pubilc
The 2011 'Public Attitudes to Science' report by Ipsos Mori (in associated with the Department for Business, Innovation and Skills and the British Science Association) states that 'the UK public values science and is interested in finding out about it.' However, it does also find that '...the public does not always feel well informed about science ... [they also] have a stereotypical view of scientists, largely thinking of them as men, working exclusively in laboratories.' The report concludes with, 'Given the large public interest in science, coupled with the need to respond to the public's concerns, the study ultimately reiterates the importance of public engagement with science'.
This illustrates that many members of the public have an active interest in science and research and often would like to find out more. This is especially the case if they or someone they are close to are affected by a condition where research could help.
Benefits for Alzheimer's Society
Research is the heart of the Alzheimer's Society's strategy. Our supporters, donors and volunteers should have the opportunity to engage with the research work that we do. There may also be people who are not currently engaged with the Society but who are interested in research who may become aware of us through a public engagement programme.
Previous Section
Previous
You are on the first page