UK Dementia Research Institute centres announced
From the summer 2017 issue of Care and Cure magazine, read about how plans for the UK's first dedicated Dementia Research Institute are moving forwards with the announcement of the first research topics and five new centres.
The first 27 research programmes at the UK Dementia Research Institute have been announced. Worth a combined investment of £55 million, the programmes will provide answers to some of the most pressing questions in the field of neurodegenerative disease.
Five new centres will be established at the University of Cambridge, Cardiff University, University of Edinburgh, Imperial College London and King's College London. Together with the headquarters at UCL (University College London), they will lay the foundations for an eventual 400-strong community of UK Dementia Research Institute researchers.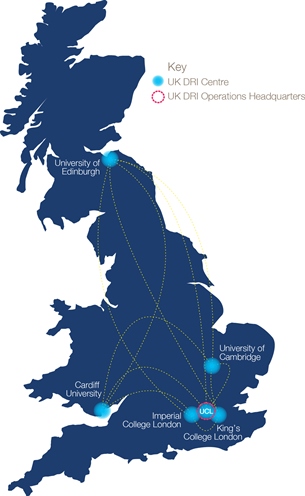 Using state-of-the-art research facilities at these leading UK universities, the initial programmes will get to the core of what causes neurodegenerative disease. Researchers will study how factors such as genetics, metabolism and the immune system contribute to the microscopic changes that cause loss of brain cells. By advancing our understanding of precisely what goes wrong in the brain, researchers at the institute will identify new ways to intervene that can be developed into new treatments for dementia.
The UK Dementia Research Institute will explore ways to detect dementia and to monitor how the diseases progress over time – information that could be useful for diagnosis and to test whether new treatments are working.
Dr Doug Brown, Director of Research and Development at Alzheimer's Society, said, 'The institute provides a dynamic, collaborative and fresh approach that will transform dementia research and deliver life-changing discoveries for people affected by dementia. It's incredibly exciting to see its first pioneering research programmes take shape across the six centres.
'Alzheimer's Society has committed £50 million to fund new research at the institute, maximising the impact it will have for people with dementia today and in the future. With the first research programmes now in place, we have the right ingredients for innovative discovery that will rejuvenate the development of dementia treatments.'