Poetry, song and reminiscence can help maintain connections as dementia progresses
Poetry, song and reminiscence can help people to remain connected to their lives and each other as dementia progresses. Helen Clifton meets a poet whose family benefits from all three.
Maxine Wilson was diagnosed with vascular dementia eight years ago. Although she can't now remember what day it is, the sprightly 85-year old from Knaresborough, North Yorkshire, recites entire stretches of her own poetry from memory.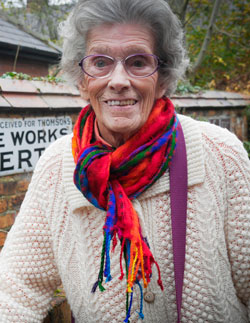 She recites in her soft Yorkshire accent,
'When I was just a little one, upon my mother's knee, I had to live with crocodiles and endless cups of tea! And porridge for my breakfast, and porridge again at night… and porridge again the following day, until I pinched a bag, and took flight.'
Lindy Herrington, 59, sits and proudly listens to her mum.
'Whenever you talk about your poetry or recite something, you don't just say it, you perform it. You've never lost that have you?'
Maxine agrees, and recites another piece for us. She laughs,
'That was my first poem. I wrote it when I were a little girl!'
Accomplished writer
Maxine has lived for the past two years in St Cecilia's care home in Scarborough, with husband Charlie, also 85, who has Alzheimer's disease.
The retired legal secretary and mother-of-three is an accomplished writer and poet.
Her work has featured in magazines like Woman's Weekly and People's Friend, and an anthology of Maxine's poetry, Seeking shoes for Sarah, was published in 1993. She also wrote a play for BBC Radio York, based on the story of her sister's birth.
Dementia has affected Maxine's ability to perform many simple tasks, but mention poetry and she comes alive. The verses, memories and stories come tumbling out.
Lindy explains,
'My mum's always had this creative streak, and her poetry brings her back.

'It's a bit of her that's very precious. I've heard new poetry from her just today. When my grandchildren Jamie and Lucy come and visit, Mum starts to say hello – and it turns into a performance.'
Retracing stories
Lindy, Maxine and Charlie recently attended an Alzheimer's Society-run reminiscence programme at Scarborough's Woodend Art and Craft Gallery.
The six-week course uses archive films, old objects and photographs to help participants to delve into the past and retrace the story of their lives.
At the end of the sessions, which focus on themes such as celebrations, holidays and jobs, participants produce life story books that document their memories.
The family had been attending a local Singing for the Brain group for several years, but it was at the reminiscence sessions that Alzheimer's Society staff were thrilled to discover Maxine's poetry for the first time.
Scarborough-based Dementia Support Worker Bridget Cousins explains,
'We had known Maxine for a while – but we didn't realise she had such a fascinating story.

'Every time Maxine remembers a piece of poetry or does a performance, she is reclaiming her identity. It's empowering for her, and it's lovely to see.'
The sessions have enabled Maxine, who was also a Sunday school teacher, to reconnect with her poetry, and Lindy describes them as a catalyst.
'My mum's writing is unique to her. No matter how the dementia develops, I hope she will always remember these things.

'It's a link to the past we need to keep hold of. I worry that if I don't prompt her, it will all be forgotten.'
Not right
Lindy first noticed things weren't right around 15 years ago, when Maxine started losing her confidence. Psychiatrists said she was depressed, but Lindy believed there was more to it.
'She couldn't do what she was asked to do. They wanted her to learn to make a cup of tea again and she couldn't. And the less she did, the less she was able to do.'
At this point, Charlie, a retired motor mechanic, hadn't been diagnosed. As his own dementia progressed, he became fixated on routine and his driving began to be very erratic – Lindy would borrow his car just so he would get used to driving less. He would also withdraw large amounts of cash, up to £1,500, and forget he even had it on him.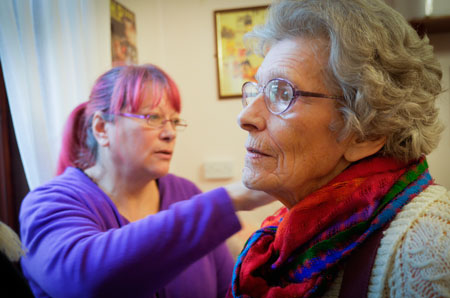 For anyone, the stress of both parents having dementia would be very difficult, but Lindy has bipolar disorder. For years, she had relied on her mum and dad to care for her through episodes of illness.
'Even when my own mental demons shrouded me with blackness, Mum's unconditional love and encouragement led me towards recovery.

'When the time came to consider residential care for Mum and Dad, Mum's insight into their needs was good and she was all in favour. My brothers Kenny and Stuart agreed that Mum and Dad must stay together.

'Dad had become very fixed in his routine and resistant to any change, so the decision to leave their home was a difficult one. It was a massive weight on my shoulders and I felt like closing down.

'Mum's brother, my Uncle John, helped a lot and they came to St Cecilia's for a month with a view to not returning home.'
Two years on, they are well settled and Lindy's mental health has stabilised.
Enjoying time
The structured, supportive nature of the reminiscence and Singing for the Brain sessions has enabled Lindy to enjoy spending time with her parents.
'Singing really helps me. I can go feeling quite unwell and actually my mood lifts when I'm here. I enjoy seeing my mum and dad like it as well, which is another tonic.

'Even now, me and my mum can talk about pretty much anything. She's always had great empathy. She was very caring with me when I've been poorly.'
Lindy says to her mum,
'Even if I felt suicidal, you were always there.'
Maxine replies with a smile,
'I know what it's like. So I just did the best I could.'
Warm and welcoming
Over at South Cliff Methodist Church, Maxine, Charlie and Lindy settle down for the singing group. The atmosphere among the 40 participants is warm and welcoming.
Around half the group has dementia, accompanied by carers, and everyone sings to their own pace. Charlie, beaming his way through an uplifting version of The Lambeth walk, is calm and focused on the music, and for the most part keeps up with everything.
Lindy explains,
'Even though dementia has taken something from our family, Singing for the Brain gives us something back. It's not something that we would ever have done before. But it's brought us closer together.'
Looking ahead
The family are now looking to the future. Lindy is a Dementia Friend and trained as a Dementia Friends Champion, and is keen to find a way to involve others from St Cecilia's with Singing for the Brain.
'When I did the training, I realised that although my mum and dad have got dementia, it's not necessarily a road to the end.

'I've learnt about the importance of creativity, and all the activities and quirky things that we can do to make each day more fulfilling.

'I recognise how important spontaneity can be. Something may only last 30 seconds, and they may not remember it. But it's still worth doing.'
Where would she be without Alzheimer's Society's support?
'I'd be in the dark. The local Society aren't surprised by anything. They just accept dementia for what it is. It's so refreshing compared with the real world.

'If we are out in a café and my dad bursts into song people stare. But with Alzheimer's Society, my mum and dad can be who they want to be.'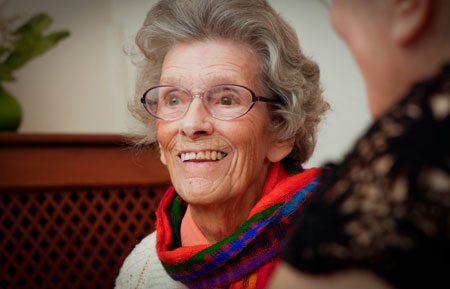 The journey
by Maxine Wilson

Behind the behind
of my mother I ride
over clumps and hummocks
to school

Over the hills
and far away
to succumb
to a different rule.

Thin arms wide
round her ample thighs
and face buried deep
in her warm

and the fear inside
as big and as wide
as the world
as yet unknown.

We swish as we pass
through the autumn grass
and the cows look up
and moan.

Remember the way
says Mam, today
'cos tomorrow
you're on your own.
Next steps
See how you can help raise money for vital services.
Use Dementia Connect to find Singing for the Brain and other dementia services near you.
Contact our National Dementia Helpline on 0300 222 1122 for information and advice about dementia.