People with dementia in Sussex comment on a range of specially designed clocks
A group of people with dementia in Sussex tell us what they think about a range of clocks designed for people with dementia.
Mid-Sussex Dementia Friendly Group in Haywards Heath is one of the Society's service user review panels – small groups of people with dementia who meet regularly to influence our and others' work by feeding back on ideas and materials.
We took three of the specially designed clocks available in our online shop to the group and asked them what they thought about them.
Three clocks
The group looked at two digital clocks and one with a more traditional clock face.
The Day clock, adapted from a digital photo frame, tells you what day it is and whether it is morning, afternoon, evening or night-time.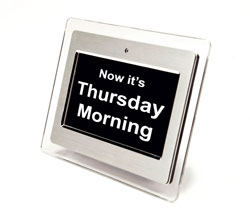 The Calendar day clock includes the day, time and date, and can be connected to a TV or monitor for an even larger display.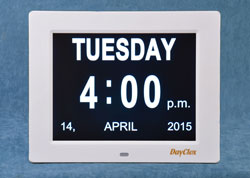 In addition to a familiar clock dial, the Day and night clock also features pictures and words to say what time of day or night it is.
Business-like
Group members differed over which digital clock they preferred, but Eileen liked the Calendar day clock's 'business-like' design, which provides the specific time.
She added,
'It just needs larger or bolder text for the bottom line, which tells you the date.'
The Day clock comes with eight built-in languages and, although none of the group needed this, they noted that it could be useful.
As the digital clocks cannot take a battery, their cables could restrict where you place them, and the group preferred to have more flexibility over 'where to park them'.
Extra features
People were disappointed that they couldn't adjust the brightness of either digital clock's display or customise them to any great degree.
Gerry said it would be helpful to be able to choose what features you want on each clock, for example for it to display the day, date, time or time of day.
John added,
'It's quite a personal choice. Phones and laptops can be set up to your personal preferences, so why not these?'
Group members also wondered whether these clocks can announce the time – they can't, but talking alarm clocks and watches are available in our online shop.
Even with the supplied instructions, people thought they would need help to set up and change the time on either of the digital clocks.
Simple design
The Day and night clock was popular for its simple design and the fact that it works with a battery.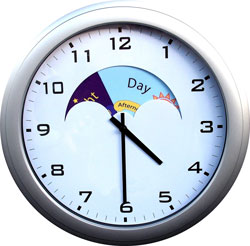 The dial isn't luminous and doesn't light up, which some thought could be useful at night.
Alan preferred this analogue clock to either digital option and even Paddy, who said he uses a watch and doesn't need another way to tell the time, conceded that the analogue clock looked good.
The Day and night clock's price was more attractive to group members, at £33.95 rather than £79.99 for the Day clock or £78 for the Calendar day clock. However people with dementia and some other conditions would be VAT exempt, reducing all three prices.
Email [email protected] to share your comments about specially designed clocks.
We use this feedback not only to inform our online shop, but also designers, manufacturers and suppliers.
For a range of daily living aids, visit our online shop or call 0844 245 1175 for our winter catalogue.