Lancashire schoolchildren join the battle for Christmas Number One uniting the UK in including people with dementia
As the favourites for 2018's Christmas Number One are announced, all bets are on for a Lancashire primary school to storm the charts with their charity single.
Flakefleet Primary School, also recently dubbed the 'happiest school in Britain', is releasing an original song called 'Light Up' on 14 December, with all proceeds going to Alzheimer's Society.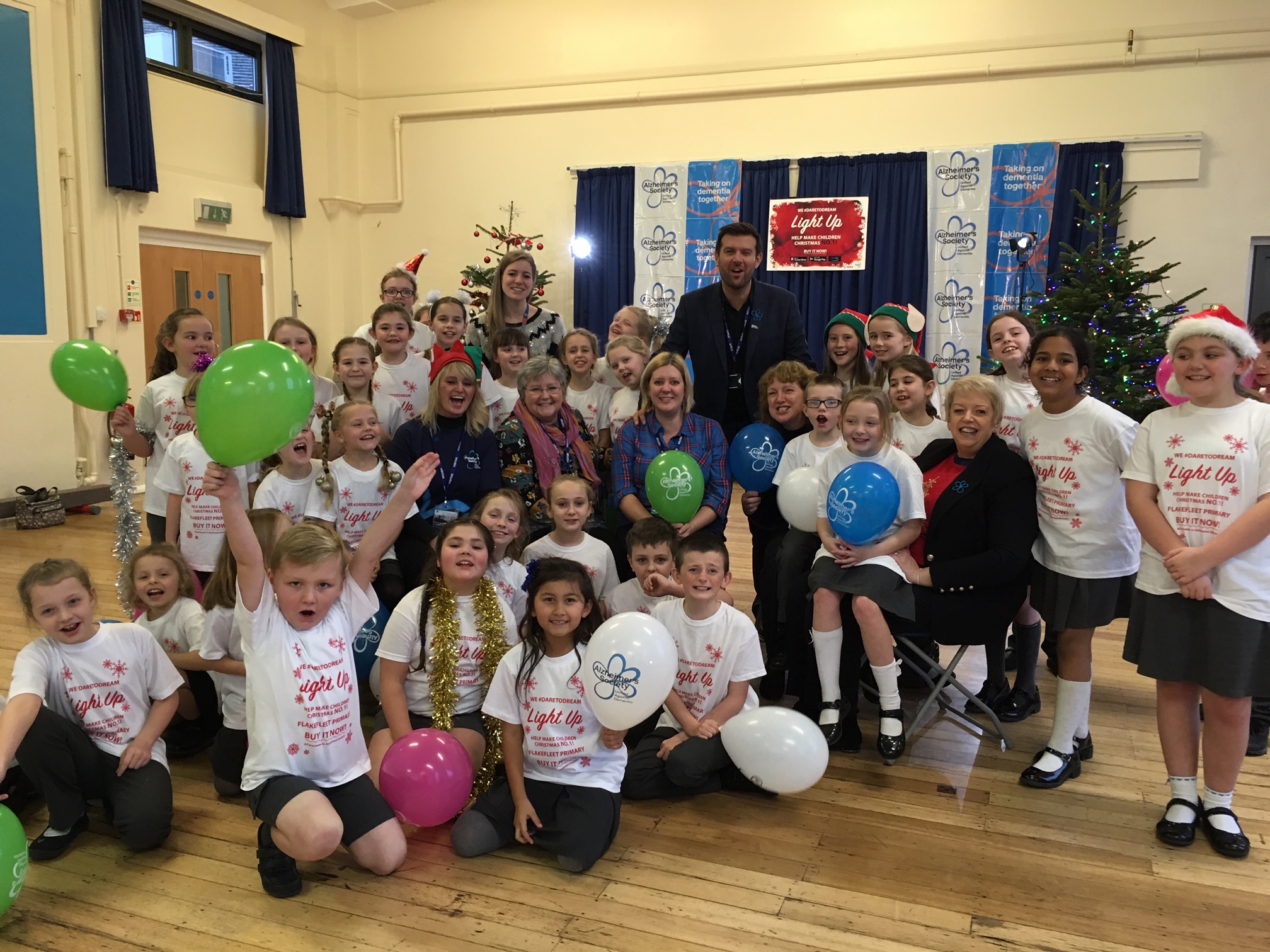 'Light Up' has been written and performed by the pupils of Flakefleet Primary School, aged 3-11, and comes with a really special message this Christmas encouraging everyone to give the gift of time to those in need - including people affected by dementia.
The children visited local elderly care home residents to film the heart-warming music video for the single, of which the lyrics include: "Light up, light up someone's Christmas, and they won't feel so alone. Light up someone's Christmas and you might light up your own."
The video, which has already had over 10,000 views on YouTube, was filmed over three days in Blackpool at Fleetwood Hall Care Home.
Someone develops dementia every three minutes and is now the UK's biggest killer. Yet far too many people face it alone, and feel isolated in their local communities – a problem which can be aggravated at Christmas.
Alzheimer's Society has applauded the school for doing their bit to include people with dementia in their community by arranging regular visits to care home residents.
All money raised from the single will go to Alzheimer's Society to provide information and support, fund research, campaign to improve care and create lasting change for people affected by dementia.
Jeremy Hughes, Chief Executive at Alzheimer's Society, said:
''Light Up' is an amazing example of how everyone can and join the growing dementia movement. The children of Flakefleet Primary School have created a song with a powerful message- and by visiting people in a local care home, are showing how people with dementia can be better included in their community.

'This is a great example of different generations uniting to help people live well with dementia today and to beat it for the future.

'Alzheimer's Society is here for anyone affected by dementia and we want everyone to get behind this powerful song and help it get to the number one spot this Christmas, as well as being inspired to help people with dementia in their community over the festive season and beyond.'
The school's local community has rallied behind the song, with local music producers donating their time and a local secondary school offering up their recording studio. Blackpool Winter Gardens also provided their famous opera house for the pupils to put on a big show to premiere their song and music video.
The school's Headteacher, Dave McPartlin, spoke of his own personal experience of dementia being part of the inspiration behind the song. He said:
'This is a cause really close to our hearts. Many staff across the school have, very sadly, been affected by this cruel and heart-breaking disease.

My Grandma, Doreen Ritchie, is now bed-ridden with dementia and it has been a devastating few years to watch her health deteriorate as it has.

'I love my Grandma to bits. She was the life and soul of every party, and everyone has always loved her company. Before she was diagnosed with dementia, I had no experience of it and didn't really know much about it.

'I'll never forget the first day she didn't know who I was or where she was. I'm not embarrassed to admit that I cried my eyes out and just wished dearly that I could help.

'Because of this experience, I've made a real effort to raise awareness of what dementia is and how it affected people and we've ended up with a Christmas song that we are hoping will make it all the way to 'number one' and raise money for Alzheimer's Society, an incredible charity.'
Pupils at Flakefleet Primary School have previously hit the headlines with a large scale re-enactment of the Royal Wedding and going viral with a recreation of the Fat Les 'Vindaloo' music video during the World Cup earlier this year.
Now the school hopes all of Britain will unite together and get behind their charity Christmas song to raise awareness of both dementia and elderly loneliness.
Every pound raised from the sale of this single will help Alzheimer's Society provide care, support and get one step closer to finding a cure in the fight against dementia. To pre-order the single, visit iTunes, or Google Play. The official release date is 14 December.