'Cruel and heart-breaking'- TV actress Jo Joyner describes her experience of dementia, as she opens up for the first time
Jo Joyner unites against dementia, sharing her experience of her nanna Dorris' battle with dementia.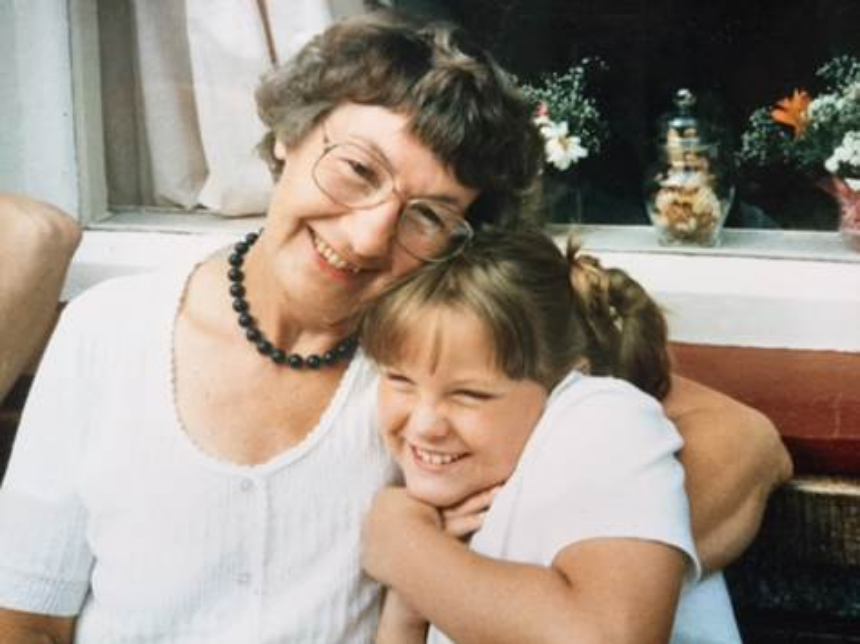 Jo Joyner (Ackley Bridge, Mount Pleasant and Marley's Ghosts), is uniting against dementia by opening up for the first time about the heart-breaking experience of watching her nanna, Dorris, battle with dementia. Dorris was diagnosed with dementia in the early nineties and sadly passed away when Jo was eighteen.
In a tribute to her 'kind, loyal and cuddliest' nanna, Jo will be joining the growing dementia movement by walking with her mum, husband, kids and dog at our Memory Walk in Leamington on October 7. As one of the nation's favourite TV actors, Jo is encouraging others to come together and sign up to Memory Walk by also featuring in a new video launched by the charity.
Voiced by Davina McCall, who has spoken openly about her dad's dementia, the video also features people across the UK, including people affected by dementia, and Alzheimer's Society funded researchers at the University of Exeter. The video includes a fun compilation of a different style walks - from Davina's impressive moonwalk to Jo's Egyptian moves, it doesn't matter how you walk, just as long as you unite and walk to defeat dementia.
In her own words, Jo said:
'It's such a cruel, cruel condition and it affects such a wide circle of loved ones and relatives. I think for those immediately close it's the hardest to reconcile the loss and regression that happens in essentially someone who used to look after you. My Grandad found it heart breaking, literally. My mother was heartbroken too, and I learned a lot over those few years about the power of love and the strength you can muster for someone who gave you life.'
Speaking about the early signs of dementia, Jo said:
'There were little things, forgetting names, leaving the gas cooker on. I remember people really starting to worry when she got lost in town. They'd lived in Ilford all their lives and she'd taken her usual route and bus into town and couldn't remember how to get home.'
As her dementia progressed, Jo explains how the condition affected her nanna and why she's taking part in Memory Walk:
'Because I was young, and I think in her head she was too, we met somewhere in the middle quite nicely for a time. For that period it was easier for me to dress her, or ascertain if she had an ache or pain. She often thought I was one of her favourite sisters, so she'd dance with me a lot. As a young drama student it wasn't so hard for me to enter her world at times.'
'The bottom line is that less and less people are dying of cancer now, HIV no longer has to be the death sentence it was, so wouldn't it be wonderful to feel the same about dementia in the future. Money means research, research means understanding and understanding and research lead to treatments, support and ultimately cures. So every penny we can make to support the services that help people currently, and that can help our wonderful scientists and specialists to understand the ocean that is our memory, is a step closer to a better future for every person who is diagnosed with dementia. Memory Walk is just one of those ways we can help and I'm doing mine with my mum and family in memory of the most kind, loyal and cuddliest Nanna who I wish I'd had the chance to know as an adult.'
Speaking about how they coped as a family, Jo said:
'As a family, we're close and supportive. We don't get embarrassed easily, which is important when you're with someone who is in the depths of dementia. You can't be worrying about what people think, you have to remain calm and focus on the important things. I remember coming into the kitchen from college one day (I was doing my A levels) and my Nanna was very busy moving various papers and magazines around the kitchen table. I asked my mum what was going on, 'I think she thinks she's back at where she'd worked for 15 years, so I've given her some pretend filing, she's been happy for hours!'. I've always admired my mum so much for how she thought outside of the box when caring for her mother.'
Alzheimer's Society Chief Executive Jeremy Hughes said:
'Dementia can devastate lives, but every pound raised by Memory Walk will help Alzheimer's Society provide information and support, improve care, fund research and create lasting change for people affected. Walk for your family and friends affected by dementia. Walk for future generations. Until we find a cure, we will keep walking so dementia doesn't win.'
To show dementia we are no walkover, sign up for a walk near you!