National Fitness Day and dementia
Wednesday 27 September 2017
Take part in National Fitness Day and get active to join the fight against dementia.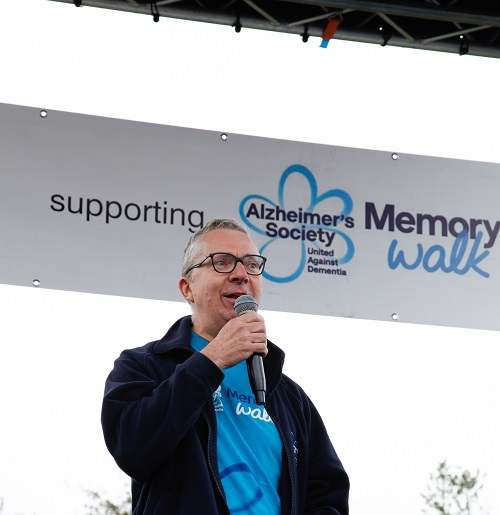 Today is National Fitness Day and it's the perfect day to get active and join the fight against dementia and sign up to our flagship fundraising event Memory Walk which is open to everybody, including older people, and people with dementia.
By celebrating the fun of fitness and physical activity in the fight against dementia, you are not only helping highlight the importance of physical activity for people across the UK living with dementia but also raising the awareness of the importance of fitness in helping everyone lead healthier and active lifestyles.
As the leading dementia organisation in the UK we know that a physically active lifestyle can have a significant impact on the wellbeing of people with dementia. Exercise is beneficial for physical and mental health and may improve the quality of life for people in all stages of the condition.
Sign up to Alzheimer's Society's Memory Walk to help us raise over £9 million to support everyone affected by dementia – and with dementia set to be the 21st century's biggest killer, we must unite more than ever to show dementia we are no walkover.
What other sorts of activity can people living with dementia do?

Physical activities are sometimes defined as those activities that increase your heart rate and cause you to breathe more deeply. This includes everyday activities such as walking, gardening or dancing, as well as sports and exercises with the specific aim of improving fitness.
Exercise is beneficial for physical and mental health and may improve the quality of life for people in all stages of dementia.
For facts and information on why being physically active is important for people with dementia visit our 'exercise and physical activity' page where you will see examples of suitable exercises and physical activities for people in different stages of the condition and how much activity is appropriate.
That is why we are wholeheartedly behind National Fitness Day which will see gym operators and physical activity providers nationwide open their doors to offer a range of free taster sessions and gym passes, to encourage people from across our communities to embrace the fun of fitness.
So this National Fitness Day, walk for your family and friends affected by dementia. Walk for future generations. Until we find a cure, we will keep walking.