A Memory Walk volunteer encourages others to get involved and make the most of the experience
From the August/September 2016 issue of our magazine, find out more about what goes into volunteering at a Memory Walk event.
Memory Walk, our annual fundraising event, could not happen without the support of volunteers. Dominic Cambridge encourages others to get involved and make the most of the experience.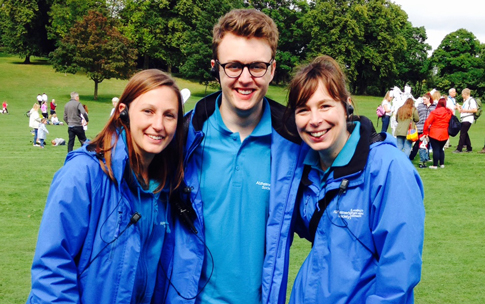 Durham University student Dominic Cambridge was heavily involved in five of last year's Memory Walks, not only volunteering his own time but also encouraging others to do the same. He says,
'The Memory Walks were both emotional and inspiring. Every person has their own reason for fundraising for the Society, and many have their own memories of someone with dementia.
'Sharing conversations and memories with walkers on the day made me realise how widespread the impact really is.'
Motivated
Dominic was motivated to support the Society having seen the effect of dementia on both a person with a diagnosis and their family and friends. He was also keen to get more experience of the charity sector.
'I volunteered at Memory Walks in the Yorkshire region, helping out with everything from setting up marquees to putting up road signs, as well as ensuring walkers were safe.
'I was also responsible for recruiting additional volunteers and co-ordinating volunteers at the actual walks.'
Dominic says that volunteering at the York, Sheffield, Leeds, Huddersfield and Wakefield walks provided him with invaluable hands-on experience and insight.
Relationships
Just as important, says Dominic, were the relationships he built up while volunteering at the Society in York.
'After only a few days I had made friends with most of the office, and shared my lunch hour getting to know people away from the desks and phones.'
Dominic speaks warmly of his experience and he clearly gained a lot from it. His message to anyone who is considering being a volunteer at this year's Memory Walk is clear.
'Do it. The memories I have made since starting volunteering at Alzheimer's Society are some of my fondest, as well as the friends and experience I have gained.
'It speaks volumes for the charity that, even with an extremely hectic schedule, I still try to make time to pop into the office to help out, see friends or make a few cups of tea!'