Eye care tests at home for people with dementia
Eye care is important for people with dementia and may be provided at home or in a care home. Danny Ratnaike finds out about the benefits of a specialised service.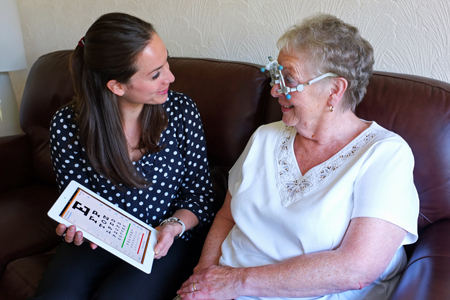 Good eye care is vital for everyone but is sometimes neglected for people with dementia. Eye care can be provided through home visits or in care homes and some practitioners have particular experience of working with people who have dementia.
Eye care at home
Brigid McAleer cares for her sister Annie McCloskey, who lives with her in Strabane, County Tyrone in Northern Ireland. Annie moved in following a cataract operation and was diagnosed with dementia.
Brigid was reluctant to take Annie for another eye test because the strange surroundings had caused difficulties before.
She says,
'Her hearing is also not good and she couldn't communicate with them.'
Brigid found out about a company called Optomise that specialises in eye care for people with dementia across Northern Ireland. They examined Annie's eyes at home in a way that didn't require her to answer verbally, by looking at how her eyes reflected a small light.
Brigid says,
'Two people came and tested her eyes as she was sitting on the couch. I asked if it needed to be done in another room, but they said it was fine as long as they could draw the blinds. It was a great success.

'Before we'd give her a magazine and it didn't matter if it was the right way up or not, she'd just flick through it. Now she's got glasses she immediately turns it the right way around.'
Len Telford, a Partner at Optomise says that eye care staff need empathy, patience, understanding and adaptability.
'No two eye tests are the same. Our opticians and their assistants need to be able to alter their examinations to cope with this.'
Right to care
Doreen Bingham has been Matron at Movilla House Nursing Home in Newtownards, County Down for the last six years, where Optomise also provides eye care.
She says,
'Our residents with dementia have typical needs of older people but there are some additional needs. For example, they may have difficulties with spatial awareness - but they have the same rights to good eye care.'
Appropriate eye care can provide huge benefits.
'We had one lady with dementia who spent a lot of time in bed. She lay in bed all day with her eyes closed and didn't communicate, even with family members.

'We had her eyesight tested and she got glasses. When her sister came in she was delighted because she could see her. She had been uncommunicative because she never knew who was there. Now she's up and about and happier within herself.'
Optomise also provides training for care home staff.
'They give them glasses to wear that show how it feels to be short-sighted or to have lost peripheral vision. Staff can then adapt what they are doing based on this. It's absolutely superb when you can understand what a resident can see.'
All the difference
Len emphasises the impact of being able to see.
'It's not just about reading and watching TV. It's about mobility, nutrition, hydration, communication and generally being connected with the world around us.'
He recalls Mabel, who was in her early 80s and lived in a care home. She had to wait almost two years for a cataract operation, but her GP was considering whether to cancel it because of her worsening dementia.
'As I approached her she shouted at me to go away and was yelling for a cat to get off the bed. Her cataracts had advanced to the point where she could only see faint shadows.'
Fortunately the GP was convinced that the operation should go ahead and Len saw her again six weeks later.
'I was greeted by Mabel pointing at the clock on the wall, telling me it was 2.15 and I had been due at two o'clock. All the way through the test she co-operated and was able to read right down the letter chart, though she continued to complain about my punctuality!'
Len adds,
'Almost every day we come across people whose carers have put everything down to the headline "dementia". Showing no interest in photographs of grandchildren can be hurtful. Maybe it's because she can't see and a simple pair of near-vision glasses can bring a smile of recognition and make all the difference.'
Eye examinations are free for over 60s and for some younger people with dementia, as are home visits if it is difficult to get to a practice. Benefits may be available to help towards the cost of glasses.
Find out more in our information about changes in perception. For more about Optomise, visit their website or call 028 9182 7780.