From the June/July 2017 issue of our magazine, a former carer won our New Year Super Draw jackpot after entering the Weekly Lottery.
Supporting the cause through the Alzheimer's Society lottery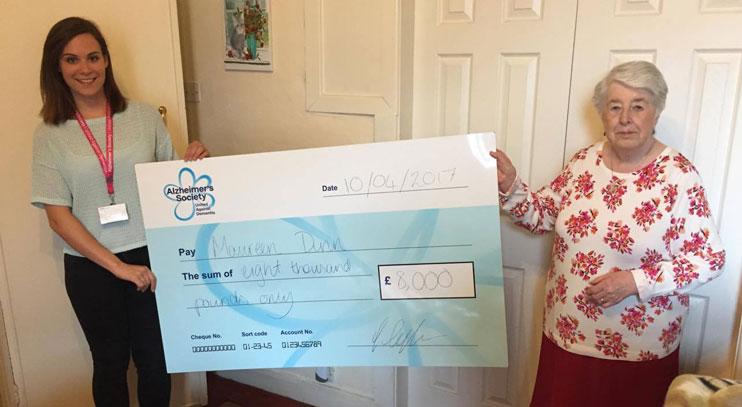 Having experienced her late husband's Alzheimer's, Maureen Dunn understands as much as anyone why it's so important for us to unite to fight dementia.
Now 81, she isn't able to support the cause by running or trekking, but entering our Weekly Lottery is something she can do.
'It's my way of being able to say thank you and to help to raise funds,' she says.
When her regular ticket was automatically entered into our New Year Super Draw, she certainly didn't expect to win the £8,000 jackpot. Since she did, she's been encouraging others to join in.
'I've had a lot of people asking me about it, and they weren't aware of the Society's Weekly Lottery until I told them about it.'
In the dark
When her husband, Michael, developed Alzheimer's in his mid-50s, Maureen didn't know where to turn.
'We really were in the dark,' she says. 'I didn't know what I was dealing with.
'Eventually he forgot how to walk and dress himself, and he had four mini-strokes. He was getting up six to 10 times a night.'
Maureen's wellbeing suffered, yet having arranged replacement care for some much-needed respite, she was mortified when this turned into permanent residential care.
'It was one of the worst decisions I've ever had to make in my life. Where he was, the other people were much older than him. It was the wrong place for him, but it was the only place available.'
Michael died eight years ago, and Maureen is determined to do her bit for the cause.
Not alone
Maureen's using some of her winnings for a holiday to one of her and Michael's old haunts near Blackpool.
'I have relatives near there and will see them,' she says. 'So even though I'll be going on my own, I'm not really on my own when I'm there.'
Supporting Alzheimer's Society is her way of making sure that other people aren't alone when facing dementia.
'We all need to deal with this horrible condition,' she says.
Next steps
Enter our Weekly Lottery, with 77 cash prizes each week plus four chances to win the £8,000 Super Draw jackpot each year.
Read the next article from this issue of the magazine.