Using real-life experiences to help the Society's training improve dementia care
From the December 2015/January 2016 issue of our magazine, Alzheimer's Society provides training to help improve care for people with dementia. Danny Ratnaike finds out how real-life stories are making courses more engaging and memorable.
Jane Harris' father, Gerry, had vascular dementia and moved into residential care in Scotland six years ago.
Jane says,
'I was amazed at the lack of training among the well-intentioned but overstretched staff. My dad's behaviour seemed to confound them.

'He needed a lot of reassurance. He was very frightened about the situation he was in, facing isolation and a lack of stimulation.'
Jane and her partner Jimmy Edmonds, both filmmakers, struggled to improve Gerry's care. So they did what they knew best – with his agreement they began recording Gerry's experiences on camera.
'It felt as though making a film was all we could do.'
From then until his death in 2013, aged 95, they produced almost 100 hours of footage, which is proving a powerful legacy.
Films edited from this are now used in Alzheimer's Society training to improve support for other people with dementia.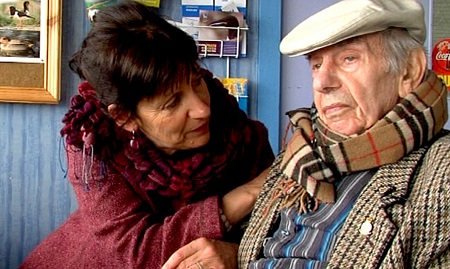 Power of storytelling
Care professionals don't always retain what they learn on courses and training doesn't necessarily translate into practice.
Jenny Mackenzie leads the Society's Training and Consultancy team, which has transformed its approach by drawing on an unlikely source of inspiration.
'When people tune in to a hit TV drama like Downton Abbey or Vera, they remember it for a long time afterwards, talk about it, enjoy it.

'We use screenwriting techniques in the way we write our courses – each element has a story and a storyteller.'
By using films of Gerry along with other people's real-life stories, the training becomes more interesting, tangible and memorable.
Jenny describes Gerry as a 'natural screen hero' whom people connect with easily.
'The films not only include footage of him living through difficulties, but also of how he made sense of things and tried to make things better.'
Making sense
Gerry was a creative extrovert whose achievements included the invention of an innovative fire sprinkler system. He responded to boredom by doing things that made sense to who he was – for example, dismantling his bed – but which confused staff.
Su Burns, Dementia Trainer, says,
'People want to know what happened next, was the real problem picked up? How can we stop this happening in our home?'
Fellow trainer Sue Brewin says this material produces many 'penny-dropping' moments.
'In particular when participants realise that what they have always seen as "challenging" or "difficult" behaviour is in fact the person responding to the situation they find themselves in.

'A lot of people relate it to the individuals they support – "Oh, Mary does that" or "That's why George got upset with us the other morning".'
Although dealing with some stark situations, Su says the films also include beautiful moments that underline how people can make a difference.
'When Gerry is taken out for the day you see his whole demeanour change. We see a man who's coming fairly near the end of his life and the sheer joy on his face. That's the legacy – there are things we can do.'
Refocus
Sara Deakin, Practice Development Matron at Nottingham University Hospitals NHS Trust, commissions Society training for her staff. She says real-life stories help them to refocus on the person with dementia.
'We can all read about "this is what happens to this or that bit of your brain", but hearing about a real person's life is so powerful. People really remember their stories.'
In addition to care professionals, Jenny's team delivers training for others working in local communities.
Eloise Macey, a Community Warden in Kent, says Gerry's story helped her understand how individual each person's experience of dementia can be.
'It was upsetting to think that it could have quite easily been my own family member in the same situation.'
John Wills at Kent Association for the Blind helps people to retain their independence.
'Knowing a client was once a dancer, bus driver or teacher can offer points of reference to trigger memories and help them feel more at ease.'
With the Society's support, John and a colleague are now delivering dementia training to other people in their organisation.
Jane recognises that dementia support is gradually improving.
'Our hope is that our experiences may help lead to more person-centred, compassionate and joined-up care.'
Your stories
Jenny is keen to hear about other real-life experiences that could enhance Society training.
'We'd love people affected by and living with dementia to send us their poems, photographs, artwork and reflections.'
To share your story, email [email protected] or write to Training (LWD), Alzheimer's Society, IT Centre, Innovation Way, Heslington, York YO10 5NP.
Find out more about training and consultancy or call 01904 567909.