A support service which is improving the hospital experience of people with dementia and their carers
From the October/November 2016 issue of our magazine, a hospital stay can present unique challenges for a person with dementia
. Gareth Bracken reports on a service in Leicester providing support before, during and after.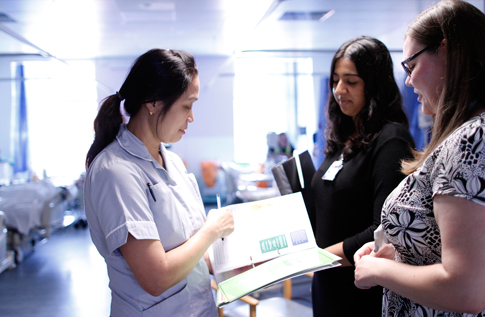 Having to go into hospital is tough enough for anyone, but when someone has dementia it can be even more challenging for them and their carers.
An Alzheimer's Society report, released earlier this year as part of our Fix Dementia Care campaign, found that only 2 per cent of people surveyed felt that all hospital staff understood the specific needs of people with dementia. According to Fix Dementia Care: Hospitals, patients who have dementia stay more than twice as long on average as people aged over 65 who don't have the condition.
The report also highlighted examples of hospitals making improvements for people with dementia, one of which was Leicester Royal Infirmary. Here, Alzheimer's Society dementia support workers provide support to people affected by the condition before, during and after a stay in hospital.
Daunting environment
When a person with dementia has a stay coming up at Leicester Royal Infirmary, the dementia support workers can talk through concerns and provide specific guidance for them and carers.
The team helps people to understand how things will work in hospital, and make sure that hospital staff know about the person's individual needs.
Amandeep Gill, one of the dementia support workers, says,
'Hospital can be daunting and fast-paced, and people don't have time to get their head around it.
'We help carers understand their options better and feel more confident. We tailor the support based on the needs they identify with us.'
They also make sure that people know about local support that will be available after the hospital stay, including the Society's services for people with dementia and carers.
Improving care
Sophie Tucker has managed the Leicester support service since its launch in April 2014, and says they want to improve people's experiences of hospital care. Ultimately, the aim is to reduce how long people with dementia need to stay in hospital and the likelihood that they might need to return.
She says,
'People come to the hospital because they are sick but they may not be here because of their dementia.
'If someone comes in with a urinary tract infection, even though they get better we think, "Why did they get the infection?" We explore that in more detail to try and reduce the chance of them being readmitted for the same problem in future.'
Due to its success with Leicester Royal Infirmary, the team now also provides support for people attending nearby Glenfield Hospital.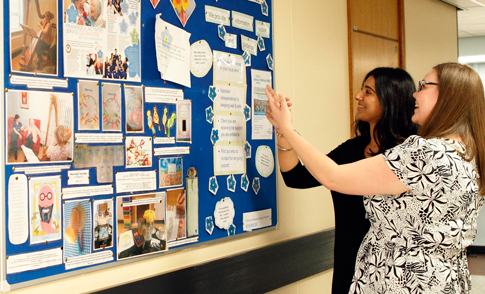 Vital support
Sue Lockwood's mother, Joyce, has dementia and went into hospital earlier this year after having a fall at the seaside.
Sue says the help that she received from the dementia support workers was 'brilliant'.
'They chatted to me about how things worked, the process, access to support and information about diagnosis. They support you and let you know it's alright.'
Carole Clohesy is another carer who is grateful for the service. Thomas, her 85-year old father, is visually impaired and was diagnosed with Alzheimer's in May. He has Charles Bonnet syndrome, where failing eyesight leads to hallucinations.
Thomas broke his elbow while out walking and was admitted to hospital in late 2015. He became disorientated and distraught on the ward, even experiencing suicidal thoughts. Carole says,
'Amandeep not only offered emotional support but was also extremely informative and efficient.'
Amandeep's support came at a time when Carole was struggling to get the right care for Thomas. Carole says,
'She helped me with what questions to ask, and if she couldn't answer my questions she knew who could. She also helped to get different teams to communicate with each other.'
Sophie believes that hospital staff are becoming more aware of the condition, partly due to better training to understand how dementia can affect a person's hospital stay.
Voicing concerns
Amandeep says that carers appreciate being able to contact the team even after the person with dementia has left hospital.
Sue found this particularly useful when Joyce moved into a nursing home after 10 weeks at Leicester Royal Infirmary. Apart from giving her an opportunity to 'vent' about concerns she had over her mother's care in the home, the dementia support worker also gave her the confidence to address them.
She says,
'That was helpful because you can feel biased, but when someone says you've got a valid point they confirm that you are still responsible in your views, even though you're so close to things.'
Providing the right care for people with dementia remains a major challenge for hospitals, but Leicester Royal Infirmary's work with Alzheimer's Society shows one of the ways in which this can be improved.