A successful campaign to save a day care centre for people affected by dementia in Cardiff
From the April/May 2016 issue of our magazine, local campaigners have convinced their council to change its funding plans for a specialist day centre in Cardiff. Sal McKeown speaks to the families involved.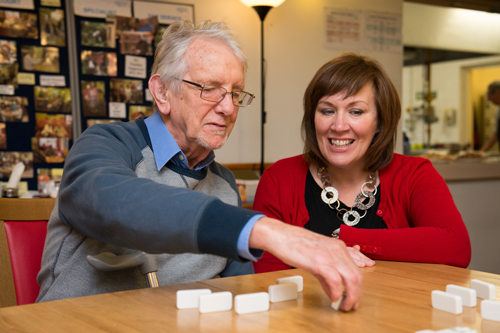 A successful campaign has persuaded a local authority to reconsider its plans for Oldwell Court, a specialist day centre run by Alzheimer's Society in Cardiff.
In December 2015 carers and service users heard that Cardiff Council was to withdraw £161,000 in funding for 19 day centre places per day, offering alternatives at three council centres on the other side of the city.
Jane Jones, 86, lives independently and enjoys socialising and taking part in activities at Oldwell Court two days a week. It also provides support and peace of mind for her daughters Meryl Randell-Jones and Karen Deehan, who both work full time.
Jackie Askey, whose late husband George had dementia, also appreciates the value of Oldwell Court. Four years ago she was desperate for respite, or replacement, care – the level of George's care needs meant that she could not attend routine appointments for herself or spend time with friends.
She says,
'I needed a place which would understand him and which would provide specialist professional trained help.'
Overwhelming response
Meryl and Jackie attended a meeting about the council's plans organised by Melanie Andrews, the Society's Operations Manager in south east Wales.
Melanie says,
'The response was overwhelming. People were anxious at the prospect that their loved ones would no longer able to access the service.
'Their enthusiasm and energy shone through and the campaign to keep Oldwell Court open took on a life of its own.'
When they attended an initial consultation meeting, no councillors were available and the council staff who attended were unable to answer their questions.
Jackie was shocked to discover how little was understood about the service.
She says,
'The justification was that Oldwell Court catered for people with low level dementia. This was completely untrue.'
Find out more about Alzheimer's Society campaigns and how to get involved.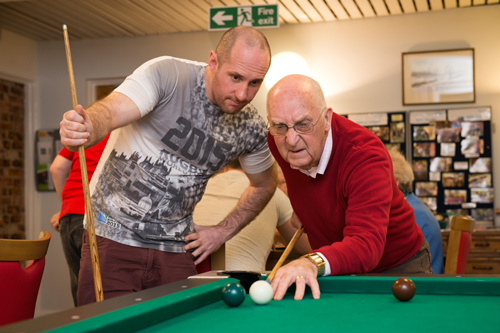 Campaign support
Alzheimer's Society provided letter templates and contact details for councillors, Welsh Assembly members and MPs. The fact that the incidence of dementia is expected to increase by 53 per cent locally over the next 14 years was a clear argument for expanding, not cutting, services.
The campaigners realised they would have to make sure that the press, public and decision-makers had the right facts and figures.
They also highlighted the stories of service users to show, just as importantly, the human cost of the cuts. Meticulous planning and flexibility meant that there was something new happening each week to keep the story alive.
Petition spike
Alarmed by the threat of closure to what had become a vital service, Melanie decided to galvanise support through a petition.
The campaign turned a corner, with the hard copy petition receiving 2,000 signatures and the online petition, shared via Facebook, attracting 4,000.
Karen and Meryl wrote to First Minister Carwyn Jones, the health minister Mark Drakeford, and Andrew RT Davies, the leader of the opposition in the Welsh Assembly.
The group was also helped by Joseph Carter, a local councillor who briefed campaigners on the workings of the committee that would assess the council's plans and check how well interested parties had been consulted.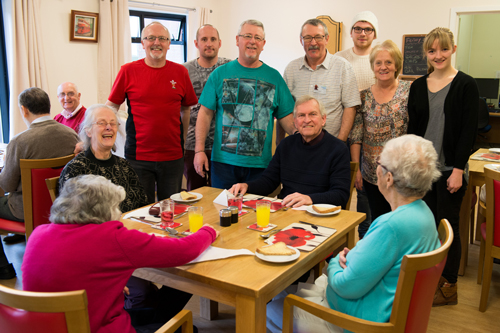 Good news
The campaign resulted in some very good news – the council decided to honour its funding for existing service users so they will not be transferred elsewhere.
This means that Alzheimer's Society can continue to support families affected by dementia at Oldwell Court, and the need for these services has been highlighted throughout the community.
Although some families still have concerns for local services, a successful campaign like this shows the power that people can have when they work together.