A specialist hospital ward for people with dementia
From the February/March 2017 issue of our magazine, many hospitals are trying to make wards better places for people with dementia. We visit a specially designed ward offering person-centred care.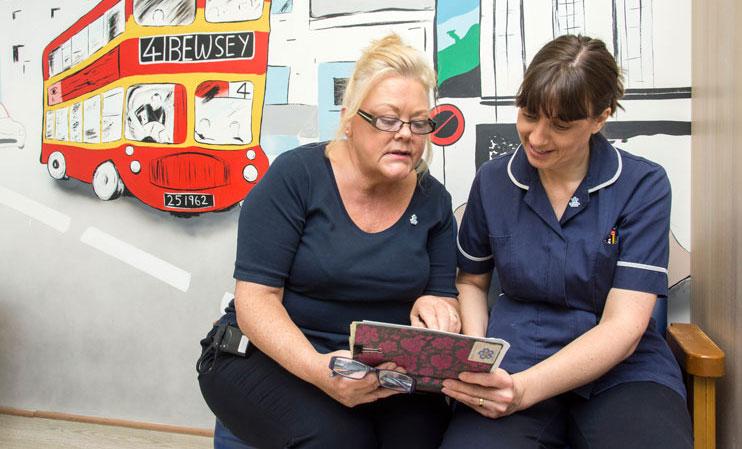 Hospitals can struggle to provide the right care for people with dementia, and many end up spending far longer in them than necessary.
To counter this, Warrington Hospital opened a new specialist dementia ward in March 2014.
The Forget Me Not ward uses colour, lighting and innovative design to create a more relaxing and stimulating place for people with dementia.
'It's an environment which reduces the stress of a traditional ward,' says Debra Carberry, a dementia nurse specialist who leads the dementia team.
'Stress can equal challenging behaviour, so less distress means we can plan for home earlier. The majority of patients go to their own homes and we avoid unnecessary admission to nursing homes.'
Social space
Each bay and cubicle in the 21-bed ward has its own pastel colour scheme, making it easier for people to identify where they are. Photographs of local scenes adorn the walls next to each bed.
'It's now a nice, social space – a much more welcoming and homely environment, and much less clinical,' says Deborah.
Other features include a mock bus stop, a lounge area with traditional looking fireplace, a quiet room with a 1960s-style TV and a special garden area.
'We got rid of the old-fashioned nursing station in the middle and replaced it with a desk in every bay, each with a nurse. That breaks down a barrier,' says ward manager Deborah Hammond.
'It's now a nice, social space – a much more welcoming and homely environment, and much less clinical.'
There's also an area for people to gather and chat if they can't sleep.
'I once came in at five in the morning and patients were sitting there with a cup of tea,' says Deborah. 'Maybe that's something they used to do during their working life.'
Regular activities, such as reminiscence sessions, provide people staying in the hospital with additional things that they can enjoy doing.
Most benefit
Ward staff are trained and experienced in caring for the specific needs of people with dementia. Priority is given to hospital patients who would benefit the most from being on the ward. This tends to be people with complex needs who would otherwise face lengthier stays.
'The nurses here are very good. They've got a lot of patience and determination,' says Edna.
Edna Stokes, aged 87, has dementia and has stayed on the ward a number of times.
'When I first came here I was in no man's land, really ill,' she says. 'But they got me better.
'I like it here, I enjoy it. I can find my way around. I use the bus stop – that's good, they did a good job there.
'I also like to walk in the garden. I enjoy it on a nice day.
'The nurses here are very good. They've got a lot of patience and determination.'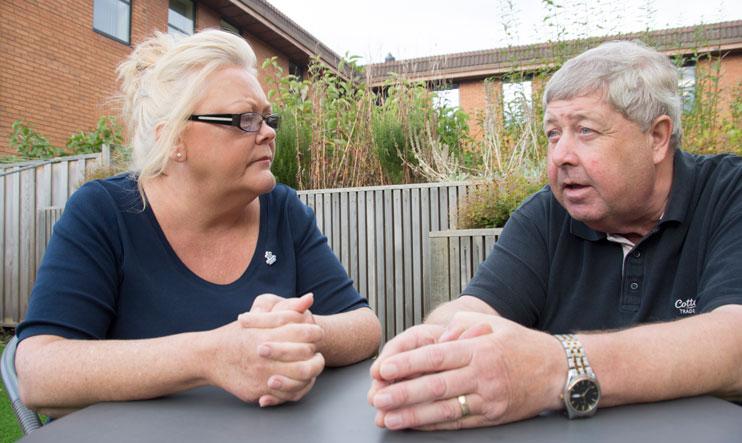 Culture change
Debra says the ward has moved towards providing care that is more person centred.
'We try to focus on what patients can do for themselves rather than take over the practical side – we keep them in control as much as possible,' she says.
Pat Jennings is a 76-year old former psychiatric nurse who has dementia. Now a patient on the ward, her husband Paul welcomes the staff's approach.
'We used to be very quick to label people, but it's very encouraging that people here don't say, "Pat is a woman with dementia." They look at the person first, who is affected by their illness,' he says.
Debra says, 'It's very different to a general medical ward. We treat the relatives of a patient as the experts. They'll know what works best, so we listen to them.'
Paul says, 'I spend longer with Pat than the staff do, so I can feed back to them. It's essential for me to communicate with the staff.'
Carers are welcomed onto the ward at meal times or whenever else the person may need them. Deborah says that the hospital is introducing this change in culture to other wards.
Family feedback
Paul's experience of the Forget Me Not ward has been 'really quite positive'.
'When Pat was on another ward, the staff were very caring but it was all hustle and bustle, in and out. They don't have the same degree of insight or training. Pat was far too overstimulated.'
'Where we're going is probably 24-hour care for Pat,' he continues. 'The transition could be very destructive, so the staff on this ward have a role there too.'
Debra says the ward has received some 'really great feedback' from patients' families.
'We've had some very positive comments about our care approach,' she says. 'Relatives can now go home and relax a little better.'
Next steps