From the June/July 2017 issue of our magazine, when her mother no longer enjoyed trips out, Pat Norris was inspired by fellow Talking Point users to bring the outdoors closer to home. Gareth Bracken from Dementia together magazine meets a daughter who has created a sensory garden with a story.
A daughter's garden project that's brought pleasure to a mother with dementia
When Pat Norris found out that her mother, Beryl Smith, had dementia, she was determined that history wouldn't repeat itself.
Pat's father, Jim Smith, died on Christmas Day 2015 aged 91, with both Alzheimer's disease and prostate cancer. Yet Pat says his cancer received greater attention from health professionals.
'The support focused on that,' she says. 'Any information from district nurses came from that aspect – nobody mentioned the dementia.
'A doctor gave the diagnosis of dementia but didn't give any information, so it took a back seat.'
Knowledge and understanding
Beryl, 89, was a silver service waitress for most of her working life. However, she was catering in the Auxiliary Territorial Service, the women's branch of the army, when she met Jim in September 1946. They married that November, and six years later moved to the house in Wythenshawe, Manchester that Beryl still calls home.
After a fall left Beryl with a broken wrist and head injury, Pat gave up her job as a college teacher to help her care for Jim. He died only a few days after Pat finished work, but by this time an MRI scan had revealed Beryl's own dementia.
'I can get knowledge through reading, but the understanding comes from the courses and Talking Point,' says Pat.
When Beryl was diagnosed with mixed dementia in November 2015 – later amended to just vascular dementia – Pat set about researching all she could about the condition. She wanted to make sure it wouldn't be overlooked again.
She expanded her knowledge through Alzheimer's Society and Admiral Nurse training courses, but the most helpful resource was Talking Point, the Society's online community.
'Knowledge is nothing without understanding,' says Pat. 'I can get knowledge through reading, but the understanding comes from the courses and Talking Point.
'On Talking Point I have spoken to others with the same experiences and I've picked up new strategies. There are also so many options – you can ask for information or offer advice back. You'll always get a response, even at 3am in the morning.'
It was through Talking Point that Pat was inspired to create a sensory garden for Beryl.
'Mum had a fall and didn't want to go out much, so there was no point making her,' says Pat.
'She used to like to walk but it was no longer safe or enjoyable, and attending unfamiliar groups or dementia cafés would cause more anxiety than enjoyment.
'People on Talking Point said, "Why bother going out if you can stop in or make the house nice?" So I decided to make the most of outside. Dad loved the garden, so it's also a memory of him.'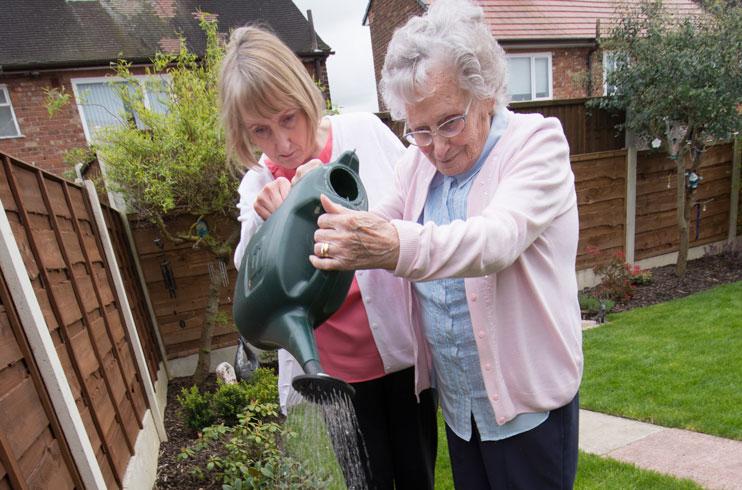 Personal touch
After a few false starts with other gardeners, Pat eventually found Mark Lawton, a landscape gardener whose mother has Alzheimer's.
As they learned of Pat's plans, friends and family began sending articles and information about sensory gardens, helping her to build a mental image of what she wanted to create.
'It's not a big garden or an affluent area, but it's special to us. Mum has plants relating to different people, and family buy little things for the garden,' says Pat.
Pat sought something to stimulate each of the senses. With Mark's support, she set about developing a garden that boasted a scented area, herb wheel planter, solar night lights, wind chimes, a bird feeder and bird bath. It also features Jim's favourite tree, under which his ashes are buried. There is a patio area with chairs, while the path down the side of the house has been turned into a meditation area for Beryl, who has long enjoyed weekly tai chi sessions.
'It's not a big garden or an affluent area, but it's special to us,' says Pat. 'Mum has plants relating to different people, and family buy little things for the garden. Mum can also spend time sitting near Dad – it's personal.'
The garden certainly has Beryl's seal of approval. 'The garden is important to me. I can sit at the top and just pass the time away,' she says. 'I see the flowers and different birds that come, and I tell Jim what's happened during the day. It's very good. It's lovely in the garden in the afternoon. My friends come and we have tea and chat. Even in the winter it's nice.'
Making memories
Nothing in the garden is particularly expensive, and Beryl derives pleasure from simple activities such as hanging ornaments on the trees or moving a stone angel into different positions. She also spends time in the garden chatting with six-year old Mason, her great-great-grandson.
Pat says the garden has helped Beryl feel more at ease while outside.
'You don't realise how unfriendly the world is, for example the unevenness of paving stones,' she says. 'The garden path is levelled, things are spaced out and you can close the gate.
'Mum is more relaxed now. It's nice for her to feel relaxed and calm, even when she doesn't want to go out properly.'
The garden has helped reignite old memories and create new ones.
'We talk about plants Mum used to have in her garden as a child,' says Pat.
'We get lots of ideas at the garden centre – it's nice to then find a special spot for something.
'Lots of friends will ask how the garden is going, or what we are doing today, and people get Mum garden centre vouchers for presents.'
The family put a marquee up for Jim's 90th birthday, and they plan another celebration in the garden when Beryl reaches the same age next year.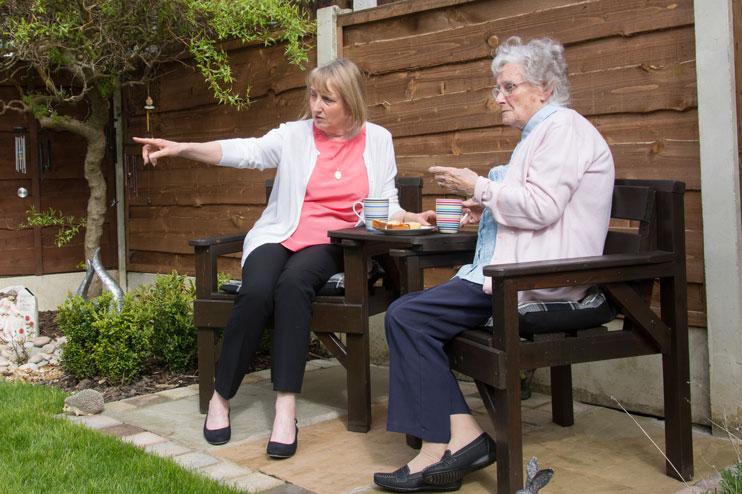 Slowing down
Beryl lives independently, with Pat and her brother visiting every day. This has provided Pat with a new outlook on life.
'At work I was on a treadmill, doing things quickly. Everything had to be done yesterday,' she says. 'I now keep calm and adopt a pace, break things down into steps. It's not part of our natural lifestyle but people need time to understand and respond to you.'
She has also reflected on the role she plays in supporting her mother.
'I don't see it as being a carer because looking after her is just something that you do for your mum, it's not like a paid job that you have to do,' she says. 'People ask what I do and I tell them that I gave up work to spend more time with Mum.'
As Pat and Beryl's sensory garden continues to blossom, it's clear that this is time well spent.
Next steps