From the April/May 2017 issue of our magazine, Dementia together magazine speaks to a former carer who is supporting others in memory of her mother.
Bringing your experience of dementia to volunteering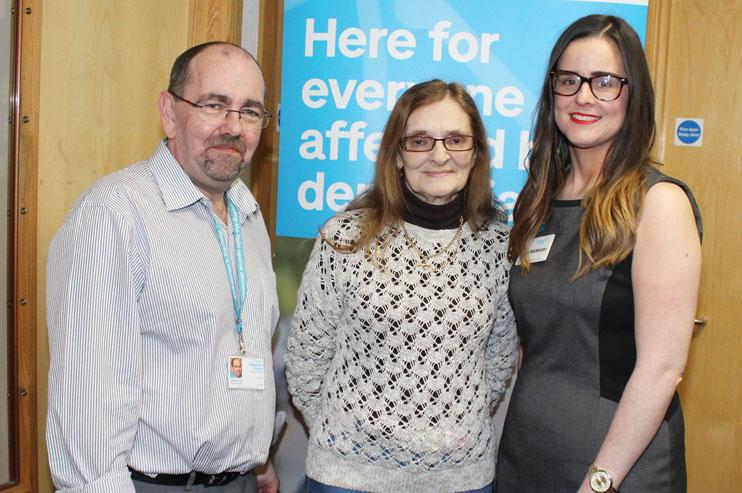 Jennifer has been volunteering with Alzheimer's Society in the Causeway area of Northern Ireland for the past seven years.
'There is still a stigma in some areas here – people don't want to talk about dementia,' she says. 'It's sad really, as people aren't getting help. I have to get it out there.'
Valuable support
Jennifer's mother Nora was diagnosed with vascular dementia in the early 2000s after a series of strokes.
'I noticed a few bits not tallying,' says Jennifer. 'I found 13 cheque books because she was writing a cheque, putting the book away for safe keeping and then asking the bank for a new one.
'It gradually got worse. She started having mini-strokes and went downhill.
'The doctor kept putting me off. He said it was dementia but wouldn't give a proper diagnosis.'
Having come across an Alzheimer's Society information stand during a hospital visit, Jennifer and Nora began attending a support group.
'It helped me realise there were other people in my area in the same situation,' says Jennifer.
The local Society provided valuable support to Jennifer, who was initially only receiving a half-hour social services visit once a week.
Helping others
Nora lived in a care home for the last 18 months of her life.
'It broke my heart – I felt guilty,' says Jennifer. 'But then I realised she was happy and well cared for. I could visit and have quality time with her.'
It was around this time that Jennifer started volunteering for the Society. Initially she helped organise and support fundraising collections at events, while more recently she has been involved in raising awareness of dementia.
'I'll ask local supermarkets if we can put a stand up,' she says. 'Then I'll spend a few hours on the stand giving out advice to carers.'
Jennifer regularly attends support groups, training and information sessions, offering advice to people who are going through similar experiences.
'If I can help just one person then I'm doing something worthwhile in memory of Mum,' says Jennifer.
She also helps out at an activity group for people with dementia and carers.
'I've become friends with some of the people I've helped,' she says. 'Even away from the meetings we meet up for a coffee.
'If I can help just one person then I'm doing something worthwhile in memory of Mum.'
'You've got to make the most of every minute.'
Next steps