From the April/May 2017 issue of our magazine, Side by Side is bringing people of different ages and backgrounds together in the Wakefield and Five Towns area.
An Alzheimer's Society service that's making a real difference to people with dementia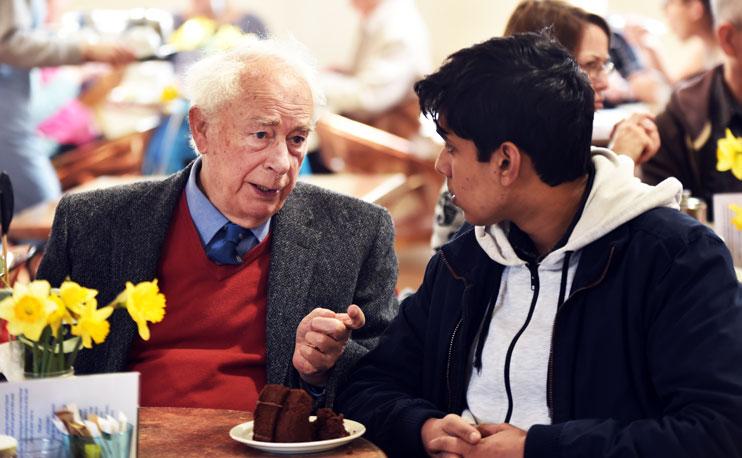 Through Side by Side, people with dementia can keep doing the things they love with the support of a volunteer. As well as countering isolation, it brings something valuable to the lives of everyone involved.
In Wakefield, West Yorkshire, the scheme has brought 82-year-old Jack Smith together with 16-year-old volunteer Basil (pictured). Jack was diagnosed with mixed dementia – Alzheimer's disease and vascular dementia – in July 2013.
'I've known Basil for a couple of months,' says Jack. 'He comes to my home or I meet him in town. We visit places in town.'
Out and about
Jack, a former prison governor, is an art lover who enjoys painting, and one of the places he and Basil have gone to is the Hepworth Wakefield, a local gallery. They have also visited Wakefield Cathedral, where Jack volunteers but which Basil had never been inside before.
'Jack is more alert and revitalised when he's seen Basil,' says Marta.
Marta, Jack's wife, says the partnership has given her husband a noticeable boost.
'Jack gets up instead of staying in bed,' she says. 'He is also more alert and revitalised when he's seen Basil.'
Jack feels that things have gone 'very well' with Basil, adding, 'Hopefully over the years it will develop.
Something different
Mirban Hussain, who manages Side by Side in the Wakefield and Five Towns area, is used to this sort of feedback.
'Side by Side has made a huge difference to the lives of people we're supporting,' he says. 'Families are saying that they don't recognise their relative because the person is so much happier in themselves.'
The Wakefield service was officially launched by the local mayor in May 2016. Mirban is proud of the diversity of volunteers, who range from 16 to 59 years of age and come from as far afield as Uganda, Kashmir and Libya.
Ursula Dabrowska, from Poland, has been volunteering since last June. She is on her second match after the first woman she supported moved into residential care.
'I've always wanted to help people – that was my main reason for volunteering,' she says.
'Some only have family members to talk to, so now they can enjoy a conversation with somebody else. It's something different to sitting at home all day.'
A member of Ursula's family has memory problems, so she is aware of how difficult things can be. The resilience of the people she has met has impressed her.
'My first lady was repeating herself but I found it very positive that she didn't get angry at herself – she was still smiling and joking. They are strong and they deal with it.'
Ursula's aim is to help the person with dementia remain active while putting a smile on their face, and volunteers in a growing number of areas are doing the same.
Next steps