A Research Network volunteer in Northern Ireland shares how she became involved
From the October/November 2015 issue of our magazine, a Research Network volunteer who now co-ordinates the network in Northern Ireland shares how she became involved.
Valerie Megraw, in Belfast, was first motivated to find out more about the latest dementia research years ago after her mother was diagnosed with Alzheimer's disease.
She says,
'I wanted to know what medication was out there.'
Attending an Alzheimer's Society event in 1999, she joined the group that would later develop into our Research Network, which now involves over 260 carers, former carers and people with dementia.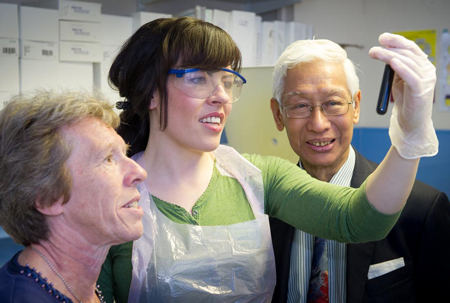 Real needs and concerns
The Research Network enables people affected by dementia to influence the research done into it, making sure that it addresses their real needs and concerns.
With training and support, volunteers help to decide priorities for research, review applications for funding and monitor on-going work that has been funded by the Society.
Valerie says,
'I have been able to monitor various projects over the years in Belfast, Cardiff, Dundee, London and Edinburgh.

'I was surprised at first by how friendly the researchers were and how keen they were to find out about my mum and how I managed to look after her.'
Great opportunity
Now co-ordinating the Research Network in Northern Ireland, Valerie says that getting involved in research can be a great opportunity.
'It can give you a greater insight into dementia and what is available out there.'
Find out more about the Research Network, or contact Anna Grinbergs-Saull on [email protected] or 020 7423 5153.