From the August / September 2017 issue of our magazine, we visit a special support group that helps couples deal with dementia.

At the Dementia Positive Living Group in Suffolk, people with dementia and carers have been getting advice and support to help come to terms with a diagnosis, manage symptoms and make the most of life.
'I kept hearing of people getting diagnosed but not knowing where to go,' says the group's organiser Gill Austin, a nurse at St Nicholas Hospice Care in Bury St Edmunds.
'They had no signposting to further support, so were left floundering.
'I realised we needed to do more on dementia, so I tried to think of ways to fill in the gaps.
'We already had a group for life-limiting conditions, so we decided to make that dementia specific.'
Working in hospice care, it was obvious to Gill that people living with a terminal condition need support so that they can plan ahead. However, she also knew it would be important to involve other organisations.
Gill teamed up with Maggie Woodhouse – a dementia specialist at West Suffolk Hospital – and the local Memory Assessment Team to deliver a four-week course to four couples where one partner had dementia.
'We're from different organisations, so bring different perspectives,' says Maggie.
Like a rock pool
The three-hour sessions took place in the welcoming setting of Nowton Court Village, a supported living and respite care provider in Bury St Edmunds.
David Newton attended with his wife Janet, 78, who has vascular dementia and Alzheimer's. He values the overview of available services that the programme provided.
'It's life-changing when your partner is diagnosed,' he says. 'I find it very difficult to get an overall picture of support. The whole system seems to be so fragmented.
'It's like a rock pool, you pick up a stone and there's a hive of activity underneath it.'
Each session focused on a different area, such as dementia symptoms and their everyday impact, communicating and coping with difficult situations, and financial, legal and care planning. One session looked at how to access services, covering means testing, personal budgets and end of life care. Guest speakers – including a solicitor, care home provider and someone from social services – answered people's questions about their specific circumstances.
Out on a limb
John Riddick's wife Carol, now 77, was diagnosed with Alzheimer's in 2014. He says the group has been 'full of useful information'.
'I needed contact from other people to help me form in my mind how I should be acting as a carer,' says David.
'We hadn't had contact with any organisations apart from right at the start, when Carol attended a series of cognitive group therapy sessions,' he says. 'We felt a bit out on a limb and were struggling a bit. I needed some sort of help.'
'There's nothing like meeting people in a similar situation. I needed contact from other people to help me form in my mind how I should be acting as a carer, and to learn what other carers did.
'That has proved to be the case and the group has met all of my expectations. I think Carol finds it useful too, particularly meeting other people.'
John says the couples could keep in touch beyond the four weeks. 'We'll probably all meet again – I shall suggest it.'
Jenny Gough, whose 81-year old husband Tony was diagnosed with mixed dementia earlier this year, is also pleased to have taken part.
'I've found it very informative. I've got so much information I can't cope!' she jokes.
Tony has enjoyed the sessions too. 'It's been very good,' he says. 'They're quite an interesting bunch of people, a nice bunch. They all support each other.'
He feels better about the future now, adding, 'It's nice to know I'm not the only one.'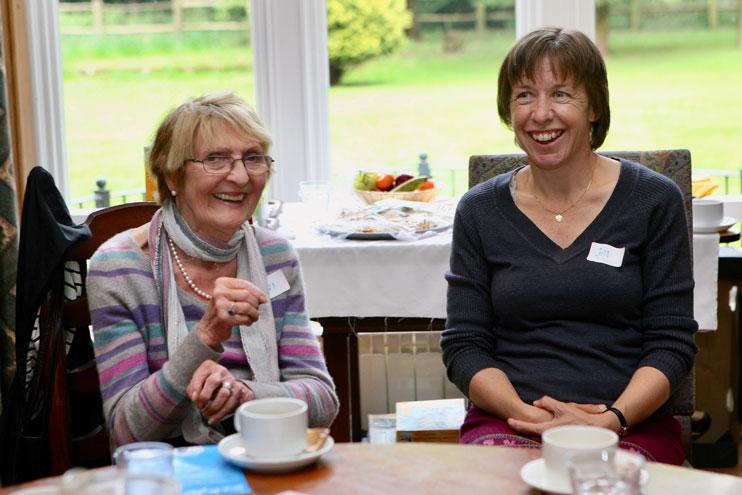 Making bonds
With only eight members, the group has a relaxed and friendly feel. Anne Hayward's husband John, 78, was diagnosed with dementia in 2015, and she says he copes better in this environment.
'We find it very good – it isn't too big,' she says.
'John isn't very social at the moment, he doesn't like mixing. In large groups, he misses a lot of what's going on because he doesn't hear very well.'
They also appreciated the subjects that the course covered.
'People have told us about things we didn't even know about,' says Anne.
'I think John is quite glad he came along – he has found the information useful.'
'They've gelled as a group and made ongoing relationships,' says Maggie.
David describes the sessions as 'very social', while John Riddick says the group members have 'very definitely' come together over the weeks.
For organiser Maggie, this has been one of the great successes of the programme.
'They've gelled as a group and made ongoing relationships,' she says.
Gill and Maggie are already planning another Dementia Positive Living Group for a new set of couples later this year.
As the final session comes to an end, a grateful Jenny concludes, 'Considering it's the first one, they've done very well.'
Next steps