Maintaining friendships after someone with dementia moves into residential care
From the July 2015 issue of our magazine, partners can feel bereft when a person with dementia moves into residential care. Heather Stephen meets a man who is maintaining supportive friendships with other carers.
When Bill Thompson lost his wife just two months short of their golden wedding anniversary he never expected to find love again.
But that's exactly what happened while visiting relatives in south Wales, when he met a bubbly former machinist called Gloria at a dinner dance.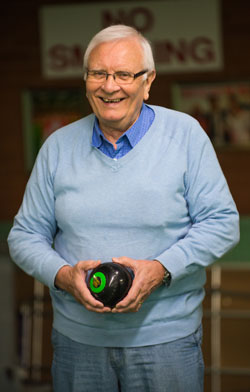 Seven years down the line, Gloria has Alzheimer's disease and has moved into a residential home - something neither of them anticipated.
Bill's friendships with other carers in a similar position are making a big difference to him being able to rebuild his life after so much change.
Happy years
Bill, a retired travelling salesman, lived in Norwich when he met Gloria. They married in 2010 after a two-year long distance relationship and Bill moved to Pontypool.
They were looking forward to many happy years together but it wasn't long before he noticed something was wrong.
He says,
'Gloria was always on the go and loved dancing, art and music. When I first met her she was always laughing and was a very popular girl but she started getting moody and forgetful.'
Initially Gloria's GP put this down to depression, as her parents and first husband had recently died. However when he referred her to a memory clinic, tests confirmed that she had Alzheimer's.
Although Bill had suspected the diagnosis it was still a blow. Gloria was only 58 and the couple had spent so little time together. He was devastated to learn that the condition was terminal.
'I am 14 years older than Gloria and we decided to live in south Wales so if anything happened to me, Gloria would have her family around. But as it's turned out it's going to be me left on their own.'
More common
Bill, now 78, has since realised that dementia is more common than he thought in younger people.
'People think of Alzheimer's as an old person's disease but we are hearing about more and more people with it in their 40s and 50s.'
Bill found it challenging to adapt as Gloria's condition progressed.
'She completely changed. She is now mostly withdrawn and can be quite aggressive, although she has never been violent to me.

'As she got worse I had about a year of very hard work where I had to do everything for her, from bathing to helping her on the toilet.

'She lost the use of her legs because she had forgotten how to walk and didn't know where she was a lot of the time.'
Gloria first entered a care home for three weeks at the beginning of 2013 when Bill was ill with norovirus. Social services suggested that she continue to go there occasionally to give Bill a rest, and she did a couple more times that year.
'The day came when they said "I'm sorry but she won't be coming home" and it left me at a complete loss. It is very strange to go from caring for someone 24-seven to being completely on your own.

'I have got used to it but it's still a very lonely life when you are used to having someone and then they are not there anymore.'
Mutual support
Bill has found tremendous comfort and support through regular meet-ups with other men whose wives have dementia.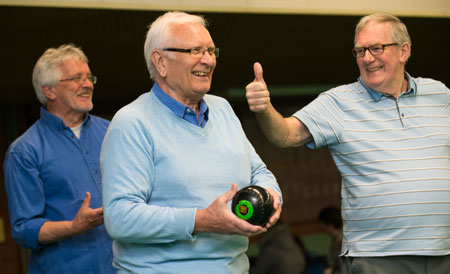 Bill says he has Anne Carpenter, Young People with Dementia Support Manager at his local Alzheimer's Society, to thank for putting him touch with his friends.
'We wouldn't have found each other if Anne hadn't come knocking on our doors four years ago and asked if we wanted to join a choir for younger people with dementia.

'The husbands went along just to take the women and we ended up getting roped in ourselves!

'At one time the choir had more than 30 members and we had a great time singing all the old songs and gigging around local nursing homes. We even played twice at the Welsh Proms.

'Gloria loved it as she was very musical and we both made some real friends.'
Weekly get-togethers
Bill formed an indoor bowls team last year with three other men from the choir. Their weekly get-togethers give them the chance to share experiences, help each other out and give each other advice.
He says,
'It's fun and it's good to have someone to talk to who knows what you are going through.'
Bill doesn't only see his mates then - three of their four wives are in the same care home so he bumps into them most days on his regular afternoon visits to see Gloria.
As well his weekly bowls sessions Bill goes to a monthly carers meeting and a bimonthly evening social, both hosted by Anne.
These provide him with another welcome opportunity to socialise, talk to other carers and ask for any advice from Alzheimer's Society staff.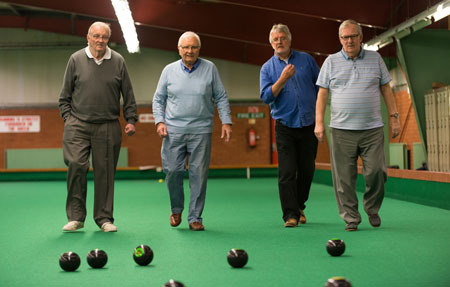 Philosophical
Bill knows Gloria will never get better but he is philosophical. 'It can only go one way now - we don't know how long we've got together but that's life.
'As soon as Gloria was diagnosed we decided to pack as much into our time as we could. We have had some fantastic holidays, and we have some lovely memories and photos to look back on.'
Bill says he wants to share his story to reach out to all those people who feel there is no one to talk to when their partner moves into a residential home.
He has this advice,
'Don't be a loner. Don't be frightened to talk to people about how you are feeling and take advantage of all the support you can get. There is help there. All you have to do is take it.'
Use our online directory Dementia Connect to find services near you for people with dementia and for carers.
See our factsheet Carers: looking after yourself or call 0300 303 5933 to order.