Participating in research can be a rewarding experience for people affected by dementia
From the March 2015 issue of our magazine, participating in research can provide a way to make a difference to others as well as possibly benefitting from a new treatment. Fiona Madden hears about a former carer's experiences.
When John Spencer looks back on his late wife's journey with dementia, he says that being able to take part in research was something that benefitted them both.
His wife, Maura, was diagnosed with early onset Alzheimer's disease in 2005 at the age of 61. John says that both of them suspected she had dementia for a few years before it was confirmed.
Maura, a midwife and nurse, had taken early retirement three years earlier after recognising symptoms such as forgetfulness and confusion.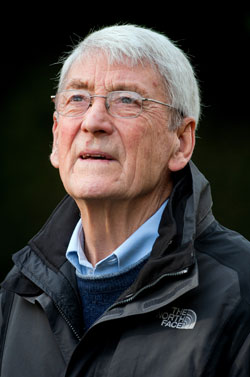 John, now 77 and living in Dorset, describes Maura as always being very strong and determined – 'a lady who had her own mind'.
He says,
'We already knew she had it and were discussing it positively. She was getting on with life in the best way that she could.'
From the outset John says Maura had an open and positive approach, telling people about her dementia so that they could understand why she was having difficulties when speaking and interacting with them.
No cure
After coming to terms with the fact that there is no cure for dementia, the Spencers decided to look into what research was being done to find effective treatments.
Through the University of Southampton's website they discovered that the Memory Assessment and Research Centre (MARC), based at the city's Moorgreen Hospital, was looking for people to take part in a trial for a potential new Alzheimer's drug. They got in touch and Maura was recruited as a participant.
The trial lasted for 18 months and Maura regularly attended a clinic for tests. After it was completed, Maura's condition was unfortunately too advanced for her to be able to take part in any other research.
Although the results for this drug were disappointing, the knowledge gained helped to open up investment into other aspects of research that may be more effective in leading to treatments. John says that being involved in the MARC research was an extremely positive experience.
'MARC had to conclude the trial but they were wonderful. Right throughout, the care and support for patient and carer was incredible.

'When Maura went for questions by herself she would come back relaxed and smiling. She got interviewed every three months when we would pick up the next pack of drugs.

'She became very much her old self, pleased that she was doing something to help others.'
Need to understand
John had taken early retirement and felt the emotional impact of being a full-time carer, though he says he was more concerned about not knowing what Maura was going through.
He says,
'The thing that bugs me the most is that I don't really understand how it was with her. She was never a burden to me. She was just able to do less.'
John began to experience his own health problems and had to undergo heart surgery. He also had attacks of vertigo – seven in one month alone – that would result in him collapsing.
In 2010 he was eventually convinced by his daughter that he needed to take his own health into account more in planning for Maura's increasing care needs. They agreed that having to deal with issues like incontinence would put an additional strain on him.
He says,
'Maura was progressing with her Alzheimer's. My daughter lives in London but was keeping an eye on me. She gradually started persuading me to think about care homes.

'I was persuaded to look around a few care homes to get an idea.'
Care home
John describes the help he got from a mental health support worker in choosing a care home to be wonderful. Although he knows that she was supporting many other people at the same time, John says it felt like he and Maura were her only clients.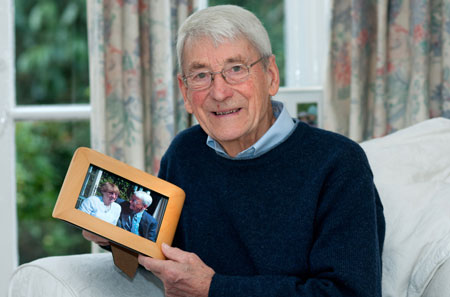 John was married to Maura for 43 years and he says that the day she moved into a care home was the worst day of his life.
He still struggles with feelings of guilt, and regrets following the advice of care home staff to not visit Maura during her first two weeks there. Although he speaks highly of the head of care at the home, he felt that Maura's condition had diminished during this initial absence.
For the next two and a half years John visited Maura every single day, taking her out in her wheelchair and looking after her as best he could. He was by her side when she passed away in 2012.
Taking part
John had decided to take part in dementia research himself while Maura was still alive. He had been a scientist, working in the pharmaceutical industry for the majority of his career, so it was something that interested him as well as having a broader benefit.
He says,
'Inspired by Maura's positive attitude and how easy MARC had enabled her to fulfil a wish to help others, feel valuable and know that her misfortune should not go in vain, I resolved to volunteer for a study trial sometime in the future.'
Just before Maura died, John began participating in research looking at the effects of stress in people with mild memory problems. As part of the trial's control group of people who did not have problems with their memory, he took memory tests every six months and gave blood and saliva samples over a two-year period.
The study finished in 2014 and John says the researchers were 'very friendly, encouraging and supportive'. He is keen to be involved in further research and to encourage other people to do the same.
Join Dementia Research
John has become a champion for Join Dementia Research, a new service to help match people in England to research taking place in their area.
This has given him a meaningful focus as well as providing a way for him to continue in the spirit of Maura's eagerness to be involved in research.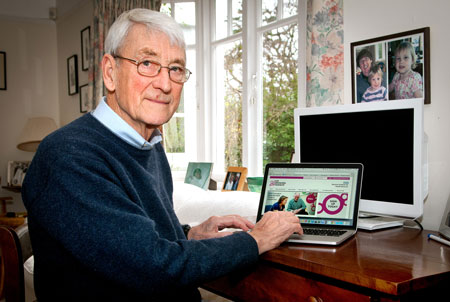 He says,
'In a way I feel privileged to have experienced what I have in life. My relationship with Maura was damn good on the whole.

'We did a lot of things and had independent lives, and thinking about her makes me feel proud.'