Pantomime day for people with dementia
From the February/March 2017 issue of our magazine, people with dementia and carers enjoy a special panto visit.
Trips to the theatre can be rewarding yet daunting for a person with dementia. Gareth Bracken from Living with dementia magazine attends a pantomime performance with a more informal atmosphere.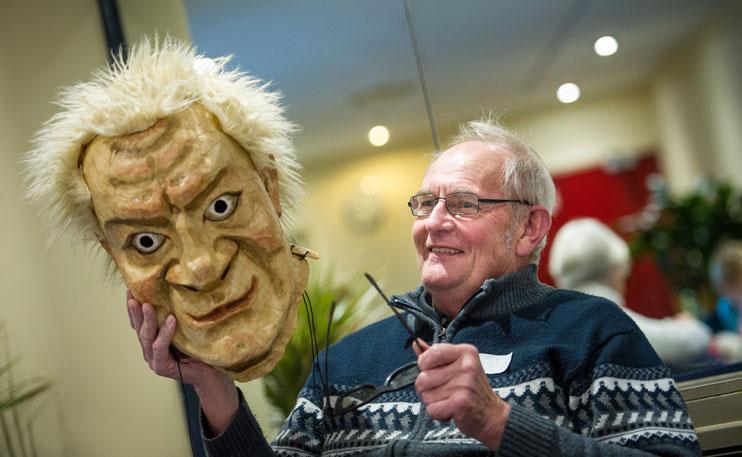 It's pantomime season at the Theatre Royal in Nottingham but this afternoon's performance of Jack and the beanstalk will be a little different to the rest.
It's a 'relaxed' performance, designed to create a more supportive and easy-going atmosphere. The aim is to reduce any potential anxiety for people with dementia and for others who may benefit.
'Theatre can contribute significantly to keeping people independent and reducing isolation,' says Emily Malen, who works to improve access at the theatre. 'By tailoring our services we can help people feel valued and welcome.'
The theatre has worked with Alzheimer's Society to put on a special day for a group of people with dementia and their carers, including tickets for the show. Before that there is a pantomime reminiscence workshop led by Andrew Morton, who co-ordinates local dementia cafés.
Corny jokes
The session begins with a music quiz as classic songs are played to the group.
Andrew gives information on each artist's role in a particular panto, illustrated by a selection of promotional posters. He then treats the group to a series of 'corny' pantomime-style jokes.
'What did Cinderella say to the chemist who lost her photographs?
'Some day my prints will come!'
The theatre has provided panto props for the group to try out, including a hat from Cinderella belonging to one of the ugly sisters, which Andrew briefly wears.
'Put it back on,' shouts out Terry. 'You looked better!'
Terry gets his own turn when trying on a pirate's hat from Peter Pan.
'Do I look better than Andrew?' he asks the group, to much laughter.
More quizzes follow, including a challenge to name as many pantomimes as possible.
Next is a trip back in time as Andrew shows the group old programmes from the Theatre Royal's archives. They include a production in 1980 featuring The Krankies, which one of the group had actually attended.
For the final session, the group share and discuss a collection of pantomime posters, the oldest of which was from back in 1898.
Then it's time for lunch, ahead of the afternoon's performance.
Fun and freedom
'I'm amazed what we're doing today,' says 91-year old Betty Morley, who has Alzheimer's disease. 'I think it's great - it's all done so well.'
Betty is a big pantomime fan who always used to take her children. Her son has even played piano in a production at the Theatre Royal.
'It's a long while since we've been to the theatre, but I recognised people in the posters and that we'd been to see them,' says Kate.
Kate Winrow, 69, who also has Alzheimer's, recalls her husband Chris supplying fruit and veg from his greengrocers for performances at the nearby Playhouse in return for free tickets.
'It's a long while since we've been to the theatre, but I recognised people in the posters and that we'd been to see them.'
'Some of the songs also took me back,' she adds.
'We like to make it fun and give people freedom so they don't feel inhibited,' says Andrew.
Andrew is pleased that the workshop has given the group a chance to reminisce.
'We make it relevant to their experiences so that it taps into their knowledge,' he says.
'We like to make it fun and give people freedom so they don't feel inhibited. It brings out the feeling of wellbeing and brings out the best in people.'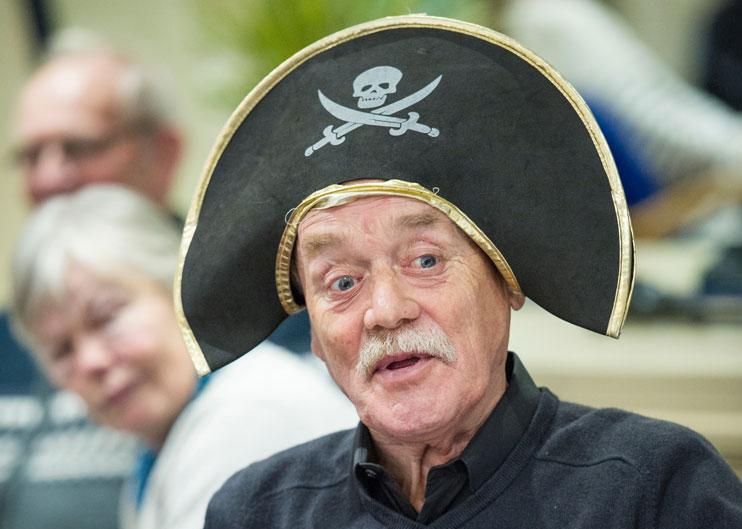 Relaxed rules
It's then time for the pantomime itself. This highly entertaining version of Jack and the Beanstalk features comedy duo the Chuckle Brothers and former X Factor finalist Chico, as well as some impressive 3D special effects.
The lights remain up in the auditorium during the performance, and loud sound effects and bright flashes have been removed. People are free to make noise, move around and leave the theatre at any time. There are even special areas in the foyer if they need some time out.
'We find it helps carers relax too, as they don't have to worry about causing any disruption to other audience members,' says Emily.
Great entertainment
Theatre lover John Ragsdale regularly attended performances with his wife Linda, 70, who was diagnosed with Alzheimer's in 2014.
Society staff advised the couple to make a scrapbook of show flyers from their trips, which John says has been very helpful for Linda.
John is impressed with the performance so far.
'They've put on a very good show - really entertaining,' he says during the interval. 'I hope the second half is just as good.'
Fortunately there is no let-up after the break, and the audience return home happy.
'It was very good, I enjoyed it,' says Betty afterwards.
She also appreciated the relaxed nature of the performance. 'You can cope with this,' she says.
She says the whole day has been 'fantastic' with 'lovely conversations and jokes'.
'I did get out of bed a bit quicker this morning!' she adds with a smile.
Next steps