From the June/July 2017 issue of our magazine, people need information, advice and support after being diagnosed with dementia. Gareth Bracken reports on a service that is offering help there and then.
How people at a Kent clinic are being supported at the point of being diagnosed with dementia
At Maidstone Hospital in Kent, Consultant Neurologist Dr Johnathan Chan assesses and diagnoses people with dementia. Soon after taking up this role, he began to refer people to the local Alzheimer's Society if he felt someone could benefit from extra support.
However, an increase in these referrals in 2015 led him and the Society to come up with a new way of working. Society staff now attend Dr Chan's monthly clinic in person, meaning they are on hand to offer advice and support to people at the time of a diagnosis as well as afterwards.
Early diagnosis
'Young-onset and other rarer types of dementia are harder to diagnose – it tends to take longer,' says Dr Chan. 'There are specialist services across the country but they are not readily available in places outside of the main cities.
'My aim here was to establish a service that provides state-of-the-art diagnostic techniques that give us a very accurate diagnosis at a very early stage.
'Being diagnosed early means people can get earlier access to the right support and services. That's where Alzheimer's Society comes in.'
Julie Negus manages the Society's dementia support team for the Maidstone and Medway area.
'Dr Chan's patients are often diagnosed with young-onset dementia or a rare form of dementia and we are able to support them to understand and come to terms with this,' she says.
'We tell the patients about the services that Alzheimer's Society offers locally and give them The dementia guide and other relevant information.
'They are grateful for the opportunity to talk in a non-clinical way about their diagnosis and what it means for them.'
Reassurance
Having received what she describes as the 'dreaded diagnosis' of young-onset Alzheimer's disease early last year, 62-year-old Ruth Gill says, 'I have found it very useful to be able to speak to someone from Alzheimer's Society when visiting the clinic.'
Guy Oliver, 73, was diagnosed with posterior cortical atrophy (PCA) in the summer of 2016.
'It was reassuring for both me and my wife to feel the Society was offering extra support, and to have a team to whom we can turn if we are experiencing any items of concern,' he says. 'They are friendly, professional and have a ready approachability.
'Julie gave me information about PCA to read and share with my family.'
Another of Dr Chan's patients, Karen, age 57, was diagnosed with young-onset Alzheimer's in June 2016.
'To have to make contact at a later date would have caused more stress and anxiety,' says Karen.
'Although we were almost expecting it, to hear the word Alzheimer's was a shock,' she recalls.
'By being there at the clinic, the dementia support worker was able to answer any questions we had and try to assist by letting us know immediately what support was available for us and our family. To have to make contact at a later date would have caused more stress and anxiety.'
Karen has had two follow-up appointments with Dr Chan, with Julie on hand on both occasions.
'I am able to meet her straight after the clinic and it gives me a little time to discuss and digest what I have been told,' she says.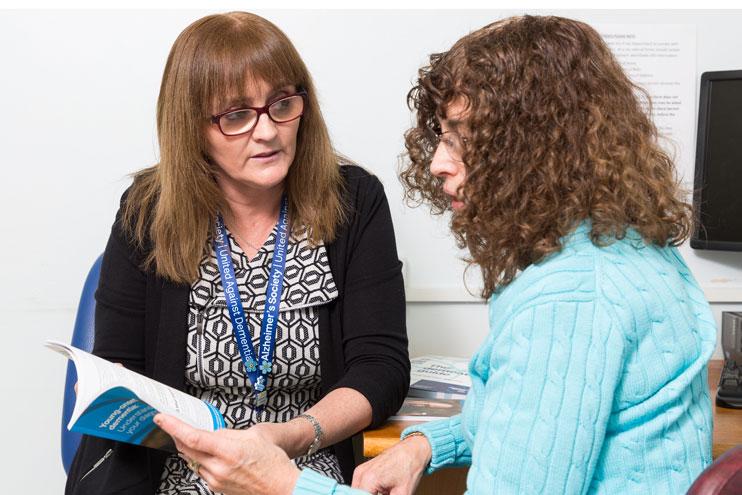 Practical issues
Follow-up support at home is available to people who need it. As people may only see Dr Chan every few months, this sort of contact can be very useful.
'Without Julie and her team, people would be lacking in post-diagnosis support,' says Dr Chan. 'There are lots of practical issues like power of attorney or Council tax reductions.
'There are times when a patient might look like they're going into crisis, but Julie can activate other networks to prevent this.'
The Society support team can also point people towards relevant groups and dementia cafés that may be of interest.
'Julie referred me to a peer support group so that I could meet similar people and not feel alone with my condition, which I have enjoyed attending,' says Guy.
'Without the support from Alzheimer's Society, my life and that of my husband would have been much more difficult and less interesting,' says Ruth.
Karen has joined a weekly activity group in Maidstone, while Ruth has become involved with a range of sessions.
'Following on from the home visit I started attending a peer support group, then the Memorybilia service user involvement group and most recently Singing for the Brain,' she says.
Reflecting on how the service has benefitted her since she was diagnosed, Ruth concludes, 'Without the support from Alzheimer's Society, my life and that of my husband would have been much more difficult and less interesting.'
Next steps