From the August / September 2017 issue of our magazine, we hear from a carer who has supported her family through some extremely tough times.

After noticing problems with her husband's memory and his attempts to compensate, Louise Wade urged him to go for tests.
'I could see there was something wrong,' says Louise, 47. 'Simon would invent stories about his whereabouts because he couldn't remember where he had actually been.
'I knew in my heart it was Alzheimer's. I recognised the behaviour and forgetfulness from his mum, who also had young-onset dementia.'
Simon was diagnosed with young-onset Alzheimer's in January of last year, aged 48.
'It was like a bomb going off, an explosion and then silence,' says Louise. 'We didn't know what to do.
'I broke down – I felt very cheated.
'My grandpa also had Alzheimer's. Sometimes I think, "What have we done wrong?"'
Louise, who lives in Sheffield, is grateful for the support the family received from the NHS in those early days.
'The community team came out within six weeks of diagnosis. They were excellent and helped me to get help,' she says.
'A lot depends on your GP. Ours is excellent but other people who only live a few miles away have had no guidance, which is shocking.'
Feeling robbed
Louise and Simon were together as teenagers until their early 20s, when they parted but stayed friends. They lost touch until Louise moved back to Sheffield in early 1998, before a chance meeting led to them rekindling their relationship the following year.
'It was only our fifth wedding anniversary in June – that's why I feel robbed,' says Louise.
To make matters worse, she fractured her back not long before Simon's diagnosis.
'It was a very dark and difficult time,' she says.
'I was always the chief breadwinner, then all of a sudden you can't do that. It was pretty scary to give up that role for the first time in years,' says Louise.
Simon was a decorator before his dementia forced him to stop work, while Louise's career has also been curtailed.
'I went from running my own business to working part time in a bank. Then I gave up work altogether, partly because of my back and partly because of Simon's dementia,' she says.
'I was always the chief breadwinner, then all of a sudden you can't do that. It was pretty scary to give up that role for the first time in years. It took a lot of adjusting to.
'We're treating this as our retirement,' she says. 'We're lucky we like each other!'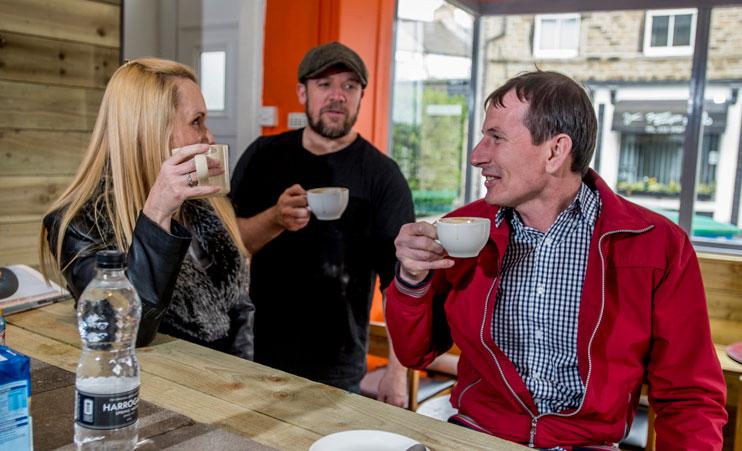 Telling the kids
The couple have a 13-year old son, Mikey, as well as twin 19-year old girls from Louise's previous relationship.
'At first Simon didn't want to tell them it was Alzheimer's, but then we started to talk more openly and answer their questions honestly,' says Louise.
'Mikey worries he will get it. He has asked me about that, and about what will happen to his dad.'
Having Alzheimer's has caused Simon to lose some of his inhibitions, which has affected his relationship with his son.
Louise says, 'If Simon bursts into a dance on the shop escalators or sings in the street, I go with it, but Mikey would be embarrassed.'
Last on the list
Simon's dementia has also led to the couple losing touch with previously close friends.
'There are some who we very rarely see – we're last on the list,' says Louise. 'It really shows you who your friends are and aren't.
'I found it really upsetting and hurtful at first. Simon tried to excuse it, but when I could see him upset I was so angry. It was killing me inside.
'Simon's best friend said he couldn't come into the house because he had to rush off to Leeds, then my dad saw him in the local pub. It's disgusting – don't lie to Simon.
'On the upside, people who were just friends that we saw occasionally have now become good friends.
'We could go two ways – sit on the sofa and cry or throw ourselves into it and make new friends.'
Louise strives to keep the family as busy as possible, as a way of coping.
'We've always got something on because if I stop, I get sad and hit meltdown,' she says.
'That's when I have a good cry to my mum, brush myself off and tell myself to get on with it.
'I think I manage pretty well overall.'
50–64 Project
The couple regularly attend various groups, including the local 50–64 Project for people with young-onset dementia and their carers, run by Alzheimer's Society.
The project has developed a network of peer support and a programme of social activities in Sheffield. Louise is heavily involved as a volunteer, using her local connections to help organise a Christmas carol concert and craft sessions at a local café, led by experts.
'I know people in the area and Simon has lived here for most of his life. I'm cheeky – I just ask people for their help. Nobody's ever said no yet,' she says.
'We have friends with local shops who want to become Dementia Friends, sell wristbands and have money boxes.
'People will say to me, "I've come up with an idea." That's because we've not hidden the dementia away and have been really open about it.'
Louise and the other 50–64 Project carers have also formed a group on the messaging app WhatsApp to share advice and support.
'I think people sometimes have romantic notions of people in 1940s gear singing songs in a care home, but we have to conduct normal family life and go through all the struggles that come with it,' she says.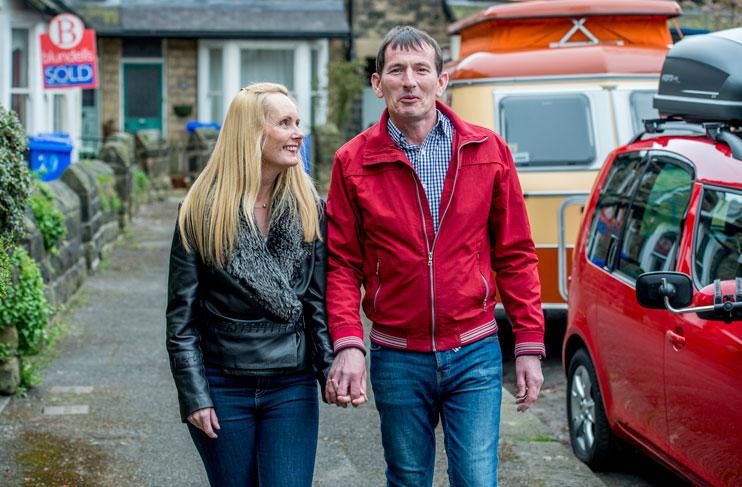 What's normal?
Louise has shared her story on BBC Radio Sheffield and has no qualms about being so open about her experiences.
'I don't want to be ashamed. Everyone's different – what's normal?' she says.
'I hope to give other people hope. See what's out there. I'm not saying you can do it in the first week when it's very dark, but once the shock has settled.'
'I try and kid myself that the plans we had will move forward, but in my heart I know we'll be bloody lucky if that happens,' says Louise.
Although she keeps herself and Simon active and involved, Louise remains aware of tough times ahead.
'I'm really worried about the future. I find it very hard,' she says.
'I try and kid myself that the plans we had will move forward, but in my heart I know we'll be bloody lucky if that happens.
'I just hope that we're as we are for as long as we can be. But I can see where it's going from the rest of the 50–64 Project group.'
Louise can at least take some strength from her family having even made it this far.
'It's taken some fighting to get where we are today but we've come through it,' she says.
Next steps