A man with young-onset dementia maintains an active lifestyle with the help of a volunteer
From the October/November 2016 issue of our magazine - after a dementia diagnosis, still being able to enjoy your favourite activities makes a big difference.
Meet a man staying active with the support of a Side by Side volunteer.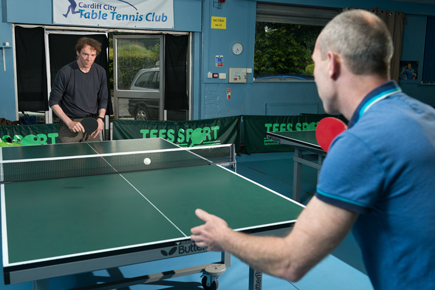 Will Jupp, 56, is an avid cyclist and walker who loves playing sports. His diagnosis of Alzheimer's disease two years ago had an impact on many areas of his life, and this might have included his ability to maintain an active lifestyle.
However, Will has been able to continue enjoying sports and exercise with the support of volunteers from our Side by Side service in Cardiff.
For Will this has proven particularly welcome as his partner Tracey, 45, works full time, so it means he has more things to do with other people during the day.
He says,
'It is a lifeline because it helps to keep me fit and active, and enjoying my favourite activities.'
Varied life
Will's career has been varied, including time as a management trainee for a supermarket chain, but he was a computer programmer for most of his working life.
He gave this up to do a PhD in ancient history and religion when he and Tracey, who have been together for 12 years and married for eight, moved to Cardiff. However, his studies were cut short as his dementia symptoms developed and he was diagnosed with young-onset Alzheimer's.
Tracey, who works for a university library, says,
'Will is finding it a little more difficult to get around independently. He probably wouldn't be able to get out and do much for himself during the week when I am at work without some additional support.'
Will's love of cycling bloomed in his youth when his dad bought him his first bike. In his late teens, an Outward Bound course organised by an employer broadened his interests to include walking, climbing and sports.
When his dementia meant he could not continue working or studying, Will began to feel frustrated at home on his own. So when he and Tracey read about Side by Side on the Alzheimer's Society website, they were keen to find out more.
Tracey says,
'We'd tried to find informal groups that he could go out with during the day, but the arrangements were often ad hoc.
'It was difficult for Will and myself to contribute to things which were organised at short notice, and where I couldn't guarantee that I could be available to support him meeting up with other groups.
'Side by Side seemed ideal because it was one-to-one, and with a volunteer who would understand about Will's condition and that he was going to need quite specific support.'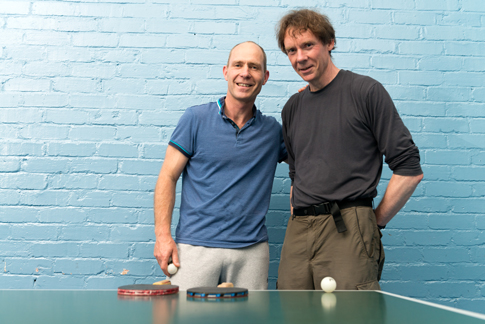 Good relationships
Through Side by Side, people with dementia are paired with volunteers who share similar interests so that they can continue to do the things they enjoy. This means that Will has been able to remain active and involved with others.
Tracey says,
'He has had two volunteers so far, who he has got on very well with and with whom he has built a good relationship.
'Cycling is the main thing that he does with them, and on some days they have done around 15 to 20 miles all over the city. There are other outdoor-type activities as well, such as football and walking.'
Gilles Marcoux became Will's Side by Side volunteer earlier this year. He says,
'Will and I have only met a few times, but I know he wants to stay active and I am happy to support him in this regard. We play table tennis together and I can tell that he likes it from the smile on his face.
'As Will also loves cycling, we cycle together to the table tennis club, which is around three miles from his place. He cycles quite fast and this helps me to stay fit as I try and keep pace.'
Real connection
Side by Side provides an opportunity for a person with dementia to form a real connection with their volunteer, while enjoying activities that help to maintain their wellbeing.
Gilles says,
'Will has a great sense of humour. He likes to play on words, which makes me laugh.'
Tracey says,
'It has been absolutely great because it has allowed Will to have some independence, and he seems more positive about things and more confident about being able to get out and about.
'It has also given me some peace of mind that he has got things to keep him active and busy, and that he is not getting bored at home. Just having that activity and stimulation has had such a positive effect.'
Volunteers have to complete face-to-face as well as online training to help them understand dementia and ensure they have the required skills and confidence. Gilles says,
'For me, volunteering with Side by Side is an opportunity to learn about dementia and its impact on people.
'Moreover, helping Will helps me to live better with my frustration of not being able to support my mother as much as I would like to. She also has dementia and she is in a nursing home in Belgium, and so I obviously can't see her very often.'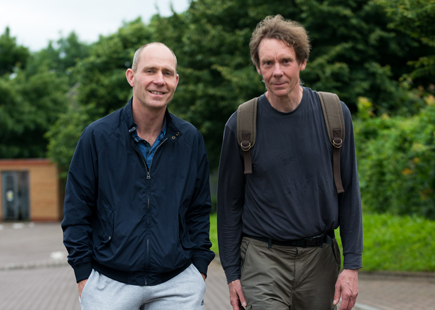 Project success
According to Charlotte Powell, who manages Side by Side in Cardiff, the project's success is built upon the bond between each person with dementia and volunteer. She says,
'From feedback, we've noticed an increase in people's wellbeing – having more control over how they spend their time and reducing the isolation that many people with dementia experience.'
Cardiff's Side by Side is one of 26 pilot projects, and by the end of next year the aim is for it to be available across England, Wales and Northern Ireland.
'Some people with dementia have commented on enjoying the freedom the service gives them, in terms of being able to do the activities they enjoy doing, which they would not be able to do without the support of a volunteer.
'Volunteers also say that they have an opportunity to get out and about and do the things they enjoy with someone. Some volunteers get a lot out of building their skills to go into their chosen career path, or to change career.'
Will is one of a growing number of people benefitting from Side by Side, and this can only increase as the service becomes available more widely.