A man who created a home care package for his mother, who has dementia
From the April/May 2016 issue of our magazine, residential care may seem the only option as someone's dementia progresses, but Heather Stephen hears how one man created an alternative care package so his mother could remain at home.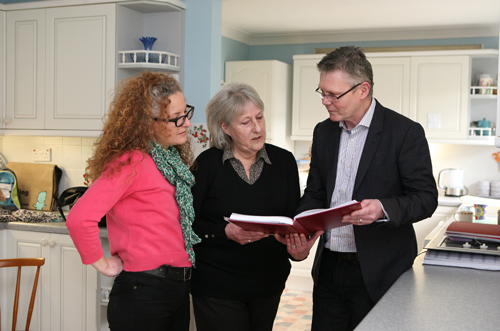 Mark Chipperfield was always grateful for the loving family life his parents gave him after adopting him as a 10-month old baby. When they needed his help in later life, he was only too happy to give something back.
He says,
'Six months before my father died in 2008, my mother was diagnosed with Alzheimer's.
'She cared for him for nine years while he was ill, and before he died he asked me to look after her.'
Mark and his sister Dawn wanted to respect their father's wishes, but as both live hours away from their mother's home near Lowestoft, Suffolk – Mark in St Albans and Dawn in Eastbourne – they felt they had no choice but to consider a care home.
Mark says,
'I went to look around a number of homes. But all I saw were grey headed people with glazed eyes not doing much at all.
'I couldn't see anything positive for her in that setting, and as I had promised my father I would look after her I decided I had to organise something myself.
'I didn't think she would survive somewhere like that. I thought if she could stay in her own home in familiar surroundings with a team of people who could really get to know her, she would be able to retain her dignity and sense of self as much as possible.
Organising care
Initially Mark, a 53-year old BBC manager, employed a carer recommended by his aunt. The carer came in three times a day to help with dressing, meal times and bathing, and Mark says she was 'brilliant'.
To help make sure his mother remained safe and well, Mark installed a CCTV monitoring system and exit sensors that triggered alerts to a call centre and a local carer.
However, despite these measures, there were a few worrying incidents where his mother, Jean, went missing and was later found walking in the streets. So three years ago the family agreed that she would need 24-hour care to remain in her own home.
Luckily this coincided with Mark finally securing NHS continuing healthcare funding after years of battling to prove his mother was eligible.
Mark says,
'I applied as soon as we started organising care for my mother, but it took years to go through all the assessments and gather the evidence they wanted.
'Even when you've got the funding they can review your eligibility every three months, so it could be taken away at any time.
'A very important tip is to establish a strong relationship and lines of communication with the support agency network. Mum's GP and mental healthcare nurse have been particularly supportive.'
Read more about choices in care and paying for care.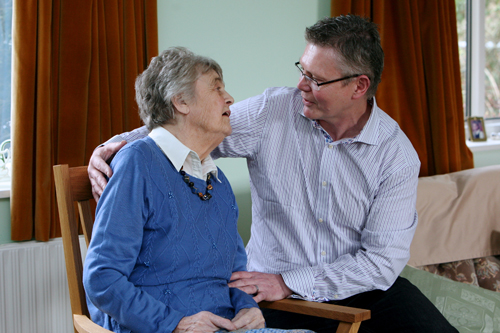 Jean Team
Over the years Mark built up a band of eight carers – he calls them the 'Jean Team' – largely through word of mouth and very careful selection.
He advises,
'It is always best to get carers through recommendation and if you can't do that check their references and follow your instincts.'
Mark decided against using an agency to ensure continuity.
'When my father was still alive and Jean broke her wrist, I contacted an agency to care for them and they sent 60 different carers in the space of 14 days!
'It's not easy to arrange something like this yourself. Even if you get funding, no one gives you much guidance. I've had to set up something that runs like a small business with a health and safety policy, pay roll, meetings and training. All from miles away when I have a full-time job and a family.'
Fading health
Jean is 90 now and her health is fading. She can no longer cope with the daily trips she once took to a nearby day centre, but she still recognises family and friends and remains the caring person she always was.
Mark says,
'My mum was a nursing sister and has always looked out for other people.
'Many of her carers have been with her for years and they really do love her. One said they had told her their dog had died and she put her arm around them to comfort them, so there is still a lot going on there.
'We are lucky we have such a brilliant team who really love what they do and are able to see the person behind this terrible illness.'
Mark is so confident in the ability of his care team he sees no reason why his mum shouldn't stay at home until the end.
'People with Alzheimer's may need constant support for quality of life. If Jean had gone into a care home she wouldn't have got the very personal one-to-one care she has now, which stimulates her and makes her feel valued. In fact, I am sure she wouldn't be here today.'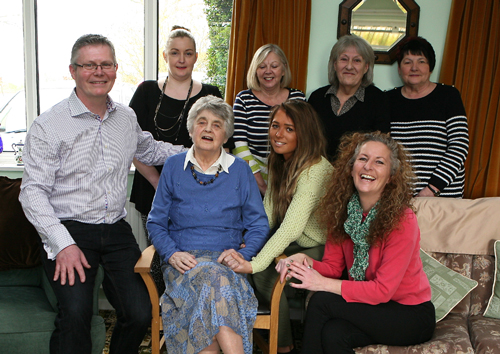 Communication
Mark speaks to his mum on the phone each day, visits her every few months and gets daily updates from her care team about how she is doing.
Believing that communication should be two-way, Mark produces a staff newsletter every few months to fill them in on what's going on with funding, outside care and what he sees as his mother's latest needs.
As well as mandatory training from a local agency, he has enabled the carers to have bespoke training for Jean's particular needs. He also holds meetings where they can feed back and raise any concerns or share information about his mother's care.
Although the process of setting up the care package has been difficult, Mark says he would have found it so much harder without the support of his wife Alison.
'This period in our lives has put a lot of pressure on all of us, but Alison has been incredibly understanding. I am very grateful.'
Wishes and needs
Mark recommends that people talk to family members about what they would like to happen if their health should deteriorate as they get older. He adds that setting up power of attorney at the right time for at least one family member is also vital.
He warns against assuming that residential care is the only option without investigating alternatives that could also provide the right level of support.
'I knew I would be able to extend and enhance my mother's life if she stayed in her own home and that is what I am planning to do right up to the end. That's what my father wanted and I'll never forget that.'