From the June/July 2017 issue of our magazine, Alzheimer's Society volunteers are supporting people through the complex process of continuing healthcare (CHC) appeals.
A specialist service made possible by dedicated volunteers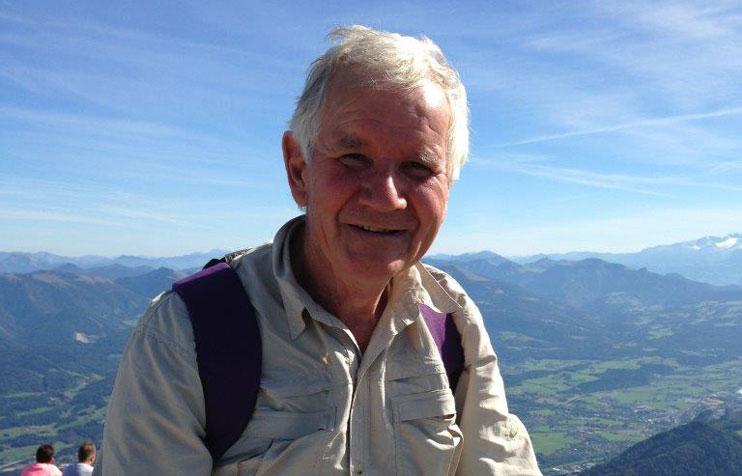 NHS continuing healthcare (CHC) is a package of NHS-funded care for when someone's needs are judged to be primarily 'health' rather than 'social' care needs.
Getting CHC funding is often difficult. If someone is turned down they can appeal, but this process is complex and tough to navigate. That's why we support people who are challenging decisions to refuse or withdraw CHC funding.
'A lot of people who contact us are at the end of their tether,' says Mary Sherrington, who co-ordinates our Continuing Healthcare (CHC) Appeals Support Service. 'They're caring for a person with dementia while dealing with a difficult and opaque CHC process that isn't consistently applied.'
Help throughout
Through this service, a team of 12 volunteers assist carers and relatives by phone and email throughout the appeal process.
One of the volunteers is Mark Sykes, a retired solicitor and immigration lawyer (pictured).
'A friend of mine had just been diagnosed with dementia with Lewy bodies when I saw an advertisement for volunteers, so it seemed like a suitable and helpful thing to do,' he says.
Mark is unusual among CHC volunteers in that he hasn't been through the process personally, though he brings other vital skills and experience.
'It's gratifying when you can see where the process has gone wrong and help the person through it,' says Mark.
'My knowledge of tribunals is probably of the most value to people,' he says. 'When they're approaching an independent review panel, it can trip them up.
'When you take on a new case there's a substantial amount of paperwork to read. The initial documents can be 50, 60 or 70 pages.
'But it's gratifying when you can see where the process has gone wrong and help the person through it.
'It's good to be able to support them and it can be quite satisfying.'
Difficult process
Mark says the CHC appeals process is difficult for people unfamiliar with the system.
'It's complicated and can be almost impossible to navigate without help or training,' he says.
Other volunteers have felt let down by the system themselves, fuelling their motivation to support people in a similar situation.
'They've had to fight their way through it without help,' says Mark. 'They were sometimes disappointed in their own appeals, but hopeful that they'd be able to help others.
'Sometimes the process makes people feel that their mother or father with dementia is being disrespected.
'Some of those receiving care have fought in the war or done voluntary work – they've been good citizens. But when families have needed help from the state in return, they've felt let down.'
Popular service
The CHC Appeals Support Service has proved popular.
'We've had very positive feedback – often people are so relieved and really grateful for the information and support we provide,' says Mary.
'To have someone who can listen and give pointers is a huge benefit,' says Mary.
'It can be the first time they've been able to talk to someone about things, because even family members may not understand the system. To have someone who can listen and give pointers is a huge benefit.
'The volunteers are amazing. It's a very specialist service that takes time and commitment. They all go the extra mile – nothing would be possible without them.'
Next steps