From the October / November 2017 issue of our magazine, we hear from a man with dementia who is fighting for people's rights.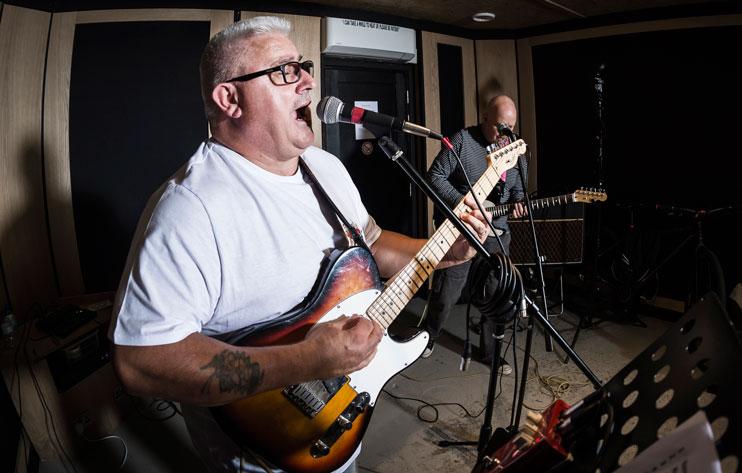 Alex Preston will make his voice heard at every opportunity as he fights for the rights of people with dementia.
It wasn't always that way however, especially in the dark days following his diagnosis of young-onset Alzheimer's, aged just 54.
Disbelieving doctor
Alex knew something wasn't right when he started making mistakes in his job running a water treatment works.
'I would give the wrong names to things in my shift reports,' he says.
'I also couldn't remember codes and sequences, even though I'd trained other people in them.'
Alex visited his doctor in Leicestershire, who made an already difficult situation even worse.
'He said that because of my age I shouldn't be having these sorts of problems. It was as if he didn't believe it,' says Alex.
'Then he kept telling me it was depression. He also sent me for a vertigo test because I'd had a couple of falls.
'In the end, I took somebody in from work and the doctor decided to send me to a mental health unit. It was nothing to do with my memory – he thought I was mentally ill.'
Fortunately, staff at the mental health unit helped to move things along.
'The consultant there was brilliant and led to me seeing the memory clinic and getting diagnosed.'
Despite knowing that something was wrong, the diagnosis of dementia in May 2014 came as a huge shock to Alex and his family.
'It was like my world fell apart. It was horrible,' he says.
'I've suddenly got to tell the kids. I was crying, my wife was crying. It was a devastating time.'
Growing stronger
Alex, a jujitsu expert who has fought and taught across the world, says he felt very depressed in the early days after his diagnosis.
'I thought about suicide all the time,' he says. 'I made many different plans to do it and not leave a mess for the family.'
'If someone had told me you can still go on and have quite a good life, that would've helped me to stop feeling so down and wanting to kill myself,' says Alex.
He feels that better support and information would have helped him greatly.
'When I was diagnosed, nothing happened – they didn't tell me anything,' he says.
'If someone had told me you can still go on and have quite a good life, that would've helped me to stop feeling so down and wanting to kill myself.'
These kinds of thoughts have thankfully now gone as Alex, 58, 'slowly but surely' grows stronger.
'My life has gone on, I now challenge myself to do loads of things,' he says.
'I keep thinking, "What's the next thing I can challenge myself to do? What can this man with dementia achieve next?"'
He regularly speaks to groups of trainee doctors about dementia and his bad experience of getting a diagnosis.
'I'm trying to educate them in what went wrong,' he says. 'One day they might be facing somebody with dementia and they might think of me.'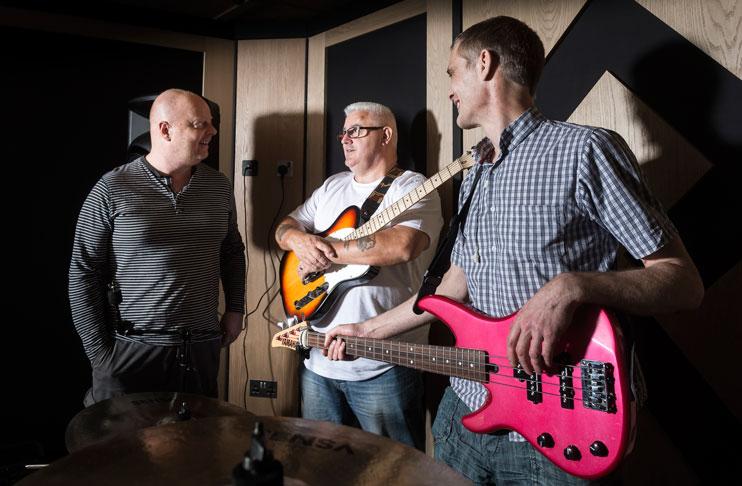 Having a voice
Alex is also keen to raise awareness of dementia among the general public after some difficult experiences.
'I was Santa Claus at a charity event and two people complained that I was around children when I've got Alzheimer's disease. God knows why – it's just plain ignorance.'
Alex has become one of the faces of Dementia Friends, the social action movement designed to tackle stigma and change perceptions of dementia.
People can become a Dementia Friend online by watching a video, which includes Alex explaining what it's like to live with the condition and how people can be supportive.
'I just want people to be a bit more patient and courteous,' he says.
He has also trained to become a Dementia Friends Champion, so he can sign up more Dementia Friends after they attend an information session led by him.
Alex is passionate about standing up for the rights of people with dementia.
'People are very quick to write someone off once they get that title of dementia,' he says. 'I can't stand the thought of someone putting us down all the time.'
Alex was involved in updating the Dementia Statements, launched earlier this year to say what people with dementia have a right to expect. These are grounded in human rights law, and based on what people with dementia and carers said is essential to their quality of life.
He is also a member of the Three Nations Dementia Working Group – people with dementia who have joined forces to help improve the lives of everyone affected by the condition in England, Wales and Northern Ireland. They hope to raise awareness, reduce stigma and influence public policy.
'I want to influence government through the Three Nations,' says Alex. 'It's still in the early stages, but somebody's got to have a voice and I'm willing to go and talk to anybody about it.
'It's something that's always ongoing, but if I can at least get the ball rolling then I've achieved something.'
Silly system
Alex is keen to see changes to the assessment process for personal independence payment, known as PIP.
PIP is for people under 65 with a long-term illness or disability who may need help with daily activities or getting around.
'Only a medical professional can give a diagnosis of dementia, but somebody with no medical training assesses me for PIP. It just seems wrong,' says Alex.
Fellow Three Nations members Wendy Mitchell and Joy Watson have had their PIP taken away, leaving Alex highly critical of the system.
'The assessors have no proper understanding of dementia and how it affects people,' he says.
'Only a medical professional can give a diagnosis of dementia, but somebody with no medical training assesses me for PIP. It just seems wrong.
'It's also a 42-page assessment document. Without help, I wouldn't be able to fill it in,' he says. 'I worry about people who live on their own.
'I would like to see a one-stop shop where you have somebody you can talk to straight away, to guide you through the silly benefits system.'
Alex is worried that he might be targeted by assessors, who may misinterpret his determination to remain active for not needing help.
'People often don't accept that younger people get dementia,' he says. 'But they're not living with me, they don't see all the issues I have.
'I've burnt myself on the cooker, trapped fingers in things. People see me as this strong character, but I can't travel anywhere alone.'
He adds, 'I live with a monster in my head, which torments me with confusion and panic.'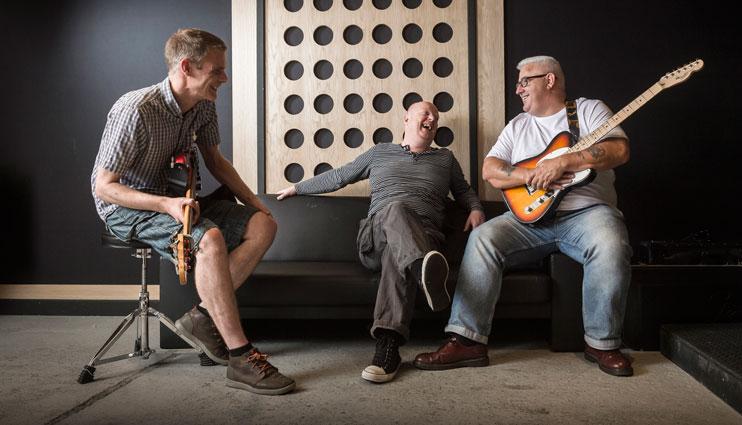 General Chaos
As well as his wife Susan, who he describes as his rock, Alex is supported by fellow members of his ska punk band, General Chaos.
'We have a great relationship – a lot of laughs, a lot of mickey-taking. But they're very supportive,' he says.
Alex returned to music for the first time since his teenage years as an 'escape' after his dementia diagnosis.
'I was desperate to be part of something – everything had gone,' he says.
He wrote an album that he later recorded with session musicians and Grammy Award-winning record producer Roger Lomas.
One of the songs, Don't waste time, is about dementia and was played by BBC Music Introducing, a radio series showcasing unsigned musicians.
The current General Chaos line-up now plays charity gigs across the UK, with Alex on bass guitar.
'The lads have said that playing with me is like playing Russian roulette with five bullets, because I can have moments where I suddenly can't think of the song,' he says. 'But they'll keep it together and most people never notice.'
Alex recently made the difficult decision to step down from the band for the good of his health, though he will continue to write songs for them.
He also remains determined to fight for his rights, raise awareness and challenge stigma.
'Nobody chooses to have dementia,' he says. 'When you are with someone who does have it, just treat them as a normal person.'
Next steps