Join Dementia Research makes it easier for people to take part in dementia research
From the December 2015/January 2016 issue of our magazine, Join Dementia Research is helping people who are interested in getting involved with dementia research to find out about local projects. Clare Walton, Research Communications Manager, looks at how people can get signed up.
Alzheimer's Society is involved in a new NHS service in England that makes it easier for people to take part in dementia research.
People with dementia, carers and others can sign up with Join Dementia Research to see if they may be matched to studies taking place in their area.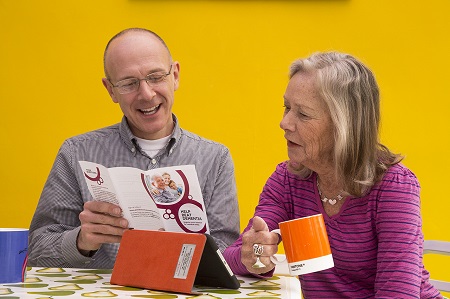 Megan Cruise, Advice Service Manager, said,
'Callers to our helpline – people with and without dementia – regularly ask us how they can get involved in dementia research.

'Research is vital to help us better understand dementia and to find a cure. It is fantastic for us to be able to say sign up here and you'll be considered in a co-ordinated manner for research trials.'
Taking part in research can enable people to have their condition monitored more closely while also improving future treatments and care for dementia.
Join Dementia Research is funded by the National Institute for Health Research in partnership with Alzheimer's Research UK and Alzheimer's Society.
Register your interest online or call our National Dementia Helpline on 0300 222 1122 to do this over the phone.
People living in Wales who are interested in taking part in dementia research can contact NEURODEM Cymru.
People in Northern Ireland can contact the Northern Ireland Clinical Research Network.