Home improvement agencies can support people with dementia to live independently
From the February/March 2016 issue of our magazine, home improvement agencies help people to live independently for longer. Helen Clifton hears about a special project provided for people with memory problems and dementia.
'When we first started Memory Matters, there wasn't a day went by that I didn't cry,' says Lyndsay Wheatcroft, her voice cracking.
The senior caseworker at Homewise, a home improvement agency in Accrington explains,
'It's very close to my heart.
'I'm very proud of what we do, and the difference we make.'
Homewise provides a range of services to enable people to stay in their own homes for longer.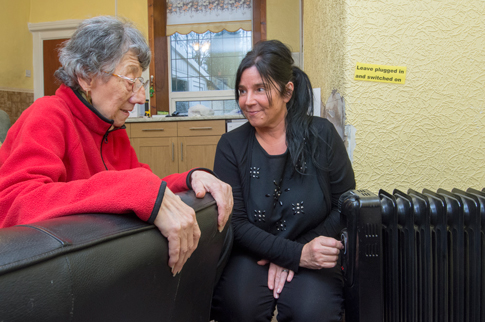 Irene with Homewise caseworker Anne Aspden
In 2013, having seen more clients with memory problems and dementia over the years, Homewise secured funding for Memory Matters, a special project to meet their needs, to cover the whole of east Lancashire.
Lyndsay says,
'We needed to do something. If you move people, it can cause disorientation and deterioration.

'But if you can make their home a safe environment, they can hold onto their memories. It's so much better for their quality of life.'
Massive difference
Simple innovations in the home can make a massive difference to the visual and orientation problems that people with dementia may experience.
Changing white grab rails in bathrooms to blue, or light switches to red or blue, makes them easier to see. Memory aidscan use recordings of familiar voices as reminders to lock doors or close the fridge.
Clear signage with pictures can help people find the right room at the right time.
Lyndsay says,
'People can get labelled as incontinent, but the problem may be that they can't find their bathroom.'
Struggling
Memory Matters has changed the lives of over 170 families, including Irene Nutter, 75, and her 73-year-old cousin Margaret Marsden.
Irene, who has vascular dementia and is partially sighted, lived alone in a pre-war cottage in a small village near Burnley, with no central heating, gas supply or running hot water.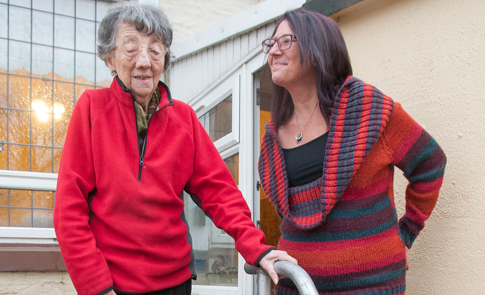 Irene and Lyndsay
She could no longer light her coal fire, and her home was damp and freezing. She had forgotten how to use her electric shower and microwave, and was rapidly losing weight.
Margaret, a grandmother of five, explains,
'Irene just struggled, instead of telling me what was going on.
'She's absolutely terrified of going into a home.'
Well again
After the initial visit and advice, which are free, Homewise arranged for an electric water heater and oil-filled radiators to be installed, paid for by Irene, along with signage reminding her to leave them switched on.
Plain carpets were fitted, as well as an easy-to-use kitchen sink, washing machine and additional sockets.
Homewise supplied and set up night-lights, a smoke detector and personal alarm. An occupational therapist visited and external rails were installed.
The agency also referred Irene for a priority social care package. She now receives Attendance allowance, which pays for twice-daily visits to help with medication, mealtimes and bathing. Irene is now eating well again.
Margaret says,
'Homewise were absolutely brilliant. They got things moving straightaway. I can ring Lyndsay up anytime, and she's there for me.'
'I don't know what I'd have done without them. If Irene hadn't got those heaters in, she wouldn't have survived the winter.'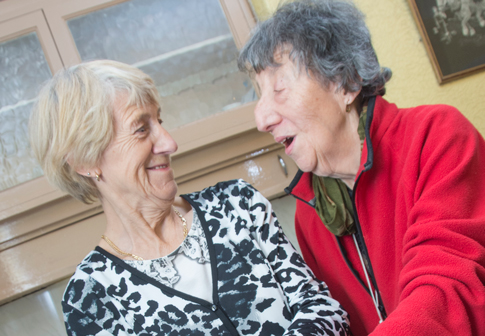 Margaret with Irene
Maze of support
Lyndsay explains that carers like Margaret need help to navigate the maze of benefits and social support available.
'Because they are tied up with caring for the person who has dementia, they don't get the support they need – especially when they have their own family to look after as well.'
Depending on how they assess a person's needs, social services may pay for adaptations like level-access showers and stair lifts, and grants may also be available.
'Each house is individual. It may only need small adaptations. It can range from £50 for lighting changes to about £4,000 for a level-access shower.'
Agency networks
Homewise is one of a network of home improvement agencies in England, supported by the national body Foundations.
Home improvement agencies work alongside social services to adapt homes and may also provide low-cost disability aids, advice on keeping warm, a handyperson service and recommended tradesperson list.
Agencies in Wales can be contacted through Care and Repair, and in Northern Ireland via the Housing Executive.