From the August / September 2017 issue of our magazine, read about technology that could help people living with dementia to avoid crisis situations.

People with dementia and carers in Surrey and north-east Hampshire have a new opportunity to find out how technology could help them remain safe and well in their own homes.
A study called Technology Integrated Health Management (TIHM) for dementia, supported by Alzheimer's Society and funded by the Department of Health, is being led by Surrey and Borders Partnership NHS Foundation Trust.
By trying out the latest technology in their everyday lives, people with dementia will help researchers discover more about avoiding crisis situations and unnecessary stays in hospital.
Help when needed
The researchers install a number of small devices in a person's home, allowing professionals to keep an eye on their health and wellbeing as changes take place.
If it looks like the person with dementia might need some support, the monitoring team can contact the carer or arrange an Alzheimer's Society visit. If there is an emergency, they can also contact the right services.
Dr Ramin Nilforooshan, a Surrey and Borders consultant psychiatrist involved in designing the study, says, 'In the current system, a person with dementia is referred by their GP or family member to a clinic and then gets an assessment and medication, but there isn't much of a follow up.
'People with dementia are usually stable for a time, but they might end up in hospital in crisis at some point, which is stressful for them and their family.
'We thought, rather than waiting for these crises to happen, let's see if we can predict them so that we can step in early to offer support.'
Reassuring
The full study – involving several hundred people across Surrey and north-east Hampshire – begins later this year, but 14 people have been testing the technology before then.
These include Marion Edwards and her husband John, who was diagnosed with Alzheimer's in July 2015.
Twice a day, they take readings for John's body temperature, blood pressure and blood oxygen, and use special scales to check his weight and hydration. This information goes straight to someone who can interpret it, without the need for a clinic or home visit.
'You're not worrying the whole time that something you don't really know about is happening in his body,' says Marion.
John carries a GPS tracker and wears a watch that can detect if he has had a fall, while sensors monitor his movements around the house. The couple also answer basic daily questions about John's wellbeing on a touchscreen device.
'It's very reassuring. You feel that somebody's there if there is a problem,' says Marion.
On one occasion John's blood pressure was low and he was told by the monitoring team to visit the GP.
'You're not worrying the whole time that something you don't really know about is happening in his body,' says Marion. 'You are supported mentally and medically.'
Not intrusive
Clinicians monitor John's data 12 hours a day, while an emergency line is open at all hours in case of more serious incidents.
'Marion can go out without worrying about me. She knows they'll ring up if it's necessary,' says John. 'It's really just giving her a break. If I know that she's happy, it makes it a lot easier.'
Phil and June Bell are also trying out the technology for the study. June, who has dementia, has been to hospital a number of times in the past six months.
'We don't want to do that,' says Phil. 'If there's a way of avoiding that, it's got to be a benefit to us.'
Neither couple has found the technology to be intrusive.
'It's more reassuring than intrusive,' says Phil. 'We find it a really good way of being able to stay at home for as long as possible.'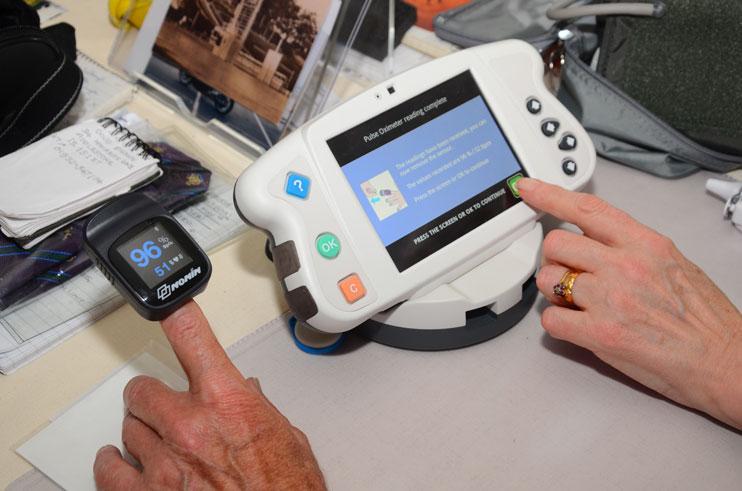 Better care
Dr Nilforooshan hopes that the results of the study will help them to improve dementia care. The current system of scheduled appointments means that problems aren't always picked up quickly and so are more likely to escalate. This can lead to unnecessary stays in hospital, which carry their own risks.
'It requires a change in the way the NHS works,' he says.
'This could help to revolutionise healthcare management for people living with dementia and their carers,' says Francesca.
Recruitment for the full study is open and Francesca Markland, managing the project for Alzheimer's Society, says that people who get involved will be supporting a valuable piece of work.
'This could help to revolutionise healthcare management for people living with dementia and their carers,' she says. 'We see technology becoming more and more prominent and the data from this study will be so important to generations to come.'
Marion says that she and John feel 'very privileged' to be taking part in TIHM for dementia.
'It's quite exciting – feeling that you're in at the ground level of developing something which could be really useful.'
Next steps