From the June/July 2017 issue of our magazine, live music can brighten a spell in hospital for a person with dementia. Gareth Bracken from Living with dementia magazine reports on performances having a positive impact on the wards.
Bringing music to people with dementia in hospital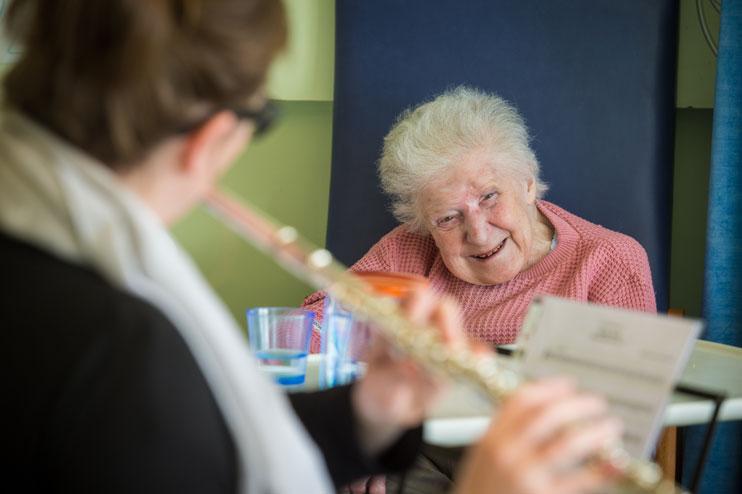 As a soothing version of the classic song Moon river plays out across the ward, one patient hums along to the familiar tune, waving her finger in enjoyment, as another claps her hands in time with the music.
Alis Eaton is playing the flute, giving one of her regular performances at Yeovil District Hospital in Somerset. Although enjoyed by all of the patients and staff, the music is aimed at people with dementia. Today's session proves to be a big hit with her appreciative audience.
Big present
'I absolutely adored every note,' says 81-year old Margaret. 'To be given the gift of hearing something beautiful was a complete surprise. It was a big present suddenly appearing on the ward – unexpected, wonderful and gentle.'
The songs Alis selects are tailored to the age of the patients, so golden oldies are featured frequently.
'It was a big present suddenly appearing on the ward – unexpected, wonderful and gentle,' says Margaret.
Freda, who loves listening to the radio at home, enjoyed hearing some old favourites on the ward.
'They were songs that I'd forgotten,' she says. 'It was lovely to hear them.'
Listening to the performance has particular emotional benefits for some.
'It was exhilarating to hear it, in hospital especially,' says Tressie. 'I like music, it makes me feel calm and ever so happy.'
The tunes also prompted memories, as Ivy was taken back to the 1940s and her performance in a piano competition, aged just 11, at the Royal Albert Hall in London.
'I adore music,' she says. 'There's only got to be a piano somewhere, or any music, and I love it.'
Sylvia, 83, says it made her day to hear that Alis would be playing. 'I was a bit upset this morning but then they told me about the music and I stopped,' she explains.
Brilliant impact
Alis has been visiting the hospital twice a month for over 18 months, accompanied by her flute, ukulele or the in-house piano, to perform across the wards as part of a music project at the hospital. She loves the impact her songs have on patients.
'You see their faces change, it's brilliant,' she says. 'The music starts and they come alive and start singing. They light up and come to life. It flicks a switch in them almost. Getting that engagement with people is amazing – it's why I do it.
'Relatives get that person back, so it's emotional for them. They cry and thank me, but it's not me, it's the music.'
'You can have all the drugs and treatment in the world, but wellbeing is so important,' says Janine.
Janine Valentine, Nurse Consultant for Older People at the hospital, places great value on the benefits of music.
'You can have all the drugs and treatment in the world, but wellbeing is so important,' she says. 'Minimising people's distress through music is much safer than trying to mitigate the effects of the distress.'
Janine wants to develop the use of music within the hospital, including interactive live music sessions, which she says can help with patients' motor skills, co-ordination, multi-tasking and balance.
'This isn't just some kind of frippery – it has a clinical link,' she says. 'We want to strengthen the link with occupational therapy.'
Janine is also working with Playlist for Life, a charity that encourages families and carers to create a playlist of personally meaningful music on an iPod for people with dementia.
'When someone is having a baby, they make a birth plan and pack a bag for hospital. If people with dementia could come in ready with a set of songs they love, that's fantastic,' she says.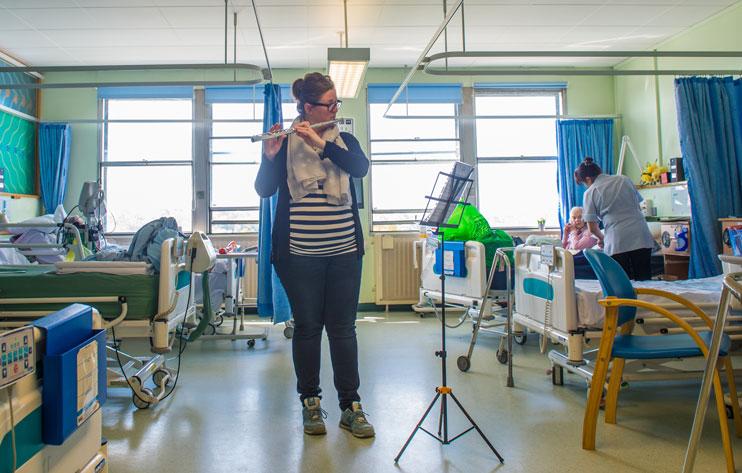 Lofty ambitions
Yeovil District is proud of its commitment to the arts, which extends well beyond music. The hospital employs its own Art Co-ordinator, Caroline Barnes.
'I see creativity as incredibly broad,' says Caroline. 'It's not all about Arts Council funding, it could simply be a dog visiting the ward or a collection of everyday objects like pebbles on a beach.
'Wooden pegs can lead to a whole conversation about washing day. We're building up a collection of resources that evoke memories.'
The hospital also welcomes regular visits from a therapy horse named Lofty, which is due to arrive on the ward after today's music.
'I'm going to jump on that one and gallop on home!' jokes Sylvia. But before that there are two more songs to round off Alis's morning performance. She forms a vocal trio with Sylvia and nurse Jane to sing Que sera, sera and Catch a falling star, as another successful session leaves patients with a smile on their faces.
Next steps