Enjoying the first ever dementia-friendly first-class cricket match
From the August/September 2016 issue of our magazine, making sports clubs welcoming and accessible can have a big impact for people affected by dementia.
Andrew Bence visits the Oval for the first dementia-friendly first-class cricket match.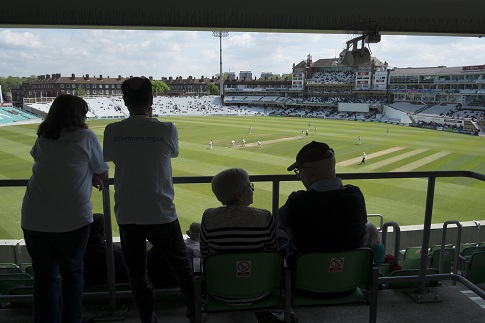 The first day of Surrey's County Championship match against Middlesex at the Oval cricket ground in London proves gloriously calm and unhurried.
With a helping hand from Wendy, John's layers come off – overcoat, jacket and jumper – as he relaxes in the early summer sun. He's doing what he's always loved doing. Watching cricket.
This is the first ever dementia-friendly first-class cricket match. Esther Watts at Alzheimer's Society, who supports dementia-friendly communities in London, is determined that it will not be the last.
'Sport plays such a big part in our lives. Clubs and sporting facilities of all kinds need to be made accessible and welcoming to people with dementia and their carers.'
Surrey support
Esther is delighted by Surrey County Cricket Club's support, providing free tickets and training its staff in dementia awareness. The splendid India Room and viewing gallery are set aside, and a film featuring famous players will be shown during the tea interval.
Another John, sitting alongside his wife, Mavis, says,
'Mr Gubbins is doing one hell of a job out there,'
He's referring to the Middlesex opening batsman, out in the middle and digging in.
The former London cabbie takes in the ground and its familiar landmarks – the historic pavilion, the grade II listed Victorian gas holder and London's ever-changing skyline beyond.
'I used to come here as a lad, queuing up outside for the chance to see the likes of Jim Laker and Peter May. Years later I brought fares here. I had that Freddie Trueman in the back of my cab once. Lovely fella, a real gent.'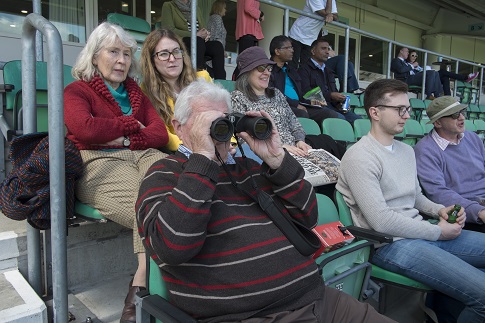 Day's play
Mavis says,
'Life has changed. We don't go out as much as we used to, so days like these are very special.
'John's having a wonderful time, and even though I'm not much of a cricket fan, it's doing something for me too.'
Esther says,
'It's something we hear all the time. People want more things to do, more places to go. While Surrey has gone that extra mile to accommodate us, small adjustments are often all that's needed.
'Part of my job is reassuring clubs and leisure settings that it can be done, that we can help them.'
Wendy and John adjourn to the India Room for coffee.
Wendy says,
'This is lovely. It's hard finding new things to do, ways to break the monotony. We don't want to watch TV all day, and John can't read as much as he used to.
'You stick to a routine, then worry that the days are blending into one. So we appreciate this opportunity.'
At this point, John excuses himself and moves his seat nearer to the window in order to resume watching the game.
Wendy continues,
'It's hard to know sometimes if he's happy, but you can see he's enjoying himself today.'
Staff and Society volunteers are on hand throughout the day, and two carers take a chance to chat, swap notes and relax while their husbands watch the cricket.
When a man looking for the toilet starts to go in the wrong direction, a steward guides him gently towards the gents, sharing a joke along the way.
At lunch, some guests take the opportunity to stroll on the outfield. At teatime, when the film is shown, many in the audience revel in the nostalgia.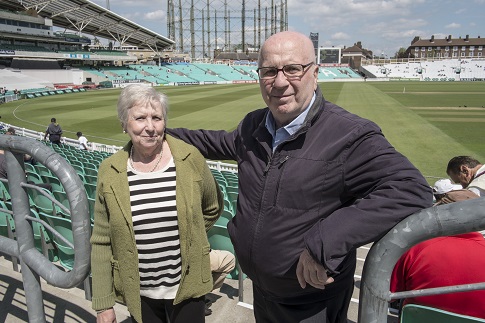 Family time
It has been a family outing for some. Grandad Bill has always loved his cricket, but it's a new experience for Grandma Pat. For them both, it's a chance to spend a long, leisurely day with Nicola, Kevin and granddaughter Emma.
Bill says,
'There should be much more of this. Sports clubs need to pay attention to the needs of people with dementia and their carers, just as they need to do more for disabled people generally.'
Bill knows a thing or two about cricket clubs – it turns out he was Luton Town's club doctor for many years.
Nicola says,
'It's difficult because dementia is more hidden, less obvious.'
Kevin adds,
'Not that that's an excuse. And besides, making these venues more accessible and welcoming would benefit everyone, including the clubs.'
For Pat, mention of the family's Luton Town years brings back vivid memories.
'Oh, they were wonderful lads, the players. The wit! Honestly, you wouldn't believe it. Oh, they did make me laugh…'
This has been a good day for everyone involved. In all, 130 people affected by dementia attended the match through the initiative, some watching from the set-aside area and many in the stands.
It may only be a step on the longer road to making sports venues dementia friendly, but it has delivered a belter for the cause.