A day centre shares its experiences of finding the right crockery and clothes protection
From the October/November 2015 issue of our magazine, we asked staff at a day centre about how they had selected eating and drinking aids for people with dementia to use.
Consumer panel: Eating and drinking aids
A day centre in Surrey shares its experiences of finding the right crockery and clothes protection for the people using their service.
Shirley Bailey, Day Support Manager at the Orchard Day Centre in Chertsey, Surrey, says, 'We should be helping people find out about products that could assist with everyday life,' and this is exactly what we hope our new Consumer panel feature will do.
Her staff have been trying out eating and drinking aids to help meet the needs of people attending their service.
Crockery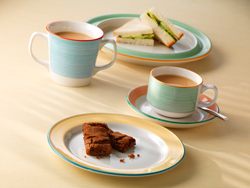 Shirley got samples from Steelite's Freedom Rio and Wade's Dignity ranges to see which crockery would be best for them.
Shirley ended up choosing Freedom Rio mugs, saucers and plates, which use contrasting bands of colour to help differentiate between table, plate and food.
She says,
'The plates have small ridges around them so you can scoop food up without it going over the edge.'
Although 'quite heavy', Shirley says the fact that the range doesn't look out of the ordinary was an important consideration.
She adds,
'A cup or a mug fits the saucer. If someone isn't drinking enough, you can use a mug with a saucer - some don't like mugs on their own - to help make sure they're getting more fluids.'
The Dignity range is made with bright colours, the pots and cups have large handles for a secure grip, and the plates and bowls are shaped to make it easier to pick up food.
The Orchard staff recognised that these would be useful features for many people with dementia in various settings, but that the Steelite crockery better met their existing clients' needs.
Protecting clothes
Shirley and her staff also looked for products to help protect people's clothes while eating.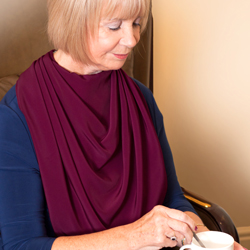 She says,
'We tried large blue protectors that looked like big bibs, clipped together at the back.
'But then we tried one that's a beautiful maroon colour and ruched, looking like part of a woman's clothing - it looks beautiful actually!'
Shirley is unsure about whether this pashmina-style protector from Care Designs would be as suitable for most men, but the neckerchief version could be.
'When you're sitting there and can no longer eat independently, it's lovely that it looks so nice on you.
'If somebody walked in, they wouldn't know whether they were being assisted with eating.'
---
Alzheimer's Society online shop
Alzheimer's Society's online shop offers a wide range of products to help with everyday life for people living with dementia and their carers.
Shop dementia daily living aids.
---
Next steps
A panel of people with dementia tell us what they think about a range of specially designed clocks.
See our factsheet Eating and drinking, or call 0300 303 5933 to order a copy.
Join us to receive each new issue of the magazine.