Denial of access to GP services - Tracey and Jean's story
Jean, who had vascular dementia, struggled to get access to an out-of-hours GP at the weekend. Here her daughter shares their story.
You are here: Denial of access to GP services - Tracey and Jean's story
Fix Dementia Care: Care Homes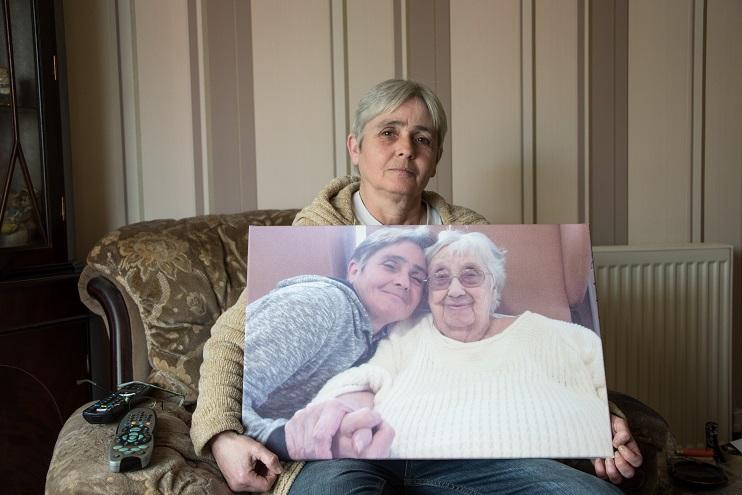 ​
Jean, 85, was diagnosed with vascular dementia 13 years ago. She has been in a care home for 11 years and was previously looked after at home by her daughter, Tracey, 50.

Jean has been very well cared-for in her care home but she struggled to get access to an out-of-hours GP at the weekend when she had an allergic reaction to antibiotics. Jean often contracts urinary tract infections, for which she needs antibiotics. On one occasion she had been prescribed antibiotics and a terrible rash appeared on her legs and started to spread rapidly up her body. Having assessed it wasn't an emergency, the care home contacted the out-of-hours service to get a GP to come out to see Jean in person. Tracey visited her mum and describes how she had a high temperature and was shaking. She was hallucinating and was very upset, pleading with Tracey to help her. Jean also has chronic obstructive pulmonary disease (COPD), which affects her breathing which was exacerbated by the allergic reaction.

The out-of-hours service was called at 10am and the care home was told it would be up to six hours before someone would come. In fact it took 17 hours and numerous phone calls. More than 12 hours after the first call a GP rang the home. He was under the impression that Jean was on a palliative care plan and refused to come out. The doctor was very impatient and rude when care home staff told him that this was not the case. He told them to call the out-of-hours number again so the care home had to re-register the request. Jean wouldn't let Tracey go until she'd fallen asleep.

Tracey said:
'The agony my poor mother went through was terrible. Thankfully she recovered, but in those long hours I was so worried. No one seemed to take into account Mum's vulnerability and to wait that long after so much chasing - it was unacceptable. I was left so unhappy and tired because I hadn't left my mother's side from the moment she became unwell until her recovery. The whole incident left me feeling like no one cared about older people, especially not people with dementia.'
If you believe that people with dementia living in care homes have the right to the same standard of healthcare as everyone else, join our Campaign today.
Next Section
Next
You are on the last page