Find out how dementia affects London and the steps we're taking to make London the first dementia-friendly capital city in the world.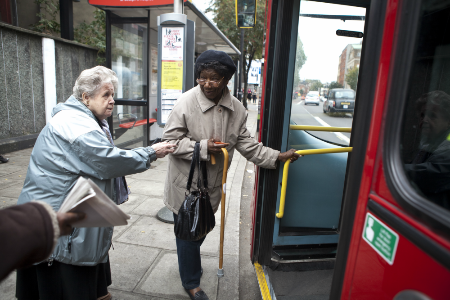 How does dementia affect Londoners?
Dementia is the biggest health and social care challenge facing London today, with an estimated 72,000 people living with the condition in London. It costs the city over £2.4 million, placing a huge financial burden on individuals, families and public services.
The types of challenges people affected by dementia experience depends on which borough they live in and the community they belong to. But whether or not someone is able to live well with dementia should not depend on a postcode lottery.
Londoners with dementia and their carers have told us the biggest challenges they face living in the capital are:
transport
housing
health, care and emergency services
business and retail
social inclusion
What are we doing to change this?
Alzheimer's Society, supported by the Mayor of London, has launched an ambition to make London the world's first dementia-friendly capital city. We want to transform the way communities, business and individuals think and act towards people living with dementia in London.
In the capital, there are already 120,000 Dementia Friends, over 700 organisations and two thirds of London boroughs taking steps to improve the lives of Londoners with dementia and those who care for them.
However, we need to do more to ensure that everyone in London affected by dementia – no matter who they are or where they live – is able to lead the best possible life. We are calling on all Londoners to take action now and join the movement to change people's perceptions of the condition by becoming a Dementia Friend .
What will a Dementia Friendly London look like?
A Dementia Friendly London is an inclusive and compassionate city where all Londoners affected by dementia are empowered and supported to live well.

People affected by dementia will:
travel to where they want to go safely
live somewhere they feel supported, understood and included in community life
receive the help they need to access quality health, care and support services when and where they require it
be able to participate in all that London has to offer in arts, culture and leisure
feel confident to visit local high streets and town centres.
On 21st May 2018, to mark the start of Dementia Action Week, organisations from across London – including Transport for London and the Metropolitan Police – came together at the Dementia Friendly London Summit and pledged to take action to make this vision a reality.
What is our vision for the future?
By 2022, we want to see:
2,000 organisations that are more dementia friendly
500,000 Dementia Friends taking action, big or small, to improve the everyday lives of people affected by dementia
Every London borough working towards becoming a dementia-friendly community
Meaningful involvement of people affected by dementia
What can you do?
Unite with us to create a Dementia Friendly London by:
Take action this Dementia Action Week
Pledge to take action and see the impact you can make for someone living with dementia.
Pledge an action