At Alzheimer's Society, we draw on research to speed up progress and make a difference to people affected by dementia. Dr James Pickett gives some background to the new Research Delivery Plan, which sets out our largest ever investment into all forms of dementia research.
Alzheimer's Society is now funding more research than ever into the prevention, cure and care of all types of dementia.
Alzheimer's Society is a global leader in funding research both looking at biomedical and social solutions for dementia. Since starting to fund research in 1990, we have now invested £60 million and funded over 400 research projects.
Our Research Delivery Plan
The Delivery Plan provides guidance for researchers and practice professionals who want to unite with us to defeat dementia, and sets out how we will deliver the Alzheimer's Society strategy, the New Deal for Dementia.
We are building on our 40 years of supporting dementia research, and stepping out further than we ever have before to ensure we recognise and maximise the clinical and human impact of all of our research.
Read our Research Delivery Plan
Find out how we plan to bring change to everyone affected by dementia in our full Research Delivery Plan for 2018-2022.
Download now
Five key features 
Our Delivery Plan is built around five features that will help to address the gaps in our understanding of dementia and what we need to do to transform the lives of people affected by dementia through research.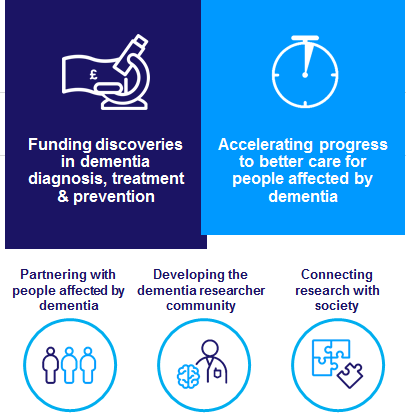 ​
Funding the best research in care and cure
We will still continue to award the majority of our funding through response mode grants but are making a few changes. For biomedical research, reviewed by our Biomedical Grant Advisory Board (GAB), we will be increasing our focus on funding research that is relevant to dementia in humans, and emphasising this in our application forms.

For research addressing quality of life, we will be merging our two boards 'Care, Services and Public health GAB' and 'Implementation GAB' into a single 'Care, Implementation and Public Health' GAB as we increase the focus given to research that can be translated and delivered in the real world.

We are also expanding the pool of people we are working with in this area – opening up opportunities for designers, entrepreneurs and other groups through our new 'Innovation' stream of work. For all our applications we'll be also refreshing our approach to public involvement.

These changes will start to come in to place for our next grant round opening in June 2019.
Impact focused
The changes we are making are to focus our efforts on where we can make the biggest impact. It may be new drugs, ways to prevent or diagnose dementia or support for people living with dementia, their carers and their families.

Throughout our biomedical research, social science and design-led innovation we work with inspiring groups of people to deliver progress that changes lives.
Through research, we will transform the lives of people affected by dementia.
Unite with us
Your efforts, as part of the dementia research community, are invaluable to the 850,000 people with dementia across the UK and their loved ones.
We're here to support you to maximise the impact of your research and look forward to working with you in the coming years to drive dementia research forward.
Discover our funding schemes for researchers, learn about our application process and how researchers can effectively manage their grant.
Learn more